Spotlight on Flex – Danielle Katzir
The Spotlight on Flex showcases professionals from member organizations who exemplify personal and professional success while working a flexible schedule. Their stories illustrate the long-term benefits that flexible schedules offer to both individuals and organizations.
For January 2018, we are pleased to share insights from Danielle Katzir, Partner, Gibson Dunn (Los Angeles, CA).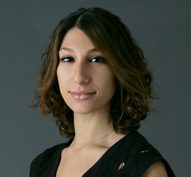 Diversity & Flexibility Alliance: How have you made flexibility a priority and a success through your schedule?
Danielle Katzir: I think it comes down to flex is not a one size fits all – not for the individual or the job – and flex isn't static over the course of your career. I've been on some type of flex time arrangement for seven years now, but my targeted hours have varied, as needed, to best meet my needs and goals, those of the firm, and my clients. When my kids were younger, I wanted to spend more time at home with them working remotely. Now with three active toddlers, many mornings I can't wait to jump in the car to clear my head, and I'm in the office every day. Flex is a two way street – it's best if you're as flexible with the job as you want the job to be with you. It's about creatively defining flexibility and frequently looking at it from a more macro level; it's not necessarily how predictable my day, week, or month is. Our industry often lacks this kind of certainty. It's more about asking myself, "What do I want to achieve, professionally and personally, this quarter or year? The next 3-5 years?" Start at that point and backwards-engineer the workload to make those goals achievable in a timeframe that works for you. Be willing to revisit and re-evaluate that plan frequently.
Danielle Katzir: There are a few mental adjustments I've made with a lasting impact and contributed to my flex success. There's a reason there's so much literature out there on how women work, and it's simply not nuanced or precise enough to say that we just prefer to work reduced hours. Controlling the experience of those hours is just as important. I think it's important to root ourselves in that research base. It's easy to fall into the trap of feeling alone or insecure – we're not. We should feel empowered to take that information to form strategies that are better tailored to make work as satisfying and productive an experience as possible.
I think about the difference between "flex time" and "part time" as a distinction with substance. The truth is, I am not a part time lawyer. I am a 100%, full time partner on all of my matters. There's no change in the quality of my work, my presence, or my responsiveness. I've simply chosen to work a lower annual target to not only meet my required hours, but to also control the experience of those hours. That could mean curating the mix of transactions on my plate, ensuring sufficient time for the kind of research and knowledge management efforts that I enjoy, pro bono work, or other community involvement.
There's also a misconception that family is the only acceptable reason to need flexible hours, or there will be stigma if there is another reason behind it. Family is certainly an important factor, but it's not the only reason to need or want flexibility. I started to work a flex schedule even before I was married. The reality is that we occupy several meaningful roles in our lives at once: we are siblings, daughters, sons, spouses, partners, caretakers, community activists, and friends. Nurturing those relationships – creating the support system that is critical to making flex work – requires thoughtful investment.
In terms of practical strategies for success, it's about being intentional and strategic with your time. There's always a knee-jerk reaction to say "yes" to everything to please everyone. For me, it's always been important to be a Jill-of-all-trades. I've always valued exposure to a broad base of work, so I need to be really thoughtful about what I take on. This skill takes time. You're going to get it wrong sometimes, and that's okay. I did, several times as a junior associate, and still wouldn't say I've perfected it.
It's also important to set yourself up for success by creating as many resources and areas of support as you can. I'll never forget a piece of advice I received as a young lawyer, "What you have in this job is money. What you don't always have is time; buy yourself that time." I've really taken that to heart. That includes everything from setting up backup child care, to a sacred babysitting commitment twice a month so I can go out with my husband for dinner and a movie.
Finally, develop a specialty that makes you indispensable – this is key. The jackpot for anyone, especially when you're working flex, is to have your own bank of clients to feed your workload. For me, it was EB-5 financing. Being open to these opportunities – which can mean something as simple as saying yes when someone says "hey, do you want to get smart on this" – can change the course of your career.
DFA: How have the firm and clients contributed to your flex success? How has flexibility contributed to your business development and sustainability of working at a firm?
DK: The firm and the clients are really the reason for my flex success. The firm's commitment to promotion and retention of women, to diversity, and to an environment of inclusion, has been unwavering. I made lots of assumptions early on as a junior associate about big firms, and Gibson has really proven me dead wrong.
My schedule isn't something I necessarily advertise, but not because I'm concerned the firm, clients, or colleagues won't be supportive. Mostly because it feels unnecessary, and because I'm most often met with, "I had no idea you were flex time." To me, this is the greatest compliment and exactly how I want to practice. I'm rarely asked why I structure my time the way I do because the quality of my work speaks for itself. Among my partners, the response is always, "Let's figure this out," so I can play a significant role in meaningful transactions, keep me fully integrated in the group, stay on the cutting edge of the industry, and maintain my schedule as much as possible.
One of the most pleasant surprises has been the outpouring of support from male counterparts. I fully expected some pushback, especially in the male-dominated real estate space. To the contrary, they've been some of my loudest cheerleaders. It's also been great to see such a strong base of clients who value diversity and understand the role flexibility has to play in that. They are demanding their service providers have the same priorities within their organizational culture.
The firm was also very supportive of my work in the EB-5 space. This exploded in the real estate sector after the recession. We identified an opportunity, and although there were a lot of immigration lawyers in the space, there weren't many sophisticated real estate legal shops handling these transactions. I did my research, met with lead players in the field, and I had firm backing every step of the way – whether it was a marketing budget, credit for business development, or opportunities for writing and research. Now I'm a national, and the firm's resident, expert on it. This means every transaction, both in and out of the real estate department and from all practice and geographic areas throughout the firm, that touches EB-5 comes across my desk. It also gives me qualitative exposure, outside of traditional billable hours, to speaking and writing opportunities that contribute to my business development and overall professional satisfaction.
DFA: Looking back, what would you tell your first year associate self? Would you do anything differently?
DK: I would say don't assume anything. In an ideal world, all of these opportunities and support systems would exist, formally or informally, and they would be open and immediately available. You wouldn't have any discomfort about making "the ask." Just because you don't know about it, doesn't mean it's not out there. And just because it's not out there doesn't mean it couldn't be, or there's not a critical mass of people who want to help you pave a way.
Forgive yourself. It's a tough job. If you only give yourself a three or four month trial period on flex, there's a decent chance you're going to be disappointed. You don't need to be. Give yourself enough time to collect sufficient data points and to engage in meaningful trial and error. Learning forgiveness is not an easy skill, and that takes time too. Being a parent has forced me to be better at that, and I don't think it's an accident that being a mom and really succeeding at work happened at the same time for me. You don't have a choice when you have kids, and that adaptability and resiliency has translated nicely into my professional sphere.
Seek out mentorship as much as you can. Women mentors are amazing, and I've been very lucky to have a balanced set of both junior and senior women. But I also have male mentors from corners of the firm, and the broader industry, that I would least expect. Just because people are busy doesn't mean they won't make time; chances are, they'll enjoy the opportunity.
DFA: How do you pay it forward, and how do you recharge your batteries?
DK: I have three kids under the age of five, so sometimes I feel like the only batteries I recharge are when a toy breaks. I also have two siblings who are 18, and I play an active role in their lives, including helping them navigate the challenges of their freshman year in college. So, truthfully, I'm exhausted, but highly satisfied. Candidly, I find this to be the much harder part of flex time than balancing the work. I try to put my kids to bed and read with them most nights. I try to assess whether that last bit of work I'm trying to do in the evening is mission critical (or just a desire to finish as much as I can), or whether I'm better served doing something else with those few hours of downtime. I try to sit down every night and have dinner with my husband. I try to go to bed with intentionality. I try to call my large extended family every day on the way to or from work just to say hi. I try to thank my colleagues for their support as often as I can remember. I try not to feel guilty where recharging doesn't involve a regular trip to the gym or a fancy pilates class – if sleeping in on a Saturday morning isn't particularly glamorous, but wildly restorative, I'll take it.
 — — —
If you are a professional working a flexible schedule and would like to share your story in an upcoming Spotlight on Flex, contact Eliza Musallam.
https://dfalliance.com/wp-content/uploads/2019/03/Diversity-and-Flexibility-Alliance-Logo-260.png
0
0
integritive
https://dfalliance.com/wp-content/uploads/2019/03/Diversity-and-Flexibility-Alliance-Logo-260.png
integritive
2018-02-01 00:00:00
2018-02-01 00:00:00
Spotlight on Flex – Danielle Katzir