The Spotlight on Flex showcases professionals from member organizations who exemplify personal and professional success while working a flexible schedule. Their stories illustrate the long-term benefits that flexible schedules offer to both individuals and organizations.
For January 2018, we are pleased to share insights from Danielle Katzir, Partner, Gibson Dunn (Los Angeles, CA).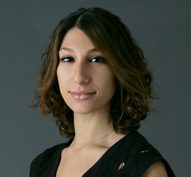 Diversity & Flexibility Alliance: How have you made flexibility a priority and a success through your schedule?
Danielle Katzir: I think it comes down to flex is not a one size fits all – not for the individual or the job – and flex isn't static over the course of your career. I've been on some type of flex time arrangement for seven years now, but my targeted hours have varied, as needed, to best meet my needs and goals, those of the firm, and my clients. When my kids were younger, I wanted to spend more time at home with them working remotely. Now with three active toddlers, many mornings I can't wait to jump in the car to clear my head, and I'm in the office every day. Flex is a two way street – it's best if you're as flexible with the job as you want the job to be with you. It's about creatively defining flexibility and frequently looking at it from a more macro level; it's not necessarily how predictable my day, week, or month is. Our industry often lacks this kind of certainty. It's more about asking myself, "What do I want to achieve, professionally and personally, this quarter or year? The next 3-5 years?" Start at that point and backwards-engineer the workload to make those goals achievable in a timeframe that works for you. Be willing to revisit and re-evaluate that plan frequently.
https://dfalliance.com/wp-content/uploads/2019/03/Diversity-and-Flexibility-Alliance-Logo-260.png
0
0
integritive
https://dfalliance.com/wp-content/uploads/2019/03/Diversity-and-Flexibility-Alliance-Logo-260.png
integritive
2018-02-01 00:00:00
2018-02-01 00:00:00
Spotlight on Flex – Danielle Katzir