Spotlight – Stephanie Salek, Hollingsworth LLP

September 2021 Spotlight on Flex
Our Spotlight on Flex showcases professionals from member organizations who exemplify personal and professional success while working a flexible schedule. Their stories illustrate the long-term benefits that flexible schedules offer to both individuals and organizations.
For our September 2021 Spotlight on Flex we are pleased to share insights from Stephanie Salek, Associate, Hollingsworth LLP.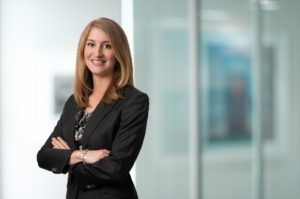 Diversity & Flexibility Alliance: How have you made flexibility a priority and a success with your schedule? How has the firm and/or your clients contributed to this?
Stephanie Salek: After my son was born in 2018 and I took maternity leave, I knew that I wanted to return to work on a reduced-hours schedule.  Hollingsworth said that it would work with me to craft a schedule that fit my needs, and offered several different models of flex time, including a reduced-hours policy in which attorneys can work fewer hours overall at times convenient for them, and a part-time schedule for those who need a set schedule with defined hours of work.  Because my husband's work schedule is less predictable, I wanted to have a defined work schedule for childcare purposes.  So I decided to try a part-time schedule in which I have set hours and leave at 5:30 pm three days per week, and work remotely 1 day per week.
It has worked out wonderfully.  For my part, I make sure to frontload work on projects by getting new projects off the ground and running immediately, and making a point of checking in on any delegated portions of a project early and often.  And because I am off on Fridays to care for my son, I make sure to do a full status check of each project every Thursday before signing off, so that projects continue progressing while I am offline.  I am grateful that my firm has been so supportive of this flex schedule, and I think our joint commitment to making it work is the reason for its success over the past 2.5 years.
DFA: How has working flexibly made your career more sustainable and contributed to business development opportunities?
SS: This flexible schedule has made it possible for me to continue doing the high-stakes, fast-paced work that I love while prioritizing my family.  And Hollingsworth has supported this balance by continuing to give me meaningful and high-level work that fits my schedule.  I have come to be relied upon within the firm as a writing/ briefing specialist, and the firm continues to task me with these complex assignments while respecting and accounting for my schedule.  The firm's and my joint commitment to the flex schedule ensures that we produce high-level and timely work for our clients, which in turn drives business development.  It is rewarding to be able to contribute in this way while prioritizing my family.
DFA: Looking back, would you do anything differently, or what would you tell your first year associate self?
SS: Now that I have seen how well the flexible schedule has worked, part of me wishes I had explored flexible work options sooner.  I would advise younger associates to not be reluctant to explore flexible work options.  It may seem daunting, but if both you and your firm are committed to respecting and making flex schedules a success, then you can work together to provide value to your clients, foster your own professional development, and ensure the longevity/ sustainability of your career.
DFA: How do you recharge, and how do you pay it forward?
SS: Spending time with family and friends, running, and pleasure reading recharge my batteries, and are essential to my productivity both at work and at home.  Mentoring has always been important to me, as well, so I try to pay it forward by advising other associates – be they junior, mid-level, or senior – on issues ranging from managing their workloads to working with particular attorneys to specific advice on their writing.  I remember what it was like to be a young attorney with a lot of questions, so I value the opportunity to be a safe sounding board for others now.
DFA: How has the pandemic impacted your flexible working schedule?
SS: As with many folks with children, the pandemic shifted my work schedule to an exclusively at-home model.  But with the exception of a couple months where we lost childcare, I have been able to maintain my regular part-time schedule, and look forward to maintaining that after folks return to the office, as well.
If you are a professional working a flexible schedule and would like to share your story in an upcoming Spotlight on Flex, contact Jane Caldeira.
https://dfalliance.com/wp-content/uploads/2021/09/Salek_Hi-Res.jpg
1275
1920
dfalliance
https://dfalliance.com/wp-content/uploads/2019/03/Diversity-and-Flexibility-Alliance-Logo-260.png
dfalliance
2021-09-28 09:59:08
2021-09-28 10:00:46
Spotlight – Stephanie Salek, Hollingsworth LLP