2021 Keynote
Lara Abrash, Chair & CEO, Deloitte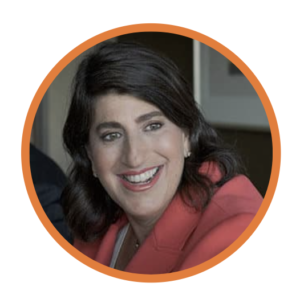 We are thrilled to announce that Lara Abrash, Chair and Chief Executive Officer of Deloitte's US Audit and Assurance Business will be our 2021 Annual Conference Keynote Speaker.
Ms. Abrash is an authentic and innovative leader and a trailblazer in the financial services industry. She has fostered a true culture of inclusivity and empathy at Deloitte while creatively planning for remote and hybrid work models. She has a passion for advancing innovation as well as diversity and inclusion in the profession and is leading the industry in its evolution towards the future of work.
YOU DO NOT WANT TO MISS this inspirational Keynote!
A Look Back at 2020
Our 2020 Annual Conference, Moments of Impact: Transforming Organizational Culture was held virtually on Thursday, November 5, 2020 from 12:00 noon EST – 4:45 pm. Thank you to all who were able to join us. We are so grateful to our Sponsors and Community Sponsors for helping to make the afternoon so successful. We were honored to have such dynamic and inspirational speakers and we hope everyone found the afternoon to be exhilarating!
If you were unable to join us, please watch our short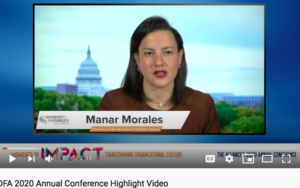 2021 Conference Agenda
Agenda coming soon!
2021 Sponsors
2021 Sponsors to be announced soon.
Interested in sponsoring this year's event and showcasing your commitment to transforming organizational cultures? Contact Manar Morales, the Alliance's President & CEO, to make your pledge today. Sponsors receive complimentary tickets based upon their level of support.
2021 Community Sponsors
Community sponsors are organizations with similar missions to us who agree to help us spread the word about our Annual Conference. Community sponsors share information with their members through social media, newsletters and emails. Please contact Angela Whitehead Quigley at angela@dfalliance.com if you'd like to be a Community Sponsor.
Members Receive Complimentary Tickets!
Alliance members receive two (2) complimentary tickets as a member benefit AND may register a client for free – that's three (3) complimentary tickets to use all together! 
We also welcome Non-members – please see rates below.
Additional member tickets can be purchased at the rates listed below.
All attendees will also be invited to participate in one of three post-conference round tables to continue the discussion on the best practices and impact strategies in smaller groups.
Please share this invitation with others who are interested in moving the needle and creating moments of impact within their organizations too
Early Bird Registration (7/1-9/15)

DFA Member Extra Tickets
Non-Member Tickets
University, Law School, Government & Non- Profit Tickets
Early Bird Registration (7/1-9/15)

$345
$445
$199

Regular Registration
(9/16-10/20)

$399

$499
$249

Late Registration
(10/21 – 11/3)

$445
$545
$299
Why not join the discussion this year.
2019 Annual Conference
Our 2019 Annual Conference, Inpire. Innovate. Ignite! was held on Thursday, November 7, 2019 at the Washington DC offices of Jones Day.
Thank you to everyone who was able to join us for our 2019 Annual Conference
Inspire. Innovate. Ignite!
  We were honored to have amazing influencers, exceptional innovators and world class visionaries to lead our discussions and share their insights. We are immensely grateful to all of our sponsors and look forward to continuing the conversation soon. Please let us know if you'd like to
continue the conversation
and learn more about our research.
Our 2019 Annual Conference Attendees can access conference materials with Attendee Password.
ACCESS 2019 CONFERENCE MATERIALS HERE
Please contact Eliza Musallam if you have forgotten the 2019 Conference Material password or for more information.
Photo Credit: Birch Thomas, photosbybirch.com
 A huge thank you to all of our dynamic panelists, generous sponsors and engaging attendees! We hope you found our 2018 Annual Conference as informative as we did. The 2018 Agenda, Speakers and Sponsors can be accessed below:
Our 2018 Annual Conference Attendees can access conference materials with Attendee Password.
 ACCESS 2018 CONFERENCE MATERIALS HERE
Please contact Eliza Musallam for more information.
Photo Credit: © Jessica Yurinko
2017 Annual Conference
Our 2017 Annual Conference Diversity + Flexibility = An Evolving Culture was held on March 16, 2017 at the Washington, DC offices of Jones Day.