About The 2022 Conference
This ground-breaking event offers an experience like no other! You'll immerse yourself in an afternoon of inspirational content, connection and collaboration. Don't miss out on this opportunity to interact with other attendees and presenters in real-time!
CONTENT
We'll walk you through key steps and strategies for harnessing the power of People, Purpose & Productivity to Cultivate a Holistic Work Culture that ensures your organization's success now and for many years to come.
CONNECTION
From our panel discussions to research presentations and inspirational keynotes, you'll connect with dynamic thought leaders and visionaries blazing the trail with innovative initiatives that are truly changing the way we work.
COLLABORATION
You'll actively collaborate with peers leveraging the wisdom in our Alliance Community. Learn how to take the best of who you were in-person, with the best of who you were as a virtual team, to create a successful hybrid culture!
Thank you to our 2022 speakers & sponsors!
Please check back in 2023 for details about the next conference!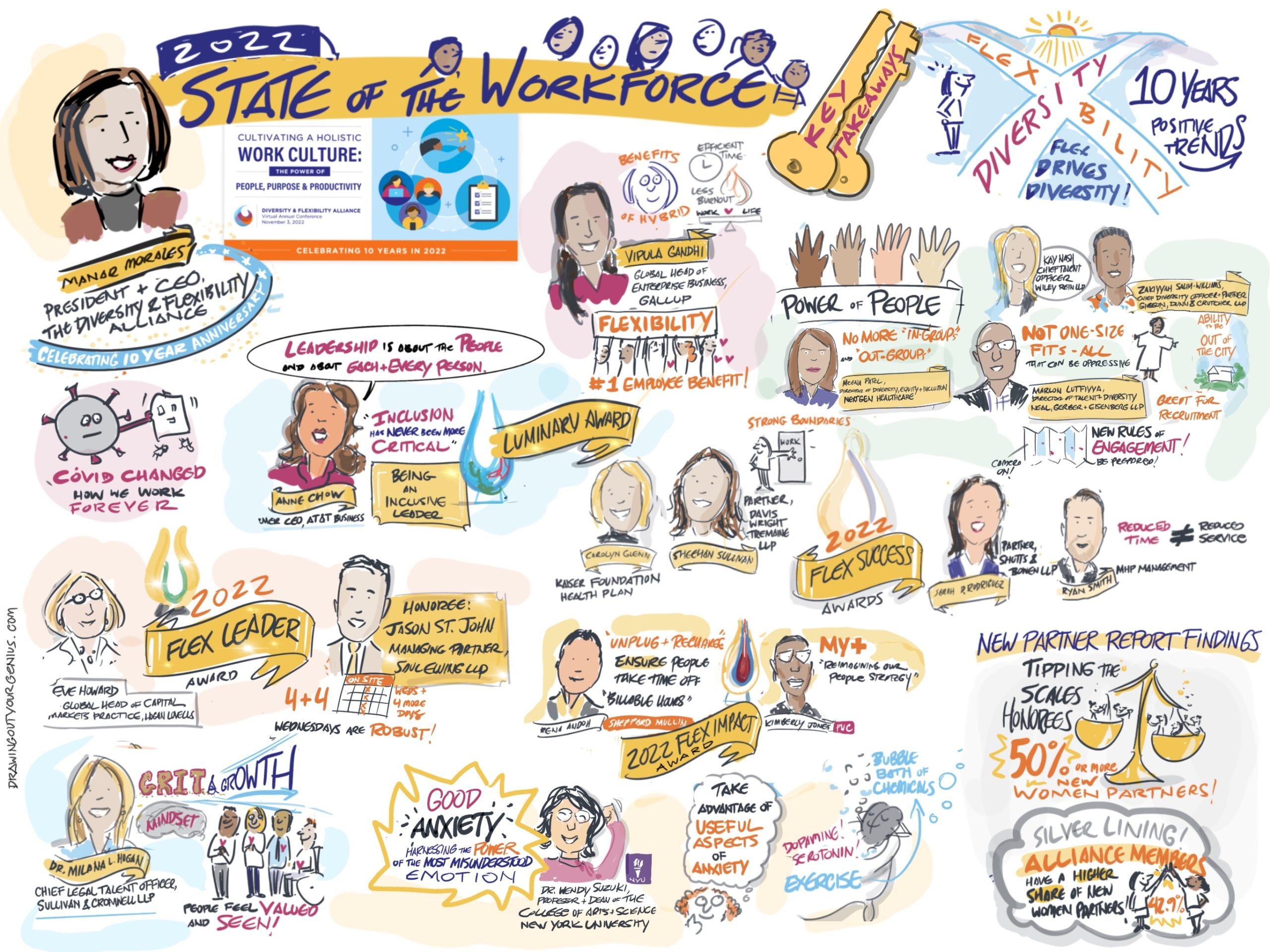 2022 Conference Agenda
Cultivating A Holistic Work Culture: The Power of People, Purpose & Productivity
November 3, 2022 – Virtual Conference
Welcome & State of the Workplace – Manar Morales
A Look Back at a Transformational Decade of Diversity & Flexibility
In celebration of the Diversity & Flexibility Alliance's ten year anniversary, President & CEO Manar Morales will share highlights and trends from the transformations in diversity & flexibility during the last decade, how the pandemic has changed the workplace, and our vision for the future of work. She'll share how to take the best of who we were in person, merge it with the best of who we were virtually to create the successful hybrid workplace of the future.
Presentation of the 2022 Flex Impact Awards
The Power of Purpose: Balancing Organizational Success with People-First, Industry-Leading Initiatives
This panel of trailblazers will reveal their industry-leading, hybrid workplace initiatives that are preparing their organizations for the future. They'll reveal cutting-edge strategies for how they are reinforcing purpose, implementing boundaries and encouraging healthy lifestyles to create inclusive cultures where everyone can thrive. 
Keynote – Anne Chow
An Inclusive Leadership Journey
Anne Chow, former CEO of AT&T Business, will share her commitment to combatting unconscious bias, her passion for education, diversity and advancing women, and her vision for cultivating a new generation of inclusive leaders.
Reflect & Connect Breakout Session
Innovative Insights – Dr. Milana L. Hogan
Leveraging Grit & Growth Mindset to Drive Team Success
Many of us are familiar with the concepts of grit (perseverance and passion for long-term goals) and growth mindset (the belief that skills and intelligence can be improved with effort and persistence) and know from personal experience just how important these traits are in achieving professional success. New research reveals that these traits are also critical in the team context. When team leaders lead in a growth mindset-oriented way, and team members work together to engage in gritty behaviors, the team thrives. Moreover, gritty team members are three times more likely to have a positive experience, which increases their job satisfaction and makes them less likely to look for other opportunities. In this session, Dr. Hogan will share the latest research and present a 5-pronged leadership model that is designed to help current and emerging team leaders harness the power of these important traits.
Presentation of the 2022 Flex Success® Awards
The Power of Productivity: Remarkable Achievements with Reduced Hour Schedules
Sarah D. Rodriquez and her client Jamie Smith
Sheehan Sullivan and her client Carolyn Glenn
Hear from exceptional law firm partners, along with their clients, as they share how flexibility has enabled them to maintain their productivity, advance their careers and make time for volunteering, while managing their personal commitments. Hear how they have overcome challenges brought on by the pandemic, in particular increases in hours and fewer boundaries, and maintained a successful career path.
Innovative Insights – Vipula Gandhi
Cultivating People, Purpose, and Productivity in the Hybrid Workplace
The 'Great Global Work from Home Experiment' created by the COVID-19 pandemic has changed how we work and expect to work far into the future. One such change is the blending of remote work flexibility and on-site work. In this session, Managing Partner Vipula Gandhi will share Gallup's latest data and insights on what makes hybrid workplaces successful. Learn more about how leaders and managers are navigating new ways of working, from coordinating schedules to fostering a connection to culture.
The Alliance's 2022 New Partner Report Findings & Trends and Recognition of Tipping the Scales Firms
Presentation of the 2022 Flex Leader Award
Leadership Lessons for Cultivating Your Holistic Hybrid Working Culture
Eve Howard & Jason St. John (2022 Flex Leader Honoree)
This panel of extraordinary organizational leaders will share how the pandemic has challenged their organizations in the short-term, as well as the long-term opportunities and implications for the future of work. They'll discuss how flexibility has evolved over the years and how their organizations are seizing on this moment to build more inclusive and holistic hybrid working cultures.
The Power of People: Embracing Inclusion & Building a Successful Hybrid Team 
Marlon Lutfiyya, Kay Nash, Meena Patel & Zakiyyah Salim-Williams
One of the biggest fears people have regarding a hybrid workplace is that you will have an "in-group" and an "out-group." This panel of diversity experts will share how their organizations are embracing the power of their people and creating intentional, inclusive and iterative initiatives that enable everyone to thrive. They're creating powerful hybrid work cultures that drive and enhance diversity, rather than act as a detriment.
Closing Keynote – Dr. Wendy Suzuki
Harness the Power of Good Anxiety
Dr. Wendy Suzuki, NYU Dean & Professor of Neural Science & Psychology, will draw upon her recent book, Good Anxiety: Harnessing the Power of the Most Misunderstood Emotion, to share strategies for transforming anxiety into something productive and helpful.
You know when you get that ambiguous email from your boss, you start to feel sweaty palms and that empty, freaked-out sensation in your stomach?  Then you know, it's back again….. Anxiety. But what if anxiety isn't always a bad thing?  What if, by using tools from neuroscience and psychology, you could learn to turn down the volume on your anxiety and transform all that activation energy that's making your mind race into something that's actually helpful?  That jujitsu move of transforming anxiety into something productive and helpful is the topic of Dr. Suzuki's talk.
CLE Credit
The 2022 Annual Conference has been approved for 4 CLE hours in Illinois.
Please contact Angela Whitehead Quigley if you have questions.
Members Receive Complimentary Tickets!
Alliance members* receive two (2) complimentary tickets as a member benefit AND may register a client for free. 
*Corporate members may invite a client, professional services partner, or outside counsel (no consultants or vendors).
We also welcome Non-members – please see rates below.
Additional member tickets can be purchased at the rates listed below.
Hear why this may be one day you can't afford to miss.
Our Annual Conference provides a unique opportunity to gather with prominent leaders committed to strategically addressing the critical issues around diversity and flexibility. While usually held in Washington, DC, due to the pandemic the conference will be virtual again in 2022.  Regardless of location and format, our speakers and attendees come together to explore success strategies for improving retention of top talent and the most up-to-date action steps to create a truly inclusive work environment.
Each year, our conference brings together corporate leaders, partners at professional services and law firms, general counsel, and diversity and inclusion and talent management professionals who share how they've implemented successful strategies in their organizations for retaining and promoting women and supporting work-life control for everyone.
Photo Credit: Birch Thomas, photosbybirch.com
Our attendees gain valuable insights into the most effective strategies for results when time and resources are limited. They hear cross industry best practices from leading law and consulting firms and Fortune 500 corporations and build networks of senior level peers. Attendees also learn about cutting-edge data and case studies that help build powerful business cases internally to advance diversity and flexibility within organizations.
Each year during our Annual Conference, we present our Luminary Award to an outstanding global visionary, as well as our Flex Leader, Flex Impact and Flex Success Awards to individuals and organizations leading the way in flexible working. Our award honorees share their secrets for success and outline their strategies that have helped them make positive changes in workplace culture.
A Look Back at 2021
Our 2021 Annual Conference,
Reflect. Reimagine. Recalibrate.
Paving the Way to Inclusive Flexibility
 was held virtually on
November 3, 2021.
Thank you to all who were able to join us! We are so grateful to our Sponsors and Community Sponsors for helping to make the afternoon so successful. We were honored to have such dynamic and inspirational speakers and we hope everyone found the afternoon to be exhilarating!
If you were unable to join us, please watch our short HIGHLIGHT VIDEO.