Spotlight on Flex – Indira Sharma
The Spotlight on Flex showcases professionals from member organizations who exemplify personal and professional success while working a flexible schedule. Their stories illustrate the long-term benefits that flexible schedules offer to both individuals and organizations.
This month, we are pleased to share insights from Indira Sharma, Counsel and Chair of the Diversity & Inclusion Committee, Saul Ewing Arnstein & Lehr LLP (Baltimore, MD).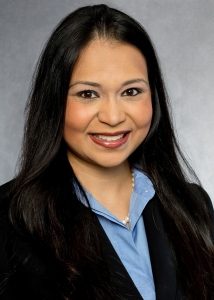 Diversity & Flexibility Alliance: How have you made flexibility a priority and a success through your schedule?
Indira Sharma: I started working at Saul Ewing right after I graduated from law school in 2006 and was on a full time schedule from 2006-2010. After I had my first child at the end of 2009, I returned to work reduced hours at 65 percent for about a year before transitioning to 70 percent reduced hours. I don't have a set schedule; as it is with the practice of law, it just depends on the day. Instead of focusing on what days I'm in the office or not, I focus on making myself available. When there's extra time, I spend it taking care of more things at home for my family and the community.
It's been trial and error to get to this point. At first I thought I would take a certain weekday off, but I realized it wasn't realistic as a litigator. So when there are family commitments, I work around them just as I would work around a deposition schedule. There are times where I've had to bend for work and times when I've had to bend for my personal life – it just depends what's more important at the moment.
DFA: How have the firm and clients contributed to your flex success? How has flexibility contributed to your business development and sustainability of working at a firm?
IS: There's never been any major issues with me working flexibly. The firm has a policy, and the partners trusted I would manage my flex schedule well. There weren't many people working flex when I first started, but now partners know me and my work and are fully supportive. They know I will complete the work, and do it well.
As I've become more senior, I manage several cases on my own, and that makes flex so much easier. I've been developing my book of business and deepening my relationship with other firm clients. I don't generally announce my schedule when I first start working with them, but I've noticed that several of my clients are also working parents and general counsel at large companies. We bond over this, and that's when I openly share my flex schedule with them. They're always supportive; they know I'm an outstanding attorney, and my schedule doesn't affect my capabilities. Flexibility is a significant part of me, so when I'm ready to share it, I will, because it's part of the relationship-building process.
I'm a big advocate for lawyer wellness. We burn out so quickly, women especially, because we carry on a full time job at home too. I don't think you can be a truly happy lawyer without flex, and it doesn't have to be reduced hours. It just needs to be any form of flex. Flex has made me a genuinely happy lawyer, which I think is really rare. I really love the practice of law. I love thinking on my feet, arguing in court, and writing motions – and I believe I'm good at it too! But I also enjoy spending time with my family and kids. I like to be active in their classrooms and be involved in my community. It really feeds my soul, and flex is the only way that makes it possible.
I really enjoy business development, and not enough junior attorneys focus on it – they seem to be only focused on their billable hours. I learned to pay more attention to business development as a junior attorney, and I used some of the extra time from my flex schedule for it because I knew it was the best thing for me professionally long term.
DFA: Looking back, what would you tell your first year associate self? Would you do anything differently?
IS: I wouldn't change this, but I would reiterate to younger attorneys to focus on developing a high business development acumen early in their careers. As the Chair of the firm's Diversity & Inclusion Committee, I see a lot of bias against women in general, especially when it comes to working flex. I would tell any first year associate, especially young female associates, to be strong and commit to your values. You're going to run into a lot of bumps along the road, and there will be people who don't want to work with you. You have to be okay with that. At the end of the day, you are responsible for you – you have to decide what you want and what's most important. My family, health, and well-being are what's important to me. You can't excel at work unless you are taking care of yourself first.
DFA: How do you pay it forward, and how do you recharge your batteries?
IS: Within the legal community, I pay it forward by serving as: the Chair-Elect of the Young Lawyers Section for the Maryland State Bar Association; a member of the Executive Board of the Asian Pacific American Bar Association of Maryland and Mentoring Chair; and a member of the Young Lawyers Division Council for the Baltimore City Bar Association. Within the community, I serve on the Board and am the Immediate Past Chair of Community Law in Action which pairs and mentors inner city high school students with lawyers to help them be advocates for change. I've been on the alumni board of my law school for the past six years and currently serve on the Board as Treasurer for my Hindu temple.
I'm a huge proponent of meditation; I get up very early, exercise, and then meditate. It grounds me and gives me the mental and physical recharge I need. I focus on spending my time on the things that are meaningful to me; I'm the first person to volunteer to mentor for any opportunity both in and outside of the legal community. I think it's so valuable, and it helps keep me going.
 — — —
If you are a professional working a flexible schedule and would like to share your story in an upcoming Spotlight on Flex, contact Eliza Musallam.
https://dfalliance.com/wp-content/uploads/2019/03/Diversity-and-Flexibility-Alliance-Logo-260.png
0
0
integritive
https://dfalliance.com/wp-content/uploads/2019/03/Diversity-and-Flexibility-Alliance-Logo-260.png
integritive
2017-11-30 00:00:00
2017-11-30 00:00:00
Spotlight on Flex – Indira Sharma