Spotlight on Flex – Catie Romanchek
Our Spotlight on Flex showcases professionals from member organizations who exemplify personal and professional success while working a flexible schedule. Their stories illustrate the long-term benefits that flexible schedules offer to both individuals and organizations.
June 2020 Spotlight on Flex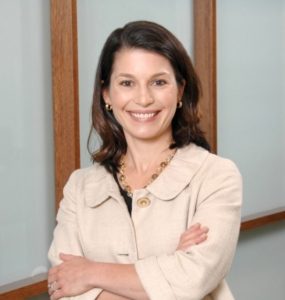 For June 2020, we are pleased to share insights from Catie Romanchek, Partner, Squire Patton Boggs (Cleveland, OH)
Diversity & Flexibility Alliance: How have you made flexibility a priority and a success with your schedule?
Catie Romanchek: I started as a summer associate at Squire Patton Boggs (then Squire, Sanders & Dempsey) ("Squire") during the summer of 2002, became a full-time associate in 2003, and I've been here ever since.
I had my first child in 2007, and as I was preparing to return to work after maternity leave, my husband and I decided it would be best for me to work a reduced hours schedule. He had just completed his MBA, was working full time, and was traveling a lot for his sales job. When we were discussing our priorities, we knew that my staying at 100%, full time work at Squire was not the best plan for us. I spoke with my then Practice Group Leader (PGL), Bruce Gabriel, and asked to work a 65% reduced hours schedule and come into the office three days a week. My PGL was very supportive of flex schedules, and he didn't see a reason why we couldn't try my schedule out.
At first, returning from leave was difficult because I knew I couldn't take on as much work as I had before, and my biggest struggle was learning how to step back. The firm and my colleagues were very accepting as I figured out how to manage my new schedule. I didn't know a lot of people on flex at the time, so it took some trial and error to figure out how to make my new flex schedule work.
Fast forward to present day, and I'm still working reduced hours (and have had two more children since 2007), but now I'm in the office four days a week and telework on Fridays. As my career evolved, my roles within the firm changed too. I was promoted to principal in 2016 and to partner in 2018. My husband still travels extensively for his job so my flex schedule gives me the control I need to be there for my children and balance our crazy schedules while still meeting the demands of my clients as a partner.
DFA: How have the firm and/or clients contributed to your Flex Success®?
CR: Some of my clients are aware of my schedule and are supportive of it too; if they're able to, they'll schedule calls and meetings around Fridays because they know that's my telework day. But I also don't want my flexibility to weigh on my clients; I'm flexible with them too. I make it clear that I can always rearrange my schedule for their needs. That may mean I switch my telework day for the week, and that's fine.
DFA: How has working flexibly made your career more sustainable and contributed to business/professional development opportunities?
CR: I'm very appreciative that Squire has never let my flex schedule inhibit my ability to take advantage of business development opportunities and advance my career. In 2013, I was part of the team that responded to an RFP for the Metropolitan Washington Airports Authority ("MWAA") that oversees the Dulles and Reagan airports in the DC area. I was included in the RFP based on my experience from working with the Cleveland Hopkins International Airport since 2004. Being part of that RFP team was a huge turning point in my career. Now I work on airport financings all over the country and have developed an expertise on these matters. I really enjoy it, and I'm so thankful I had the opportunity to be part of the team that responded to MWAA. My flexible schedule didn't exclude my involvement, and more importantly, from being considered to be part of the team. That opportunity really transformed my career and my skills set. I think it's very important to find ways to continue to grow and evolve in your practice while maintaining your flex schedule.
My flexibility has also provided opportunities for me to develop leadership roles within the firm. I oversee, with another colleague, associate and paralegal evaluations in my practice group in the Cleveland office. I also co-chair the local government team here in Ohio and was asked to be part of a Cleveland office's business development task force. The latter really opened up opportunities to meet and work with other people outside of my practice group. I really enjoy these roles within the firm, and I feel that working reduced hours has given me the opportunity to take them on.
DFA: Looking back, would you do anything differently, or what would you tell your younger self?
CR: Have confidence that this can be done, and don't feel like you have to apologize for making decisions that are necessary to make your flex schedule work. When I first started working flexibly, I felt, at times, like I always had to try and "make it work" and would apologize if I couldn't accept a new matter. I've learned that people aren't looking for apologies; they understand, want to work with you, and with communication, you can make a lot of things work out. It also took me awhile to feel comfortable sharing my schedule with clients. I had to be confident and know I wasn't giving them any less quality work or service by reducing my hours. I give every client 110% of my focus and service; I just work with fewer of them.
The advances in telecommuting now have made flex arrangements so much easier too. You can work with your colleagues and clients to ensure they're always receiving high quality service while respecting your flex schedule.
DFA: How do you recharge, and how do you pay it forward?
CR: I recharge by being with my family and being fully present with my kids. My two girls take piano lessons and helping them practice has given me the opportunity to start playing again myself – this has always been a wonderful outlet for me. They're also very involved in horseback riding, so we spend a lot of time together outdoors with the horses. We have a lot of fun and learn so much during our weekly time at the stables. I absolutely love watching them become wonderful riders.
Externally, I pay it forward by being active in my church and at my kids' school. Within the firm, I'm often the point person for interviews to talk about flex options or when younger associates ask about it. I am always happy when I can help Squire incorporate flexibility as a cultural norm. The firm has worked with and supported me throughout my career. I want to help Squire continue to grow in this area and continue to be a leader in the industry on fully accepting and supporting holistic flex.
https://dfalliance.com/wp-content/uploads/2020/06/Catie-Romanchek-e1592932868632.jpg
859
816
dfalliance
https://dfalliance.com/wp-content/uploads/2019/03/Diversity-and-Flexibility-Alliance-Logo-260.png
dfalliance
2020-06-23 13:25:06
2020-06-23 13:31:58
Spotlight on Flex – Catie Romanchek