Our Spotlight on Flex showcases professionals from member organizations who exemplify personal and professional success while working a flexible schedule. Their stories illustrate the long-term benefits that flexible schedules offer to both individuals and organizations.
October 2020 Spotlight on Flex
For our October Spotlight on Flex, we're pleased to highlight Tessa Mielke Partner, Dorsey & Whitney (Minneapolis, MN)
Diversity & Flexibility Alliance: How have you made flexibility a priority and a success with your schedule?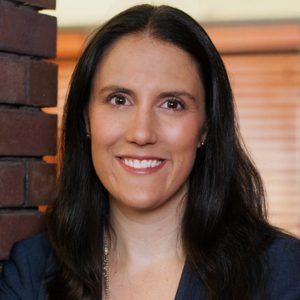 Tessa Mielke: I graduated from law school in 2010 when the legal world seemed to be upside down (though it was certainly less crazy than now!). Because of the Great Recession, I had the opportunity to spend a year working at Harvard Law School's transactional law clinic before transitioning to a full time associate role in the tax group in the Boston office of Ropes & Gray. In 2013, my husband started his medical residency in Minneapolis; I left Ropes and started at Dorsey & Whitney in their tax, trusts and estates group. I was working a typical full time associate schedule, but reevaluated my work schedule in 2015 after my first child was born. She had a few health concerns, including needing major surgery on her skull (she's fine now!). I decided to reduce my hours so I could take my daughter to her numerous medical appointments without worrying about the hours I was missing at work.
I switched to an 80% reduced hours schedule with the intention of ramping back up to full time once we were done with my daughter's medical appointments. But once that time came and things settled a bit more, I realized that I really appreciated the flexibility of a reduced hours schedule. I still came into the office every day, but I worked shorter hours and could take more vacation days (or sick days to care for my daughter or myself when we inevitably got sick the first few years) while still meeting my work obligations. The result was that both work and my family life were more sustainable.
After about a year and half of working a reduced hours schedule, I decided to increase my hours to 85% to match the hours I'd been putting in while maintain a schedule that worked for me and my family. I've been on this schedule ever since. It's been wonderful, and working a flex schedule has not impeded my career trajectory at all. While working reduced hours, I was promoted to income partner in January 2018 and then to equity partner a year later (even though the typical progression is three to five years from income to equity).
Now with everyone working from home almost exclusively, "coming into the office" is quite different. I've still been working shorter hours to meet my family obligations, but I've also started using my flex schedule to take one day a month off for self-care and personal projects. This new way of incorporating flexible work has really helped continue to keep my work schedule sustainable.
DFA: How have the firm and/or clients contributed to your Flex Success®?
TM: The firm has clearly been on board with my flex success journey – the biggest example has been with my partnership progression. My practice is really conducive to flex; I work with several clients and on several projects at any given time, which makes it easier to work on fewer matters and still give clients the highest level of service.
My practice group has also been very supportive. We've coordinated to make sure my flex schedule works for everyone. For example, my husband is a frontline worker in the hospital, and when the pandemic started, I worried about potentially exposing my colleagues and clients. I stopped coming into the office before the firm mandated teleworking, but I still had matters that required in person signings. Without hesitation, my partners stepped in to oversee those meetings. The point is, pandemic or not, we all work together and support each other.
DFA: How has working flexibly made your career more sustainable and contributed to business/professional development opportunities?
TM: I'm able to provide the same high caliber work and service to the firm and clients because of flexibility. I can work at a pace that doesn't overshadow my personal goals and family commitments. My flexible schedule has also allowed me to participate in business development opportunities that I wouldn't have had time for if I was billing at 100%. I've been able to expand my professional development with internal clients, too. For example, Dorsey's Women Attorneys with Children affinity group has been a great source of connecting with other attorneys in the firm with shared experiences. We understand the need for flex and can mentor one another.
DFA: Looking back, would you do anything differently, or what would you tell your younger self?
TM: I would tell myself to not be as nervous about expressing what I need. I worried that people would think I wasn't as committed by working reduced hours at first. The mentality is quite the opposite though; it's because I am so committed and want to excel, I knew I had to reduce my hours. I knew I wouldn't be able to give 100% to the firm, my clients, and my family by working full time. I think it's important to make it very clear with your colleagues from the beginning that you're still just as committed to your work. People are understanding and receptive when you take the time to have a real discussion.
I would also be better about periodically reevaluating what my needs are. I used to look for the "answer" on how to balance work and life. But I've realized there is no answer that works for everyone or even an answer that works for one person for their entire career. That's why you need to check-in with yourself on what's working and what's not on a regular basis. If it's not working, then try something else. That's been especially true for me during this pandemic.
DFA: How do you recharge, and how do you pay it forward?
TM: I've learned I need to spend time outside – walk, run, take bike rides – anything that gets me moving in the fresh air. It's a mental break, and I can shift gears from focusing on work and parenting to focusing on being present. I like to knit too, and have been knitting since law school! I want to keep learning new things, and working on new, complicated knitting patterns helps me relax and refocus.
I pay it forward by informally and formally mentoring summer associates and other young attorneys. The sense of community I've found at Dorsey has been a great resource to me; I know that my generation of attorneys will play a major role in paving the way for flexible work and supporting those coming up after us.
 — — —
If you are a professional working a flexible schedule and would like to share your story in an upcoming Spotlight on Flex, contact Jane Caldeira.
https://dfalliance.com/wp-content/uploads/2020/10/Tessa-Mielke.jpg
600
600
dfalliance
https://dfalliance.com/wp-content/uploads/2019/03/Diversity-and-Flexibility-Alliance-Logo-260.png
dfalliance
2020-10-28 14:14:20
2021-01-25 16:13:17
Spotlight on Flex – Tessa Mielke