Spotlight on Flex – Anne Marie Pisano
The Spotlight on Flex showcases professionals from member organizations who exemplify personal and professional success while working a flexible schedule. Their stories illustrate the long-term benefits that flexible schedules offer to both individuals and organizations.
This month, we are pleased to share insights from Anne Marie Pisano, Principal at Goldberg Kohn, in Chicago, IL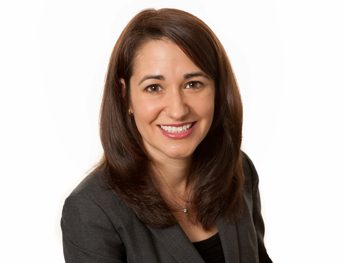 Diversity & Flexibility Alliance: How have you made flexibility a priority and a success through your career?
Anne Marie Pisano:  Goldberg Kohn is a one office firm based in Chicago, and I started here as a summer associate and then as a first year associate after graduation. My husband and I are very passionate about pursuing our careers while at the same time being completely committed to each other. When an amazing professional opportunity presented itself for him in DC, we knew we had to take it. I was a mid-level associate at the time, pregnant with our first child, and I really loved working at Goldberg – I didn't know what my options were. I spoke with the chairperson of the commercial finance practice group, and he told me that even if I moved to DC, he and the firm didn't want to lose me as an associate. It was incredible, and we worked together to create a telecommuting arrangement. I would work the same amount of hours, for the same compensation, and have the same expectations as any other full time, Chicago-based associate – I would just be based in the DC-metro area. It was a very organic arrangement; I would come to Chicago when deals closed and to meet with clients as I deemed necessary.
This arrangement started over 14 years ago. What I love about Goldberg Kohn is that over the years, my family and professional situation has evolved, and my flex arrangement has evolved to match my needs as well. When I started telecommuting, technology was not what it is today, and during my first maternity leave, there was a desire to push our tech options forward. This was not just for me but for other attorneys at GK who wanted to leave the office in the evening to spend time with their families and log back into the system later, if necessary. The firm made the investment to make this happen, and I had complete, remote access to the firm's system. I was able to recreate my entire office desktop at home, and it's been a win for all attorneys since then.
After I had my second child, I realized that in addition to telecommuting, I wanted to work reduced hours. Without question, the firm supported my request, and we agreed on a flex schedule where I would work 80 percent. In fact, I made principal (we are a single-tier partnership), while telecommuting and working reduced hours! We stayed in the DC area for 12 years, and two years ago, we moved to Pennsylvania (where my husband and I grew up) to be closer to family. Now that my third child is in school full time, I returned to working full time. I'll go into the office in Chicago about once a month for two/three days at a time, but I still telecommute about 95 percent of the time.
DFA: How have the firm and clients contributed to your flex success? How has flexibility contributed to your business development and sustainability of working at a firm?
AMP: While working reduced hours, I was able to create some of my first and best client relationships. People would tell me "you're so focused on my deal," or "you respond so quickly." The key for me was to take on fewer matters than my full-time counterparts, but to give those matters 100 percent of my attention. With a lighter work load, I was able to really focus on each client and matter I was on and respond quickly. Working remotely also helped with business development since we have clients all over the US. Because I was in DC (and now Pennsylvania), I'm a "boot on the ground" on the east coast and able to deepen and strengthen existing client relationships while at the same time develop new ones with institutions who may not have a presence in Chicago.
Goldberg Kohn believes in client sharing, and this fosters flex success and business development for everyone. Clients are the firm's clients, not an individual principal's client (although one or two principals may serve as the primary points-of-contact). Principals at GK are encouraged to not only bring on new clients, but to introduce and share those client relationships with other partners and institutionalize the relationship within the firm. Because of this philosophy, the partners at GK never hesitated to introduce me to clients in Chicago or to travel to the east coast to help me develop new client relationships here. I've always been able to grow professionally while telecommuting and working reduced hours.
I've been working flexibly for so long that it's ingrained into my daily experience. I don't think I could practice law without it. Flex allows me to still be professionally accessible and prioritize family time. I just can't imagine working any other way. When I moved to DC, I was the only person working remotely. Now there are five of us all together at all levels (two partners, two associates, and one counsel) working remotely.
The firm recognizes flexibility as a win for everybody and is motivated to find solutions that will work for each attorney. Goldberg Kohn is absolutely committed to producing excellent legal work and great client service. As long as that is getting done, it doesn't matter where it's happening. We're smaller than most firms we compete with, but being smaller means each attorney makes up a bigger part of the entire organization. I'm the perfect example of how the firm has shown its commitment to spending time and resources to make sure attorneys are succeeding and staying. Flex is simply part of the culture.
DFA: Looking back, what would you tell your first year associate self? Would you do anything differently?
AMP: I believe in the butterfly effect. I wouldn't change anything about the start of my career, but if I could go back, I would tell my younger self to trust more. I'm at a great firm with great colleagues who are committed to seeing me succeed. At GK, it's part of our culture to want to see associates succeed – when they succeed, we as a firm succeed. When I was a young associate I saw smart, hardworking, successful principals, many of whom were men, leave at a reasonable time to be with their families and then log back in when needed. I knew there would be no flex stigma with my work arrangement, and the firm would support me.
Young associates need to look at the long-term; it's a marathon, not a sprint. Sometimes the right answer is "no" so you can avoid burnout and present your best-self to your clients and colleagues. We have to always provide top-quality legal work and excellent service to our clients; to do so, we have to make choices that work with our lives as a whole at that moment.
I would also tell my younger, working mom self that it's OK to farm things out. You don't have to do everything. There's lots of parts about being a parent and running a household that aren't much fun (like running errands or doing laundry), so do the things you want to do. Spend quality time with your spouse and kids, and delegate the rest when you can.
DFA: How do you pay it forward, and how do you recharge your batteries?
AMP: I recharge by spending time with my family and friends – those personal relationships are so important. My oldest child will be going to college in a few years, so I try to spend as much time with her as possible.
I pay it forward by being active with the firm. I'm a member of the women's initiative committee and served on the firm's diversity committee. I informally mentor women associates. We have exceptional, young female associates, and I'm happy to share my experiences at the firm with them as an example of how they can succeed too.
 — — —
If you are a professional working a flexible schedule and would like to share your story in an upcoming Spotlight on Flex, contact Eliza Musallam.
https://dfalliance.com/wp-content/uploads/2019/03/Diversity-and-Flexibility-Alliance-Logo-260.png
0
0
integritive
https://dfalliance.com/wp-content/uploads/2019/03/Diversity-and-Flexibility-Alliance-Logo-260.png
integritive
2017-07-28 00:00:00
2017-07-28 00:00:00
Spotlight on Flex – Anne Marie Pisano