The Spotlight on Flex showcases professionals from member organizations who exemplify personal and professional success while working a flexible schedule. Their stories illustrate the long-term benefits that flexible schedules offer to both individuals and organizations.
This month, we are pleased to share insights from Anne Marie Pisano, Principal at Goldberg Kohn, in Chicago, IL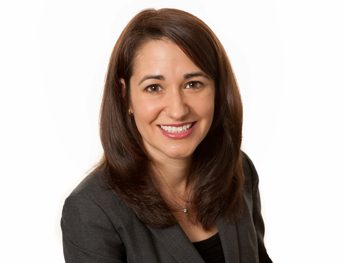 Diversity & Flexibility Alliance: How have you made flexibility a priority and a success through your career?
Anne Marie Pisano:  Goldberg Kohn is a one office firm based in Chicago, and I started here as a summer associate and then as a first year associate after graduation. My husband and I are very passionate about pursuing our careers while at the same time being completely committed to each other. When an amazing professional opportunity presented itself for him in DC, we knew we had to take it. I was a mid-level associate at the time, pregnant with our first child, and I really loved working at Goldberg – I didn't know what my options were. I spoke with the chairperson of the commercial finance practice group, and he told me that even if I moved to DC, he and the firm didn't want to lose me as an associate. It was incredible, and we worked together to create a telecommuting arrangement. I would work the same amount of hours, for the same compensation, and have the same expectations as any other full time, Chicago-based associate – I would just be based in the DC-metro area. It was a very organic arrangement; I would come to Chicago when deals closed and to meet with clients as I deemed necessary.
This arrangement started over 14 years ago. What I love about Goldberg Kohn is that over the years, my family and professional situation has evolved, and my flex arrangement has evolved to match my needs as well. When I started telecommuting, technology was not what it is today, and during my first maternity leave, there was a desire to push our tech options forward. This was not just for me but for other attorneys at GK who wanted to leave the office in the evening to spend time with their families and log back into the system later, if necessary. The firm made the investment to make this happen, and I had complete, remote access to the firm's system. I was able to recreate my entire office desktop at home, and it's been a win for all attorneys since then.
After I had my second child, I realized that in addition to telecommuting, I wanted to work reduced hours. Without question, the firm supported my request, and we agreed on a flex schedule where I would work 80 percent. In fact, I made principal (we are a single-tier partnership), while telecommuting and working reduced hours! We stayed in the DC area for 12 years, and two years ago, we moved to Pennsylvania (where my husband and I grew up) to be closer to family. Now that my third child is in school full time, I returned to working full time. I'll go into the office in Chicago about once a month for two/three days at a time, but I still telecommute about 95 percent of the time. Read more
https://dfalliance.com/wp-content/uploads/2019/03/Diversity-and-Flexibility-Alliance-Logo-260.png
0
0
integritive
https://dfalliance.com/wp-content/uploads/2019/03/Diversity-and-Flexibility-Alliance-Logo-260.png
integritive
2017-07-28 00:00:00
2017-07-28 00:00:00
Spotlight on Flex – Anne Marie Pisano