New Partner Report
The Diversity & Flexibility Alliance's New Partner Report is a yearly compilation and examination of data from over 100 of the nation's largest and top-grossing law firms about the attorneys promoted to partnership. The report specifically examines the gender breakdown of attorneys promoted to partnership in their U.S. offices.
The 2020 New Partner Report was released to Members of the Diversity & Flexibility Alliance on Friday, November 6. Highlights from the report are available to the general public (see below.)  Members can view the entire report in the Member Resource Center.
The Alliance has generated this report since 2012, and the report aims to uncover trends related to the percentages of women promoted to partnership each year.
Highlights from the 2020 Report
40.9 percent of new partners in more than 100 (137) major U.S. law firms in 2020 were women. This figure is a slight dip from the previous mark of 41.3 percent last year.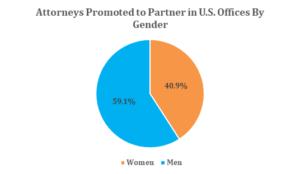 The average number of attorneys promoted to partner among these 137 firms is 13, which represents an increase from last year's figure of 12.6 and the 2018 figure of 11.
46 firms (33.6%) reported that its new partner class is at least 50% women. This figure is a decrease from the 2019 figure of 51 firms (37%); however, it is an increase from the 2018 figure of 31.3% and the 2017 figure of 32.3%.
The Alliance has been compiling this data and releasing this report for nine years. While this year represents an increase of 7.7 percentage points since 2012, it represents a slight dip from last year of 0.4% and is only the second time over the last nine years when there was a YoY drop (2013 to 2014 was the only other time the figure dropped).
This year we widened the gap between the share of new women partners and the share of women associates/summer associates – 5.9% this year vs. 4.6% in 2019 of the difference in shares of new women partners and women associates; and 11.8% this year vs. 10.1% in 2019 of the difference in shares of new women partners and women summer associates.[1]
[1] See "2019 Report on Diversity in U.S. Law Firms" NALP, December 2019. https://www.nalp.org/uploads/2019_DiversityReport.pdf
Access the 2020 New Partner Report Press Release here.
Click to access the report for each year.