78 Law Firms Recognized For "Tipping the Scales" Towards Gender Parity In Their 2023 New Partner Classes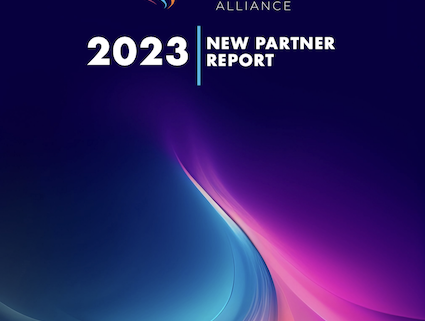 2023 New Partner Report Shows 3.5% Increase in Women New Partners
Washington, DC (November 3, 2023) – Today, the Diversity & Flexibility Alliance released the results of its 2023 New Partner Report, a compilation of public data related to the gender breakdown of attorneys promoted to partner in US and global law firms. Yesterday, the seventy-eight law firms that had 50% or more women in their 2023 new partner class, globally and/or US-based, were recognized as "Tipping the Scales" and honored at the Alliance's annual conference.
The Report revealed that 43.7 percent of new partners from 196 major US law firms in 2023 were women, representing a substantial increase of 3.5% from last year's 40.2%. Accounting for increased globalization of the legal industry, this year's report also includes global new partner promotion data for the first time. Globally, women accounted for 43.3% of new partners.
Other highlights include:
Since 2012, when the Alliance began compiling this data, the share of women new partners has increased 10.5 percentage points (from 33% in 2012 to 43.7% in 2023).
The share of firms with 50% or more women in their new partner class increased from 27.6% last year to 38.3% this year.
The gap in the share of new women partners compared to the share of women associates decreased from a gap of 8.1% in 2022 down to 5.7% this year.
Alliance member firms achieved a 2.6% higher share of women new partners than the overall US-based percentages (46.3% vs 43.7%).
"I'm optimistic about the overall upward momentum of the percentage of women in new partner classes in the US and globally," said Manar Morales, President & CEO of the Diversity & Flexibility Alliance. "However, law firm leaders must continue to be intentional about developing strong, equitable systems for recruitment, work distribution, mentorships, training, pay and evaluations to maintain and grow their gender parity in leadership," she added. "Once again this year, I'm immensely proud of the Alliance member firms who consistently prioritize flexibility, wellbeing, engagement, diversity, equity, and inclusion, and achieve higher percentages of women partners."
The Alliance's New Partner Report, which is released in full to its members, is a yearly compilation of data from the nation's largest and top-grossing law firms examining the gender breakdown of attorneys promoted to partnership in their U.S. offices.  The data is based upon publicly available firm announcements and other self-reported sources on new partner classes with an effective date of promotion between October 1, 2022, and September 30, 2023.
The "Tipping the Scales" firms recognized for having 50% or more women in their 2023 new partner class included:
1. Akin

2. Armstrong Teasdale

3. Arnold & Porter***

4. Atkinson, Andelson, Loya, Ruud & Romo

5. Baker Donelson

6. Barnes & Thornburg

7. Beveridge & Diamond

8. Bilzin Sumberg

9. Bond Schoeneck

10. Bracewell*

11. Bradley

12. Brownstein

13. Burns & Levinson

14. Burr & Forman

15. Chapman and Cutler

16. Choate

17. Cleary Gottlieb

18. Cole Schotz

19. Covington

20. Crowell & Moring**

21. Davis Polk

22. Davis Wright Tremaine***

23. Day Pitney

24. Debevoise*

25. Dechert*

26. Dentons

27. Dykema

28. Epstein Becker & Green**

29. Faegre Drinker

30. Finnegan

31. Fish & Richardson

32. Fisher Phillips

33. Goldberg Segalla

34. Goodwin

35. Goulston & Storrs

36. Greenspoon Marder

37. Hodgson Russ

38. Hogan Lovells*

39. Honigman

40. Ice Miller

41. Jackson Lewis**

42. Jenner & Block*

43. Jones Day**

44. Kelley Drye

45. Littler**

46. Locke Lord

47. Loeb & Loeb*

48. Lowenstein

49. Manatt*

50. Mayer Brown

51. McDermott Will & Emery

52. McGuireWoods

53. Miller & Chevalier**

54. Morrison & Foerster

55. Munger, Tolles & Olson

56. Offit Kurman

57. Ogletree Deakins*

58. Orrick

59. Parker Hudson

60. Perkins Coie*

61. Phelps Dunbar

62. Porter Wright

63. Robins Kaplan

64. Saul Ewing

65. Seyfarth*

66. Shutts & Bowen*

67. Smith Gambrell

68. Spencer Fane

69. Stoel Rives*

70. Thompson Hine

71. Troutman Pepper

72. Venable

73. Weil*

74. White & Case*

75. Wiggin and Dana

76. Williams Mullen

77. WilmerHale*

78. Wilson Elser
*One asterisk is next to firms that have been recognized as "Tipping the Scales" firms for three years.
**Two asterisks are next to firms that have been recognized as "Tipping the Scales" for four years.
***Three asterisks are next to firms that have been recognized as "Tipping the Scales" for five years.
Diversity & Flexibility Alliance Member Firms are bolded.
For more than a decade, the Diversity and Flexibility Alliance has collaborated with organizations to develop inclusive flexible working cultures that cultivate diversity in leadership, drive workplace wellbeing, and foster a more humanized work experience.  The Alliance provides practical research-based solutions, customizable training programs, strategic advisory services and a peer-learning network that increase organizational effectiveness through diversity and flexibility.
https://dfalliance.com/wp-content/uploads/2023/11/2023-New-Partner-Report-Cover.png
500
425
dfalliance
https://dfalliance.com/wp-content/uploads/2019/03/Diversity-and-Flexibility-Alliance-Logo-260.png
dfalliance
2023-11-03 08:54:15
2023-11-03 08:54:15
78 Law Firms Recognized For "Tipping the Scales" Towards Gender Parity In Their 2023 New Partner Classes