Action Step – LEVERAGE ALLIANCE FLEX RECALIBRATED FRAMEWORK TO REVAMP POST-PANDEMIC FLEX POLICY

The Alliance's Action Steps are designed to assist organizations with implementing practical strategies and policies related to diversity and flexibility. Members can access full versions of all of the Alliance's Action Steps in the Member Resource Center. 
The pandemic has forever changed how we can work, want to work, and will work. At the forefront of this is workplace flexibility. The pandemic inadvertently highlighted many benefits of flex, including productivity boosts, improved satisfaction, and business continuity gains. Now is the time for each organization to think through what type of flex is needed and can successfully be implemented. Use the Alliance's Flex Recalibrated Framework to revamp your flex policy and lean on us each step of the way:
Reflect. The first step is to Reflect on what worked, what were the challenges and how to structure flex to most effectively drive advancement, retention, diversity, recruitment, profitability, productivity, engagement and innovation. Organizations need to do this to establish a compelling purpose for flex that is unique to your organization. What were some of your successes with flex during the pandemic? What were some of your challenges? What are some ways to mitigate these challenges going forward? How has flex helped talent development, profitability and productivity? Now is the time to collect data to see what worked, what didn't and why. Conduct employee surveys, check-in interviews and focus groups to gather data in order to build your unique flex business case and establish/communicate a clear purpose for flex….
Members: continue reading this Action Step in the Member Resource Center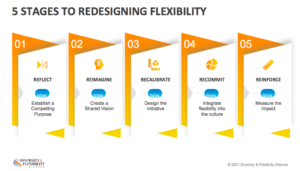 To read this entire Action Step become a member of the Diversity & Flexibility Alliance. To learn more contact Manar Morales.
https://dfalliance.com/wp-content/uploads/2021/04/5-stages-to-redesigning-Flexibility-image.png
576
1010
dfalliance
https://dfalliance.com/wp-content/uploads/2019/03/Diversity-and-Flexibility-Alliance-Logo-260.png
dfalliance
2021-04-29 12:32:12
2021-04-29 12:34:10
Action Step – LEVERAGE ALLIANCE FLEX RECALIBRATED FRAMEWORK TO REVAMP POST-PANDEMIC FLEX POLICY