Spotlight on Flex – Colleen Haas

Our Spotlight on Flex showcases professionals from member organizations who exemplify personal and professional success while working a flexible schedule. Their stories illustrate the long-term benefits that flexible schedules offer to both individuals and organizations.
For our September Spotlight on Flex, we're pleased to highlight Colleen Haas, Partner, Frost Brown Todd (Cincinnati, OH)
September 2020 Spotlight on Flex
Diversity & Flexibility Alliance: How have you made flexibility a priority and a success with your schedule?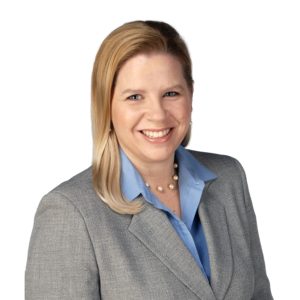 Colleen Haas: It's hard to believe, but I've been at the firm for over 20 years. I started here during my 2L summer internship and then as a first year associate right after graduation from Notre Dame Law School in 1997. After I had my first child, I reduced my hours to 90% of my original billable hour requirement but still came into the office five days a week. When I had my second child three years later, I reduced my billable goal a little more and changed my schedule slightly by coming into the office four days a week and working one day remotely.
My flexibility manifests in the form of a reduced hours schedule that is annualized to compliment my husband's work schedule. He is a scout for a major league baseball team and his consistent "crunch time" each year, with extensive work and travel, is during the spring and summer. However, during the fall and winter months, he has much more flexibility. Knowing this, when I first approached the firm about reducing my hours, I asked for a schedule where I could work four days in the office and one day from home, but only for six months of the year. I would then go back to five days per week in the office for the other six months to ramp up my hours during my busy year end. As a transactional attorney, I knew I needed to maximize both mine and my husband's schedules in a way that would work for our family and the changing seasons.
As you progress through your career, your goals and needs change. There was a short period of time when I took myself off the partner track and went to counsel because I thought that would fit my family needs better. I had three young kids at home and between juggling their activities, my work commitments, and my husband's travel schedule, I didn't want the extra pressure. My "aha" moment was, however, when other partners were telling me that I should be on the partner track because I was already doing everything they were. They believed in me and didn't see reduced hours as a roadblock to partnership. With that encouragement from my peers, I switched back to the partner track and was promoted to the partner class very soon thereafter.
I would set my yearly billable hours and stick with that number no matter what reduced hours percentage I was working at the time. This is how I approached flexible work as an associate, and it's how I approach it at the partner level now too. Once my third child entered kindergarten, I ramped back up to being in the office five days a week but leaving early when I needed to for any commitments. You get to a point where you've earned the respect and trust of your colleagues; they know your work ethic, your work quality, and that you'll provide top notch client service.
DFA: How have the firm and/or clients contributed to your Flex Success®?
CH: The firm has always been open to flexible schedules that make sense but even more so with the advancements in technology over the past 10 years. You can work and respond to voicemails/emails anywhere and anytime. But it also takes skill to work flexibly and to successfully work flexibly. I'm a perfectionist, and I want to make sure my work is done right and in a timely manner. The amount of literal and figurative support from the firm has been amazing. I've been asked to serve on committees, mentor younger associates, and to represent the firm in several capacities.
I had to voice what I wanted and not be afraid to tell the firm "this is what I need to be happy and stay here." More importantly, I had to recognize there are several paths to success. I may have taken an unorthodox and longer approach, but I've found my version of success at every stage in my career without compromising my priorities.
There are only a few clients that even realize I work reduced hours; I've always made sure their needs were taken care of regardless of my flex schedule. Some of my clients also work flexibly; it's become evident that more and more people are not only working this way, but they also prefer it. My internal and external clients are respectful of my time – we schedule when we can. My type of practice lends to flexible work too since my transactions can take place over time zones and across the country.
DFA: How has working flexibly made your career more sustainable and contributed to business/professional development opportunities?
CH: Flex not only made my career sustainable, it made it possible. I don't know how I would have managed without it – it's kept me in a better place. My kids went to daycare, and we don't have family in town. Even though my husband and I were present as much as possible, our kids had to be independent and learn to do things for themselves. They know mom and dad are dedicated to their careers, but that also doesn't change our dedication to them.
Everyone's busy inside and outside of the office these days, so being able to focus on business development opportunities during "normal" work hours is a huge plus. I've found that clients, both men and women, often prefer not to attend evening functions. Business development can happen over coffee, breakfast, or lunch – there are always occasional exceptions but, for the most part, client development and other quality career building activities don't have to take over all your personal time in the evenings or on the weekends.
DFA: Looking back, would you do anything differently, or what would you tell your younger self?
CH: I would have been less worried about asking for flexible work options. Relax. Figure out what's going to work for you, and be smart about how it will work for the firm as well. Have confidence in yourself and your abilities.
DFA: How do you recharge, and how do you pay it forward?
CH: My entire family loves sports, and we love being active together. Our kids are each three years apart, so for many years I was literally running from one child's activity to the next and dragging the youngest along for the ride. But that was our time together. We love visiting family that's now spread across the country, heading back to Notre Dame in the Fall for football games, and taking a beach vacation over the summer.
I believe in paying it forward, and I enjoy creating opportunities for people to give back. I chaired the firm's community outreach committee for about 12 years where we partnered with non-profit organizations and matched their projects with volunteers from our office. Because of my work on this firm committee, I was asked to sit on the board of trustees and serve on the executive committee for Crayons to Computers, a local non-profit that provides supplies and the tools children need to be successful in school.
Within the firm, I'm a knowledge coach in our First Year Associate program as well as a partner mentor for multiple associates. I delegate and create teams so associates have the opportunity to train and work with clients directly. I love serving in this role, and I believe it's one of the best ways I can pay it forward and contribute to the future of the firm.
 — — —
If you are a professional working a flexible schedule and would like to share your story in an upcoming Spotlight on Flex, contact Eliza Musallam.
https://dfalliance.com/wp-content/uploads/2020/09/Colleen-Haas.jpg
1500
1500
dfalliance
https://dfalliance.com/wp-content/uploads/2019/03/Diversity-and-Flexibility-Alliance-Logo-260.png
dfalliance
2020-09-30 09:07:34
2020-09-30 09:16:57
Spotlight on Flex – Colleen Haas