September 2021 Spotlight on Flex
Our Spotlight on Flex showcases professionals from member organizations who exemplify personal and professional success while working a flexible schedule. Their stories illustrate the long-term benefits that flexible schedules offer to both individuals and organizations.
For our September 2021 Spotlight on Flex we are pleased to share insights from Stephanie Salek, Associate, Hollingsworth LLP.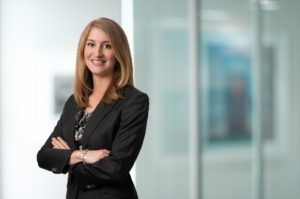 Diversity & Flexibility Alliance: How have you made flexibility a priority and a success with your schedule? How has the firm and/or your clients contributed to this?
Stephanie Salek: After my son was born in 2018 and I took maternity leave, I knew that I wanted to return to work on a reduced-hours schedule.  Hollingsworth said that it would work with me to craft a schedule that fit my needs, and offered several different models of flex time, including a reduced-hours policy in which attorneys can work fewer hours overall at times convenient for them, and a part-time schedule for those who need a set schedule with defined hours of work.  Because my husband's work schedule is less predictable, I wanted to have a defined work schedule for childcare purposes.  So I decided to try a part-time schedule in which I have set hours and leave at 5:30 pm three days per week, and work remotely 1 day per week.
It has worked out wonderfully.  For my part, I make sure to frontload work on projects by getting new projects off the ground and running immediately, and making a point of checking in on any delegated portions of a project early and often.  And because I am off on Fridays to care for my son, I make sure to do a full status check of each project every Thursday before signing off, so that projects continue progressing while I am offline.  I am grateful that my firm has been so supportive of this flex schedule, and I think our joint commitment to making it work is the reason for its success over the past 2.5 years.
https://dfalliance.com/wp-content/uploads/2021/09/Salek_Hi-Res.jpg
1275
1920
dfalliance
https://dfalliance.com/wp-content/uploads/2019/03/Diversity-and-Flexibility-Alliance-Logo-260.png
dfalliance
2021-09-28 09:59:08
2021-09-28 10:00:46
Spotlight – Stephanie Salek, Hollingsworth LLP