Spotlight on Flex – Stephanie Smithey

Our Spotlight on Flex showcases professionals from member organizations who exemplify personal and professional success while working a flexible schedule. Their stories illustrate the long-term benefits that flexible schedules offer to both individuals and organizations.
2019 Spotlights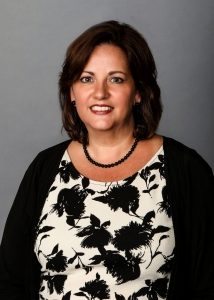 For August 2019, we are pleased to share insights from Stephanie Smithey, Shareholder, Ogletree, Deakins, Nash, Smoak & Stewart (Indianapolis, IN)
Diversity & Flexibility Alliance: How have you made flexibility a priority and a success with your career? How has the firm supported this?
Stephanie Smithey: While I was in law school, I worked as a legal assistant for Amoco Corp (which is now BP) doing legal research; I'd work whatever hours I could schedule around my classes. The large corporate legal department exposed me to many different areas of the law, including ERISA work (my practice specialty for the past 28 years). After I graduated, I moved back home to Indianapolis and started working at a law firm as a full-time associate. There weren't many part-time or flex lawyers at the time, but a few years later when my daughter turned two, I knew I needed to make a change. I went to dinner with my supervising partners, and we designed a plan that would provide me the balance I was looking for. The technology for remote work was not in place yet in 1996, but we agreed I would come into the office four days a week from 9 am – 4:30 pm. All this to say that I started working flex early on in my career, and I stayed on this schedule until I lateraled to Ogletree Deakins as Of Counsel in 2007.
Coming to Ogletree as a lateral, reduced hours attorney could not have been easier. The firm's CEO at the time, Kim Ebert, knew I was already working reduced hours, and he put the option on the table. He made it clear that reduced hours would not hinder my path to partnership and that flex was part of the firm's culture. There were several flex Shareholders at the firm already, and I was very comfortable with my choice to start at Ogletree.
As my children grew older, I gradually ramped up my hours, and I was elected Shareholder in 2011 while working reduced hours. I later resumed full-time work, and in 2016, I was elected to be an equity Shareholder. I recently became Chair of Ogletree's Employee Benefits & Executive Compensation Practice Group.
Like most attorneys, I use holistic flex options like telecommuting as needed. Sometimes I'm in the office five days. Other times I'm in the office for two or three days, depending on my travel schedule and personal and work commitments outside the office. Even though I work full-time, several of my colleagues work flexibly to better manage their work-life demands. I understand that experience and support them 100 percent.
I joke that I had the longest path to partnership in history because of the choices I made, but I'm grateful I had those options and don't regret making them. In the late 90s, we didn't have email or smart phones, so the hardest thing to give up was accessibility while working reduced hours. I always worried I would miss an opportunity if a partner walked by my office with a new project, and I wasn't there. Or would I miss the next meeting with the client? Now technology alleviates those concerns. Someone may be out of the office, but they're always accessible. Today's technology allows for more successful flex arrangements.
Ogletree made sure I was positioned to succeed. My colleagues introduced me to their clients and included me on important client development opportunities. I was always part of the team. When you offer people flexibility, it's important to look at the person's experience and expertise, and hold them in the same regard/position no matter what their billable hour requirements are. It is important to evaluate and value the quality of their time worked, not just the quantity of time worked. There's always going to be a project where you have to say "no" because of other commitments – it's a judgement call. It's important to be in a place where you can say "no" because you shouldn't have to fear losing the opportunity the second time around. You build trust between you, the firm, your colleagues, and your clients when you learn to be honest rather than saying "yes" and then not being able to meet expectations. I try to remember this philosophy and apply it in my role today by always asking my team whether they have time to take something on. We want to set people up to succeed – not to fail.
DFA: How has working flexibly made your career more sustainable and contributed to your overall internal and external development? How have clients supported your flex journey?
SS: On a community level, when my daughter was in elementary school, I left the office at 2 pm twice a month to be a co-leader of her Girl Scout troop. That started when she was in first grade and continued for several years. My flex schedule allowed me to take part in this activity and develop a real love for the organization. Currently, I'm on the Board of Directors for the Girls Scouts of Central Indiana and serve as the Vice Chair. A few years ago, I traveled with a troop of high school girls to Europe, went hiking in the Swiss Alps, and I've had some of the most amazing experiences through the organization. Without flex, I would not have been able to be nearly as involved in my daughter's Girl Scout troop or the organization as a whole. In this way, my flexible work schedule gave me the opportunity to be more connected to my community.
On a personal level, flex helped me when my mother was in kidney failure. She had to go to dialysis three times a week, and my siblings and I split caregiver responsibilities. My schedule allowed me to leave early to take her to her medical appointments and pick her up from dialysis. We all have temporary family obligations that go beyond childcare, and it was a blessing to have that time with my mom. You always want to be able to spend time with your family while you still can.
On a professional level, I recall how a flexible work schedule helped me manage work for my first large, Fortune 100 client. I worked closely with their in-house ERISA counsel, and we had weekly, if not daily, phone calls. My client was going through a period of rapid divestitures and corporate restructuring, and our calls would happen during all hours of the day, weekends, and sometimes well into the evening.   I was still working reduced hours at the time.   I balanced my day to be available for the calls regardless of when they occurred. When this hectic period was over, I asked the client for a reference that included their experiences with me working as a reduced hours attorney. The client confessed that she had no idea I worked reduced hours. That speaks volumes to not only how technology has made flex easier, but also to how flexibility is seamless – done right, an attorney can work reduced hours without diminishing client service or the quality of their work.
DFA: Looking back, what would you tell your first year associate self?
SS: It was very much a "figure things out as I went along" type of thing. Now that I've reached this stage of my career, I'm grateful that I didn't walk away from my law practice to find balance. Now, even as an empty nester, some days it's hard to find the right balance, but I really enjoy my practice. I enjoy working with my clients and colleagues to solve problems, and I enjoy the feeling of accomplishment that comes with a job well done.
I would tell my first-year self to be patient and give myself time to learn the practice of law; stop expecting perfection from day one. You really have to learn how to practice law, and that takes time for everyone. In my area, the law is constantly developing, and I'm always learning. To me, that's the best part of this job!
Starting in January 2020, I'll be teaching an employee benefits class at Indiana University McKinney School of Law in Indianapolis. I anticipate incorporating flex back into my schedule to leave early in the afternoons once a week on the days I teach. I want to expose the next generation of law students to this area of law and let them know there are great career opportunities out there for them.
DFA: What do you do to recharge? How do you pay it forward?
SS: In the summer time I love to be outdoors – hiking, swimming, spending time at the lake, and being in the water. But I also have my Netflix addiction! I also love to cook, collect cookbooks, travel, and spend time with my kids.
I believe in paying it forward, no matter how informal it may seem. I try to maintain a team approach – we all have different jobs to do, but we also work better together. Whether you're an attorney, paralegal, or administrative assistant, we all have things that are important to us, and we should all be able to use flex in the ways we need it. I strive to create and foster a culture that encourages people to ask for help if they need it. If I see someone struggling to meet their obligations, I try to work with them to come up with solutions to help them find the balance they need. I've worked with attorneys who are on part-time, full-time, hourly, reduced hours, and even project-based schedules. I may be working with someone in the next office or someone across the country – there's no need to be physically in the office at all times to get the job done and done well! When you realize and accept that, people can structure their practice as needed and be extremely successful. I encourage attorneys not give up, but to take control over their careers in the ways they want to move forward.
https://dfalliance.com/wp-content/uploads/2019/08/Stephanie-Smithey.jpg
2048
1463
dfalliance
https://dfalliance.com/wp-content/uploads/2019/03/Diversity-and-Flexibility-Alliance-Logo-260.png
dfalliance
2019-08-29 10:10:08
2019-08-29 13:20:02
Spotlight on Flex – Stephanie Smithey