Spotlight on Flex – Chelsea Witte-Garcia, PhD
Our Spotlight on Flex showcases professionals from member organizations who exemplify personal and professional success while working a flexible schedule. Their stories illustrate the long-term benefits that flexible schedules offer to both individuals and organizations.
February 2021 Spotlight on Flex
For our February Spotlight on Flex, we're pleased to highlight Chelsea Witte-Garcia, PhD, Associate, Wolf Greenfield. 
Diversity & Flexibility Alliance: How have you made flexibility a priority and a success with your schedule? How has the firm and/or clients contributed to this?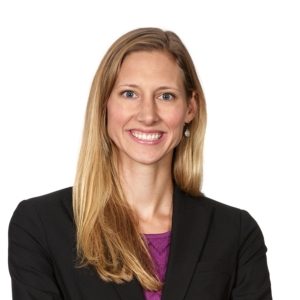 Chelsea Witte-Garcia: I joined Wolf Greenfield seven and a half years ago in the firm's Technology Specialist Training Program. As part of this program, I went to evening law school and was working an 80% schedule. I had done a full PhD program prior to joining the firm and had my first child during law school, so I had been extremely busy and was dealing with being a new parent. Once I took the bar exam and became an Associate, I knew I needed some flexibility. Instead of transitioning to a full-time Associate schedule, I moved to a 90% reduced hour schedule. While a 10% reduction in billable hours may not seem like a lot, to me it alleviated a lot of billing pressure and allowed time for other non-billable activities. Having that slight reduction in my annual billable hours frees up time for a personal break as well as other work-related activities such as business development, writing, or presenting at firm training sessions.
Wolf Greenfield, and in particular the Biotechnology Practice Group, has been at the forefront of appreciating flexibility. We had the opportunity to set up a home office long before COVID 19. The leadership really understood that not everyone wants the traditional career path. I've really appreciated that they've put a lot of time and investment in training individuals and they see your value, even if the day-to-day looks a bit different.
In a client-driven industry, there are always times when our jobs are unpredictable. I'm committed to being accessible and adaptable, particularly when there's an urgent client need. I think clients appreciate that. We also leverage a very talented team of people that can pull together to meet clients' needs. This can also be a valuable training opportunity for junior group members.
DFA: How has working flexibly made your career more sustainable and contributed to business development opportunities?
CWG: I don't think I would still be in a law firm setting if I didn't have this level of flexibility. My reduced hour schedule has been key to me being able to continue in this direction and still have time for other priorities in my life. I think it's common that people want and need some work life balance — what that balance means varies a lot. I need to get out and go for a run or get some fresh air for my mental and physical wellbeing.
One of the key aspects to making my flexible schedule work has been developing trusting relationships with the people with whom I work. They know that even if I'm not always online during normal hours, I'm on top of projects, responsive, and meeting deadlines.
DFA: Looking back, would you do anything differently, or what would you tell your first year associate self?
CWG: I would definitely do it differently. I realize now that I should have given myself a break. For a long time I focused on what I thought you had to do to become a shareholder/partner, what it meant to be "successful" in this career path, and whether I could fit that vision. I wish I had known there were a variety of paths and the ability to have a flexible schedule sooner. This doesn't mean you are any less committed to your career or have any different career aspirations. I like to think that I'm doing it in a way that makes me healthier and happier.
DFA: How do you recharge, and how do you pay it forward?
CWG: I try to pay it forward by respecting other people's schedules. I try not to send emails on the weekends or make someone feel like they need to respond at night, just because that may be the time that I am working on a project.
Additionally, I talk about flexible schedules a lot! When I first came to the firm, it wasn't widely known who, if anyone, was on a flexible schedule or what a flexible schedule may look like. I had heard that some individuals didn't want to be perceived as less committed to their career due to their non-traditional track. I think we need to get rid of this stigma and talk more about the benefits of flexible schedules.
I have a number of friends from law school who have already left the law firm setting due to the demand of this career path. Knowing that there are flexible working options out there is a really important message to share.
DFA: Has the pandemic impacted your flexible working schedule? 
CWG: The pandemic has had a significant impact on my family. We have small children so having our childcare disrupted was very significant. My husband works in finance on a more traditional 8:00 – 5:00 schedule, with limited flexibility. It was very challenging to adapt to having two parents trying to work at home with young kids.
Also, with so much economic uncertainty, the firm didn't know how COVID would impact our clients in research and development and their intellectual property needs, and consequently how our work-load and the firm overall would be affected. Many of our clients in the biotechnology field are biotech and pharmaceutical companies, which became increasingly busy during the pandemic, many exploring therapeutics to treat or prevent COVID. It was difficult to juggle the increase in work at the time when my home situation became more stressful.
Since our firm was mostly already set up with home offices and has a fantastic IT team, the transition to remote work was pretty seamless. The pandemic has also brought some silver linings. We interact with our clients virtually face-to-face much more frequently than we had been previously when we met in person or even talked on the phone. This has allowed us to be much more involved and connected to their businesses and how we can counsel them.
— — —
If you are a professional working a flexible schedule and would like to share your story in an upcoming Spotlight on Flex, contact Jane Caldeira.
https://dfalliance.com/wp-content/uploads/2021/02/Headshot-Witte-Garcia-Chelsea.jpg
900
900
dfalliance
https://dfalliance.com/wp-content/uploads/2019/03/Diversity-and-Flexibility-Alliance-Logo-260.png
dfalliance
2021-02-26 08:52:21
2021-02-26 08:52:21
Spotlight on Flex – Chelsea Witte-Garcia, PhD