We've Got This! Unlocking Belonging in Organizations – December 12, 2023

2023 Leadership Symposium | Session 3
We've Got This! Unlocking Belonging in Organizations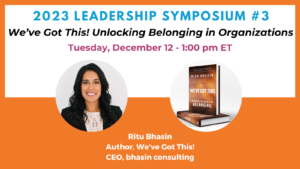 Featuring Ritu Bhasin, CEO, bhasin consulting inc.
December 12, 2023, 1:00pm ET
Many team members feel constant pressure to mask and curate who they are at work—to perform as someone they're not rather than be who we are. And it strikes at their ability to belong. But, as leaders, by cultivating psychological safety, trust, inclusion, and creativity in how we work, we can unlock belonging in our organizations for everyone. In this practical, research-driven session, we will cover:
The key pillars for unlocking belonging in your organization as a leader
How to leverage the Three Selves Framework™ in how you lead and manage teams and stakeholders
How to create cultures that are rooted in belonging, psychological safety, trust, inclusion, innovation, and empowerment
Leadership strategies for fostering empathy, authenticity, and trust
This event is open to all individuals at Champion and Leader member organizations. If you are an Advocate member and would like to learn more about purchasing access to the Leadership Symposium, contact Angela Whitehead Quigley.
Learn more about the Leadership Symposium here.
https://dfalliance.com/wp-content/uploads/2023/07/Ritu-Bhasin-Leadership-Symposium-Headshot.png
900
1600
admin
https://dfalliance.com/wp-content/uploads/2019/03/Diversity-and-Flexibility-Alliance-Logo-260.png
admin
2023-07-21 10:25:40
2023-07-21 10:25:40
We've Got This! Unlocking Belonging in Organizations – December 12, 2023