Our Spotlight on Flex showcases professionals from member organizations who exemplify personal and professional success while working a flexible schedule. Their stories illustrate the long-term benefits that flexible schedules offer to both individuals and organizations.
For our September Spotlight on Flex, we're pleased to highlight Colleen Haas, Partner, Frost Brown Todd (Cincinnati, OH)
September 2020 Spotlight on Flex
Diversity & Flexibility Alliance: How have you made flexibility a priority and a success with your schedule?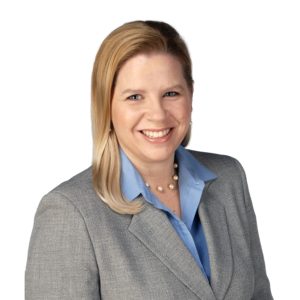 Colleen Haas: It's hard to believe, but I've been at the firm for over 20 years. I started here during my 2L summer internship and then as a first year associate right after graduation from Notre Dame Law School in 1997. After I had my first child, I reduced my hours to 90% of my original billable hour requirement but still came into the office five days a week. When I had my second child three years later, I reduced my billable goal a little more and changed my schedule slightly by coming into the office four days a week and working one day remotely.
My flexibility manifests in the form of a reduced hours schedule that is annualized to compliment my husband's work schedule. He is a scout for a major league baseball team and his consistent "crunch time" each year, with extensive work and travel, is during the spring and summer. However, during the fall and winter months, he has much more flexibility. Knowing this, when I first approached the firm about reducing my hours, I asked for a schedule where I could work four days in the office and one day from home, but only for six months of the year. I would then go back to five days per week in the office for the other six months to ramp up my hours during my busy year end. As a transactional attorney, I knew I needed to maximize both mine and my husband's schedules in a way that would work for our family and the changing seasons.
As you progress through your career, your goals and needs change. There was a short period of time when I took myself off the partner track and went to counsel because I thought that would fit my family needs better. I had three young kids at home and between juggling their activities, my work commitments, and my husband's travel schedule, I didn't want the extra pressure. My "aha" moment was, however, when other partners were telling me that I should be on the partner track because I was already doing everything they were. They believed in me and didn't see reduced hours as a roadblock to partnership. With that encouragement from my peers, I switched back to the partner track and was promoted to the partner class very soon thereafter.
I would set my yearly billable hours and stick with that number no matter what reduced hours percentage I was working at the time. This is how I approached flexible work as an associate, and it's how I approach it at the partner level now too. Once my third child entered kindergarten, I ramped back up to being in the office five days a week but leaving early when I needed to for any commitments. You get to a point where you've earned the respect and trust of your colleagues; they know your work ethic, your work quality, and that you'll provide top notch client service.
https://dfalliance.com/wp-content/uploads/2020/09/Colleen-Haas.jpg
1500
1500
dfalliance
https://dfalliance.com/wp-content/uploads/2019/03/Diversity-and-Flexibility-Alliance-Logo-260.png
dfalliance
2020-09-30 09:07:34
2020-09-30 09:16:57
Spotlight on Flex – Colleen Haas