Our Spotlight on Flex showcases professionals from member organizations who exemplify personal and professional success while working a flexible schedule. Their stories illustrate the long-term benefits that flexible schedules offer to both individuals and organizations.
June 2021 Spotlight on Flex
For our June Spotlight on Flex, we're pleased to highlight Maryam Casbarro, Associate, Davis Wright Tremaine
Diversity & Flexibility Alliance: How have you made flexibility a priority and a success with your schedule? How have the firm and clients contributed to this?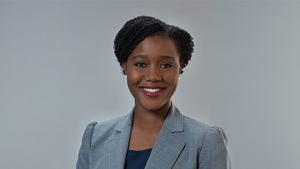 Maryam Casbarro: I formally started working a flex schedule in January of this year. It was brought about by life circumstances. In October of 2019 I found out that my baby would be born with special needs. We anticipated that she would have significant medical needs going into 2020, but of course we didn't anticipate there would also be a pandemic! So I had a conversation with the chair of my practice on what work would look like returning from maternity leave with my baby still in the hospital.
She said I could come back on whatever schedule worked for me, and the firm would be completely flexible with my hours. At that time, my schedule wasn't formalized so I would just take on projects that my personal life allowed. Then in September of 2020 I decided to come back full time. There was a very stark difference between working a pseudo flex schedule without a formal agreement to working full time. It quickly became apparent that life had shifted and it was not realistic for me to maintain a full-time schedule.
I spoke to the partner who oversees flexible working schedules and she walked me through what life would look like on a formal reduced hour schedule and what other attorneys had done in the past. She talked me through the process and explained that people had become partner on a reduced-hours schedule. That was something that was important to me because I didn't want my career to be derailed by trying to accommodate the realities of my new life. So in January I formerly started to work an 80% reduced-hours schedule.
https://dfalliance.com/wp-content/uploads/2021/06/Maryam-Casbarro-Headshot.png
327
580
dfalliance
https://dfalliance.com/wp-content/uploads/2019/03/Diversity-and-Flexibility-Alliance-Logo-260.png
dfalliance
2021-06-29 15:36:17
2021-06-29 16:15:40
Spotlight on Flex – Maryam Casbarro, Davis Wright Tremaine