Spotlight on Flex – Adie Olson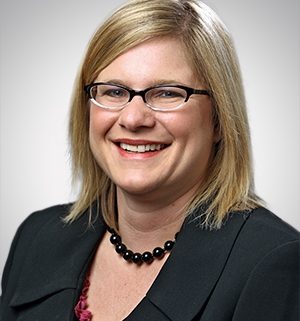 Our Spotlight on Flex showcases professionals from member organizations who exemplify personal and professional success while working a flexible schedule. Their stories illustrate the long-term benefits that flexible schedules offer to both individuals and organizations.
For November 2018, we are pleased to share insights from Adie Olson, Partner, Quarles & Brady (Chicago, IL).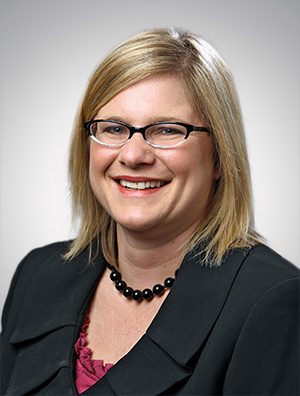 Diversity & Flexibility Alliance: How have you made flexibility a priority and a success within your career? How has the firm supported this?
Adie Olson: Law is actually my second career, but my legal career has come full circle with Quarles & Brady. I was a special education teacher and worked with kids with severe emotional and behavioral issues for five years. I loved teaching, but law was always in the back of my mind. I attended Marquette University Law School as an evening student and started as an associate at Quarles & Brady right after graduation in 2003.
I didn't think I was interested in working at a large law firm, but an adjunct law professor who worked at Quarles, encouraged me to apply for their summer associate program. The firm broke down any stereotypes I had of "big law" at the time; people were really nice, and they had families and lives outside of the office. I knew it was the right place for me, especially as I started my full-time, legal career with them with a six-week old baby at home!
It was pure luck that when I started at Quarles, they were defending a special education class action law suit. I had the substantive background – maybe not the litigation skills (yet) – for a case full of educational acronyms and was able to hit the ground running. I never set out to be a litigator, but things happen for a reason. There is a serendipity aspect to it, but you also have to be open to opportunities that come your way.
I also believe every lawyer should start off as a litigator. You learn about all aspects of a transaction – what went right/wrong, you develop amazing people skills, and you learn how to be a fantastic lawyer. I can be a very intense person, so litigation brought out the best and worst in me at times. By the time I was a fourth year associate, three of my cases went to trial in one year, I was working long days, and I was pregnant with my second child. This was a turning point for me. My career, as exciting as it was, was not sustainable as-is. I knew I wanted to have more time to spend with my growing family.
At that time, a flex schedule didn't enter my mind. We had a large number of amazing female litigators, many of whom also had young kids. While I had strong role models, I didn't know anyone who had a formal flex schedule. Even though I was surrounded by these supportive and talented women, I didn't find a way to strike a balance. A year and a half after having my second child, I quit the firm. I couldn't quite figure out the rhythm of having two small kids and working full-time in litigation. Flexibility was just starting to gain some traction in the profession, but I hadn't personally seen it applied in litigation.
An offer to go in-house as a corporate attorney for a global company presented itself, and I took the job to see what the life of in-house counsel looked like. I was at the company for one year, and despite working with fabulous people, serendipity struck again. My law school offered me a new position to create and coordinate pro bono programs at the school. I took this opportunity because I had always been heavily involved with pro bono work while at the firm. At Quarles, it's ingrained in the culture to provide direct pro bono legal services to the indigent.
I stayed at the law school for two years before returning to Quarles in November 2010. The pro bono program was up and running, and I had better work-life control at this point in my career. The firm contacted me for a position as a contract lawyer focused on political law compliance. I had great learning experiences here previously and had maintained great relationships with my colleagues. I decided to go back to the firm at a 75% reduced hours schedule. As a newly divorced, single mother of two, I couldn't say no to yet another great opportunity that crossed my path. During the first year, I realized that the firm was where I was meant to be long-term, and this area of law had a lot of potential for new business. A year or so after returning to Quarles, I switched to the partnership track as a full-time senior associate. There's been no looking back since. Even though I'm full time now, my informal flex schedule is fluid.
Flexibility comes down to what your practice looks like. I telecommute frequently, and I build my practice in a way that works for my family and my career. All of my clients' needs are met without missing a beat, and I'm able to develop new business with a non-traditional schedule. The firm has been wonderfully supportive. Quarles focuses on quality client work; they want good people working here, and in order to have good people doing quality work, you need to have happy people. Flexibility makes that possible.
I made income partner in 2014 and equity partner in 2017 all the while integrating some type of flex. My practice lends itself to informal flexibility. I think it's important to note there are so many options out there for flex – not just reduced hours. Quarles recognizes that people will succeed if they are given the opportunity to mold their career as individual – one size does not fit most. For example, when I wanted to move my practice from the Milwaukee office to the Chicago office, it wasn't an issue. The ease of my transfer is just another example of the firm's openness to flex.
DFA: How have clients supported this?
AO: I have really good relationships with my clients; we understand the challenges of working hard and balancing obligations outside of work. We have a mutual respect for each other. The quality of my work or client relationships do not suffer because of my flex schedule. In fact, it's quite the opposite. I'm available/accessible to my clients and deliver quality work; where that physically happens doesn't matter. The majority of my clients are outside of Chicago, so where I'm taking a call or sending an email is often just not relevant. My clients have always felt comfortable calling my cell phone and know that I'm dedicated to our work together no matter where I am. Flexibility makes that possible.
DFA: How has working flexibly made your career more sustainable and contributed to your overall internal and external development?
AO: Having the autonomy to determine what my practice looks like lets me focus on diversity work within the firm. I chair the women's leadership initiative firmwide, and I've become a resource for people who are looking for ways to stay in big law through non-traditional paths. I wouldn't be able to invest time in our firm's diversity work if I didn't have flexibility with my schedule.
Talent retention is such an important issue for law firms, and when you have flex, you're willing to invest in your career and in the firm. Quarles has always been a forward-looking law firm. You believe in the firm and want to do a good job because a firm with flex becomes a good place to work. Flexibility increases productivity and modernizes the profession.
DFA: Looking back, what would you tell your first year associate self?
AO: I think my first year self was really intense and really tired! I would instead, go back to my 2007 self and let her know that I didn't need to leave the firm to find the flexibility that worked for me. I didn't want to leave at that time, but I didn't know how to shift gears. It's OK to feel overwhelmed and to ask for help. I could have said I didn't want to be a litigator anymore and explored what other paths the firm had to offer. Flex was just not prevalent yet, and it was hard to see it working in litigation back then. It's so much more common now in all practice areas, and there's structure and support for flex. As a whole in the profession, we are recognizing that success isn't a singular path. You don't have to go the traditional associate way, and the path from income to equity partner isn't based solely on the number of years you've dedicated to the firm. I'd tell myself to slow down and to look at all of the options available to me. You can be dedicated and talented, and work flexibly.
DFA: What do you do to relax? How do you pay it forward?
AO: My kids are 12 and 15 years old now. I thoroughly enjoy being with them and watching them come into their own. I love that they still want to hang out together, so that is my weekend and relaxation time. I also believe that my kids are resilient and resourceful, in part, because they've been a part of my professional journey at every step.
I'm passionate about providing high quality access to leadership and business development opportunities for women. This includes working on related firm policies, coordinating networking events, and more. It's also about authenticity; you have to be yourself in order to be successful with business development, and this looks different for everyone. You have to do it in a way that makes sense to you. For me, I generally play a long game to generate new business though meaningful relationships with clients and in the community. Women have to unabashedly support other women in all aspects of our lives. As lawyers, we are so "heads down" sometimes that we forget to focus on building our internal networks too. I hope my passion for advancing women and D & I helps build other women up.
 — — —
If you are a professional working a flexible schedule and would like to share your story in an upcoming Spotlight on Flex, contact Eliza Musallam.
https://dfalliance.com/wp-content/uploads/2018/12/Adie-Olson-1.jpg
396
300
integritive
https://dfalliance.com/wp-content/uploads/2019/03/Diversity-and-Flexibility-Alliance-Logo-260.png
integritive
2018-12-04 00:00:00
2019-06-18 15:26:18
Spotlight on Flex – Adie Olson