A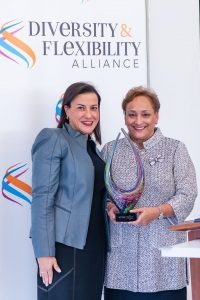 s CEO of AARP, Jo Ann Jenkins leads the world's largest non-profit, nonpartisan membership organization, harnessing the power and passion of almost 2,000 staff members, 60,000 volunteers and numerous strategic partners to serve AARP's 38 million members and their families—the first woman to lead AARP in four decades.
Since becoming CEO, Jo Ann has been on a mission to change the conversation in this country about what it means to grow older, to help people realize the real possibilities in their lives, and to find pragmatic solutions to the challenges people face every day.  Her best-selling book, Disrupt Aging: A Bold New Path to Living Your Best Life at Every Age, has become a signature rallying cry for revolutionizing society's views on aging by driving a new social consciousness and sparking innovative solutions for all generations. 
Under Jo Ann's leadership, AARP has become a leader in social change, dedicated to empowering people to choose how they live as they age. She is recognized as a visionary and global thought leader, a catalyst for breakthrough results, accelerating progress and contribution while fostering positive relationships.
Jo Ann is known as a versatile and fearless champion for innovation and impact. She is effective in high-profile executive roles, accomplished in working with Boards, CEOs, senior management teams and strategic partners in government, media, corporate, philanthropic and non-profit sectors to achieve breakthrough results. 
Known for a collaborative and participatory management style, global fluency, and her ability to leverage expertise in talent and leadership development, organizational restructure, public affairs, philanthropy, and marketing, she has led AARP to be recognized as one of the World's Most Ethical Companies. And, for the last two years, the Washington Post has named AARP as one of the Washington area's Best Places to Work.
It's not surprising that she was recently named by Fortune Magazine as one of the World's 50 Greatest Leaders.