Getting to Know Our 2019 Conference Speakers – Judge Tonya Parker

We are so excited to have an amazing line-up of prominent leaders and trailblazers speaking at our 2019 Annual Conference Inspire. Innovate. Ignite! on Thursday, November 7 in Washington, DC.  We will be introducing these dynamic and engaging speakers during the next couple of months here on our blog. We asked our speakers to answer a few questions about themselves, their approach to their career, and their lives.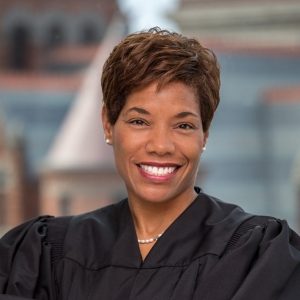 This week's "Getting To Know Our Conference Speakers" post highlights The Honorable Tonya Parker, a trailblazing Judge from the 116th District Court in Dallas County. Judge Parker's incredibly insightful presentation about Labels is part of our brand new "Meet The Influencers" program at the conference. You don't want to miss it!
Diversity & Flexibility Alliance: What was the most meaningful piece of leadership advice you have received?
Judge Tonya Parker: Leadership is about responsibility, not power.  Power is only about ego.
DFA: Who has had the most influence on your career?
JTP: Ron White, the managing partner of White & Wiggins, LLP n/k/a White, Wiggins, & Barnes, LLP.  Ron taught me that hard work can atone for what one lacks in skill and even intellect. 
DFA: How do you recharge? 
JTP: Exercise and creative writing.
DFA: Where and when are you most content?
JTP: Saturday mornings eating cereal with my son.
DFA: What do you know now that you wish you knew then?
JTP: While it is true that no one is lesser than I am; it is also true that no one is greater.
DFA: How do you pay it forward?
JTP: By using the influence I have within my family/friend circle to advance righteous causes, noble ideas, and people who are kind and hard-working.   
DFA: What can we be doing to create more inclusive organizations?
JTP: Commit ourselves to taking an act each day that reflects the values of being anti-racist, anti-sexist, and anti-phobic.  
DFA: What book is on your nightstand?
JTP: "I Am Not Here To Give a Speech" by Gabriel García Márquez
Don't miss hearing insights from Judge Parker and our other inspirational Influencers! 
Register for our conference TODAY. 
Early bird registration will continue until September 13.
https://dfalliance.com/wp-content/uploads/2019/07/judgeparkerheadshot-e1563555302689.jpg
1111
1111
dfalliance
https://dfalliance.com/wp-content/uploads/2019/03/Diversity-and-Flexibility-Alliance-Logo-260.png
dfalliance
2019-08-20 10:08:16
2019-08-20 10:08:16
Getting to Know Our 2019 Conference Speakers – Judge Tonya Parker