This page is about our 2016 Annual Conference – visit our Annual Conference page for the latest news about this year's event.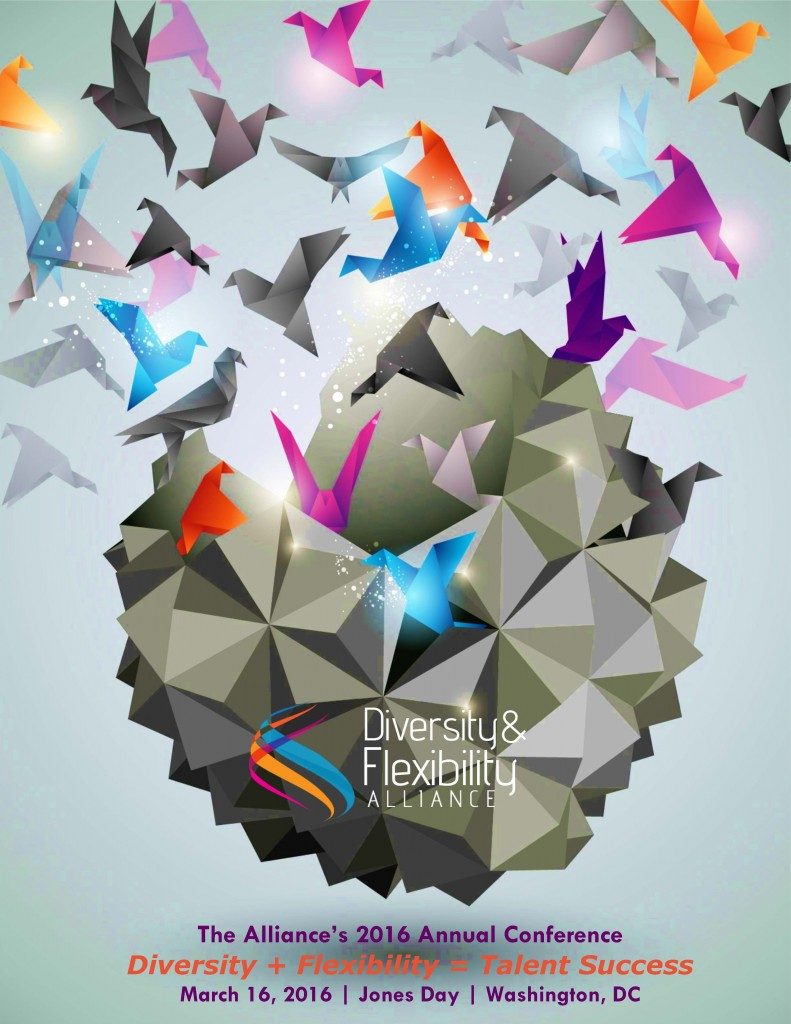 DETAILS
CONFERENCE DETAILS
The Diversity & Flexibility Alliance's 2016 Annual Conference
Diversity + Flexibility = Talent Success
March 16, 2016 | 8:15am – 4:30pm
Location:
Jones Day
51 Louisiana Avenue NW
Washington, DC 20001
REGISTRATION
REGISTRATION
ALLIANCE MEMBERS RECEIVE TWO COMPLIMENTARY TICKETS AS A MEMBER BENEFIT!
Check if your organization is a member of the Alliance.
EARLY BIRD REGISTRATION
(January 11 – February 19)
Alliance Members (Additional Tickets): $495
Non-Members: $595
 REGULAR REGISTRATION
(February 20 – March 8)
Alliance Members (Additional Tickets): $549
Non-Members: $649
 LATE REGISTRATION
(March 9 – March 16)
Alliance Members (Additional Tickets): $595
Non-Members: $695
Law School Representatives:  Registration is $195; please register no later than March 8
*NO REFUNDS WILL BE ISSUED AFTER MARCH 3, 2016
AGENDA
Registration & Continental Breakfast

Welcome Remarks & Presentation of the Flex Leader Award

Optimizing Talent: A Conversation with Women Law Firm Chairs

Despite the work that remains to advance women in the legal profession, the number of women as law firm chairs is on the rise.  Hear how these trailblazers are literally changing the face of leadership and working towards advancing women and retaining top talent within their organizations.

Networking Break

Solving for the Right Problem: A Global Corporate Perspective

The first step to advancing diverse and flexible talent is to understand the nature of the barriers impeding progress. This panel will explore how corporate leaders use data to ensure they are solving for the right internal and external problems.

Lunch & Presentation of the Flex Success® Awards

Featured Guest: Brigid Schulte

Networking Break

Effective Change Management Strategies


Education on the importance of interrupting unconscious bias is essential to organizational success, however, structural and cultural barriers to the advancement of diverse talent remain. This panel will explore how firms are combatting second generation bias in decision-making and evaluative processes to effect organizational change.

Making Flexibility Work


Many organizations have flexibility policies on paper but fewer have created a culture of flex that is de-stigmatized, de-parented, and de-gendered. This session will highlight the results of the Alliance's 

2015 Flexibility Benchmarking Survey

 and feature an open conversation with talent development and diversity directors about the nuts and bolts of putting together an effective flexible work program.

Closing Remarks
SPEAKERS
SPEAKERS
Featured Guest:
Brigid Schulte
New York Times Bestselling Author
Overwhelmed: How to Work, Love and Play When No One Has the Time
Director of the Breadwinning & Caregiving Program and The Good Life Initiative
New America
Confirmed speakers include:
Ritu Bhasin
Principal & Founder
bhasin consulting inc.
Steven Fenker
President
Nexus Communications, Inc.
Joshua Frank
Former Senior Vice President, Chief Legal Officer, and Head of Human Resources
GardaWorld
Danielle Frappier
Partner & Co-Chair, Communications Practice Group
Davis Wright Tremaine LLP
Sarah Goldfrank
Senior Vice President & Deputy General Counsel
Fannie Mae
Maja Hazell
Director of Diversity and Inclusion
White & Case LLP
Kimberly Leach Johnson
Firm Chair
Quarles & Brady LLP
Joe Mattoon
Chief Legal Officer
CLEAResult Consulting Inc.
Richard Meade
Vice President & Chief Legal Officer – International
Prudential Financial
Jenna Mooney
Partner
Davis Wright Tremaine LLP
David C. Morales
Senior Vice President & Senior Associate General Counsel
AARP
AWARDS
AWARDS
2016 FLEX LEADER HONOREE
J. Stephen Poor
Chair
Seyfarth Shaw LLP
Learn more about Steve's efforts to promote holistic flexibility.
2016 FLEX SUCCESS® AWARD HONOREES
Danielle Frappier
Partner & Co-Chair, Communications Practice Group
Davis Wright Tremaine LLP
and client:
Steven Fenker
President
Nexus Communications, Inc.
Jenna Mooney
Partner
Davis Wright Tremaine LLP
and client:
Joe Mattoon
Chief Legal Officer
CLEAResult Consulting Inc.
Learn more about the Flex Leader and Flex Success® Awards.
SPONSORS
Sponsors
Platinum Sponsors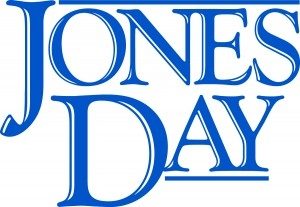 Gold Sponsors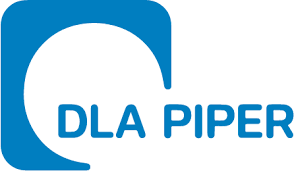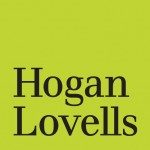 Silver Sponsors



Community Sponsors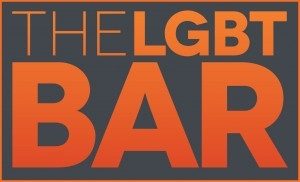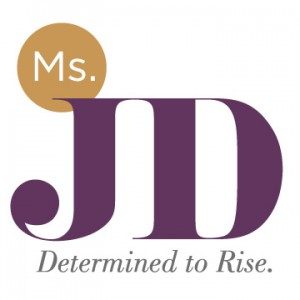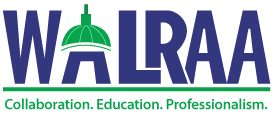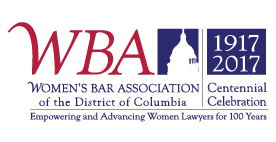 Click HERE for more information about sponsorship opportunities.
HIGHLIGHTS
HIGHLIGHTS
Kevyn D. Orr:  I was literally born into segregation (my mother was in labor with me and was refused medical treatment at the hospital) and to be here now as the partner-in-charge for the DC office of Jones Day… I have lived the American dream – we need to help others achieve their dreams too.
J. Stephen Poor: Barriers only become barriers if you let them – otherwise they become challenges we can overcome.  We must change the way we work and how we view flexibility for three reasons:
– The new generation of lawyers aren't interested in adapting to the ways things have been
– Clients are looking for new methods of service delivery
– They are willing partners in moving us toward greater flexibility; and technology allows us to work differently; it's our choice on how to use it.
Deborah Read: The law needs to get with the program; new associates are younger and more diverse, and firms aren't mirroring the clients.  We need clients to show our firms the business case for diversity and inclusion.  I applaud clients asking for more information and wish more would do so.
Lisa A. Schreter:   When it comes to inclusion,  I'm like a 5 year old and constantly ask why?  Why are we doing this?  Do we have the right group of people?  What's the end goal/result? Law firms have to think about how to build better teams – it's not about all women or all male teams – it's about better integrated teams that are dedicated to advancing everyone on it.
Kimberly Leach Johnson: Women don't see their path to success because we aren't articulating it to them. I have used my position to create opportunities for advancing women and diversity. We need help holding partners accountable, and I believe compensation is the way to make this happen.
Liz Sharrer:  The most important thing we can do to advance flex, diversity, and inclusion issues is to talk about them all the time.  I try to incorporate these topics into all partnership retreats and smaller discussions with our management committee.  It's about creating a tone where it matters and acknowledging that it matters.
Rick Meade: Our legal department collects metrics about our external legal teams and how each member is contributing – asks by race, gender, disability, sexual orientation, and level.  If corporate law departments could consistently ask the same questions, in the same way, and with the same follow up, we can get traction.
Timothy Susanin: We have a "do ask, do tell" policy regarding origination credits.  We want to look like the lives we insure, and our vendors need to look like us and society.  You can't hold people accountable without commitment from the top.
David Morales:  When leaders put diversity and inclusion objectives into performance expectations, it will trickle down and create a unified approach across the organization.  We mix teams with telecommuting and non-telecommuting attorneys to show that it works and to help change the mindset of those who are resistant to it.
Josh Frank:  If you're running a large firm and don't have a critical mass of diverse lawyers, then don't be surprised when the diverse lawyers you do have leave.  I want my entire team to be thinking about diversity in everything they do – from recruiting, hiring outside counsel, and to looking at the metrics of survey results.
Brigid Schulte: Some firms are moving to flexibility as the default and making it part of the core business model. YOU can set the default for your business and the company.  Focus on what's going well and what's positive.  Our default is flexibility and our focus is getting good work done.
Danielle Frappier:   I'm where I am today because of the terrific mentors and role models I have at the firm. My reduced hours schedule allows me to focus on being profitable, not my hours.
Jenna Mooney: My schedule allows me to focus on business development and spend time with my family which is extremely important to me. To make these schedules work, the firm has to be flexible, I have to be flexible, and clients have to be flexible.
Joe Mattoon: You need to be around people who are different than you in order to be better at what you do; I enjoy these differences and seek them out.  My partnership with Jenna works because she values these same things.
Carter Phillips: The classic and most effective way to encourage the conversation about flex and diversity and inclusion at the partner level is through compensation. Compensation can be seen as the "stick" to make leadership more diverse, but I have seen it change attitudes as well.
Alice Valder Curran: Let's start conversations about flex off with "let's talk about it" rather than "that will never work here." Leaders need to help people overcome the "platonic ideal" by giving them real experiences on how and when diversity matters.
Maurice Watson: The term metrics assumes we don't question the results, but in truth, bias is already built into the metrics we use (ie. using billable hours to measure performance). Not enough clients are asking about the firm's diversity and who's working on their matters. If it's not a priority for the client, then it won't be a priority for the firm.
Maja Hazell: By incorporating diversity, which includes promoting women, as part of each group's objectives at the firm, progress is part of the performance discussion every year – it builds in accountability.
Verna Myers: Lead from the front – embrace, not just tolerate – flex.  Be a norm entrepreneur by setting new norms; default to flexibility as the new normal.  We have to slow down, breathe, set new norms, and remember to dream.