Our Spotlight on Flex showcases professionals from member organizations who exemplify personal and professional success while working a flexible schedule. Their stories illustrate the long-term benefits that flexible schedules offer to both individuals and organizations.
August 2020 Spotlight on Flex
For August 2020, we are pleased to share insights from Yingli Wang PhD, Partner, Perkins Coie (Los Angeles, CA).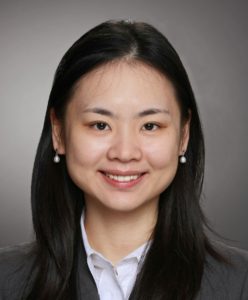 Diversity & Flexibility Alliance: How have you made flexibility a priority and a success with your schedule?
Yingli Wang, PhD: I was born in China and came to the US to attend grad school and study for my PhD with the intention of becoming a professor. I've always been fascinated by how things are made or work, and I knew I wanted to find a career path that could merge my training and other interests. I explored patent law because it's so different from the other legal practice areas; I knew I could combine my analytical and scientific background with my creative interests.
While I was a law student at the University of Washington, I summered at the LA office of Perkins Coie, and after graduating in 2008, I started as an associate here. We were in the height of the recession, and the partners in my practice group were doing everything they could to make sure we had work. I realized early on in my career how important business development is – it gives you security and the ability to control your career. I wanted to see the impact of my work and the results of my efforts.
I focused on building a relationship with our Shanghai office. This meant a lot of international travel and made meeting my annual billable hours difficult. I started to look into a flex schedule because I wanted to show the firm and my partners my value add by cultivating our international relationships. I knew there would be a corresponding pay cut, but I was OK with that. In 2017, I switched to a 70% reduced hours schedule and continued to come to the office every day. Not only was I able to focus on developing key professional relationships, I was able to manage my stress levels and develop expertise in my field.
Perkins Coie considers flexible work as an investment in its professionals because billable hours aren't the only indication of a person's value. Supporting flexible work shows trust from the firm and the partners; they believe they'll receive a return on their investment, and it establishes a foundation to build a long-term future together. And as a testament to that, I made partner in 2019 while working reduced hours.
Because I still travel so much, I don't feel any different than my peers who bill at 100%. I also appreciate that my partners aren't strict about face time. With LA traffic, they understand and are flexible too. We all try to be available and responsive when we're not physically in the office.
DFA: How have the firm and/or clients contributed to your Flex Success®?
YW: My flex schedule doesn't affect my commitment to my work or my clients. Many of the clients are not local, some are in China and in a different time zone, so my flex schedule really doesn't matter to them. In fact, flexible hours makes me more motivated to upkeep my international contacts.
DFA: How has working flexibly made your career more sustainable and contributed to business/professional development opportunities?
YW: I'm less stressed because I don't have as much pressure weighing on me. I'm not constantly worried about my billable hours; instead I'm able to focus on being a better lawyer, working on business development opportunities, and providing the best service to my clients. It's also a beneficial way to invest in myself. I can attend conferences and participate in non-billable projects to enhance my skills and build a niche practice in China.
I'm also able to train, mentor, and communicate with our Chinese staff and clients. This is a huge benefit because many of our international clients don't understand the logistics of the US legal system. It took lots of practice to have a better understanding of clients' needs so I can provide meaningful information and counseling. With my extensive experience in working with clients from different backgrounds, I'm able to adjust my communication style so my answers are clearly conveyed.
My commitment and early focus on our China practice was recognized in 2018; while I was still Counsel, I took over as the leader for the China patent group in the Shanghai office.
DFA: Looking back, would you do anything differently, or what would you tell your younger self?
YW: I would have considered incorporating a flex schedule sooner because it improves work-life balance.
DFA: How do you recharge, and how do you pay it forward?
I like training and talking to associates about their career aspirations. I really enjoy being a lawyer – many people with my background don't think of it as an option, so I'm always more than happy to discuss my career path with others. I want people to know there are options and alternative careers out there, especially for women and scientists. Sometimes we just need a little encouragement and a broader perspective.
I'm happy with what I do and proud of my journey. I'm appreciative of the opportunities and support I've received from the firm. I hope my experiences can be a positive example for women in science and immigrants to this country. I want them to understand they can pursue a career in law. I want to speak up and show you can do it – be a trailblazer – you don't have to wait for someone else to do it before you.
https://dfalliance.com/wp-content/uploads/2020/08/Yingli-Wang-Perkins-Coie.jpg
1750
1449
dfalliance
https://dfalliance.com/wp-content/uploads/2019/03/Diversity-and-Flexibility-Alliance-Logo-260.png
dfalliance
2020-08-27 19:34:50
2020-08-27 20:00:59
Spotlight on Flex – Yingli Wang, PhD