The Spotlight on Flex showcases professionals from member organizations who exemplify personal and professional success while working a flexible schedule. Their stories illustrate the long-term benefits that flexible schedules offer to both individuals and organizations.
For May 2018, we are pleased to share insights from Lisa Hansen, Partner, Lathrop & Gage (Kansas City, MO).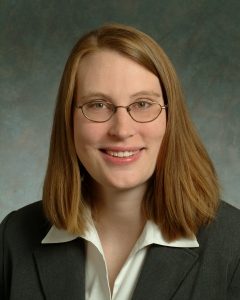 Diversity & Flexibility Alliance: How have you made flexibility a priority and a success through your schedule?
Lisa Hansen: I was previously at another firm and then came to Lathrop & Gage as a lateral associate in 1998. I was working a full time schedule at the time, but once I came back from my first maternity leave, I switched to a 75% reduced hours schedule in 2002. I wanted to continue practicing, but I knew a full time schedule was not going to work for my needs with a newborn at home. I also knew I didn't want to limit myself to certain days in or out of the office. I wanted the flexibility to leave the office when I needed to – without any questions asked. The firm was very supportive of my "ask" even though there weren't many other flex attorneys at the firm at the time.
My schedule has shifted slightly over the years as my kids have gotten older. But I've always come into the office every day, and I've left when I needed to in order to be present for other obligations. I made partner while working reduced hours in 2015, and I've remained on this flex schedule ever since.
https://dfalliance.com/wp-content/uploads/2019/03/Diversity-and-Flexibility-Alliance-Logo-260.png
0
0
integritive
https://dfalliance.com/wp-content/uploads/2019/03/Diversity-and-Flexibility-Alliance-Logo-260.png
integritive
2018-06-03 00:00:00
2018-06-03 00:00:00
Spotlight on Flex – Lisa Hansen