Our Spotlight on Flex showcases professionals from member organizations who exemplify personal and professional success while working a flexible schedule. Their stories illustrate the long-term benefits that flexible schedules offer to both individuals and organizations.
May 2020 Spotlight on Flex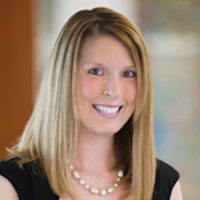 For May 2020, we are pleased to share insights from Heather Wenzel, Partner, Morgan Lewis (Hartford, CT)
Diversity & Flexibility Alliance: How have you made flexibility a priority and a success with your schedule?
Heather Wenzel: After graduating from law school in 2005, I started working at a large Connecticut based law firm. But a year in, I realized it was not a good fit. A recruiter called me to interview at what was at the time Bingham McCutchen. The interview process went well, and I started working there in 2007. Since then, Bingham McCutchen combined with Morgan Lewis, and that combined firm is where I have worked ever since – 13 years! I made partner in 2019, and looking back, without flexible work, I would not have had the same success and career trajectory, especially after having kids.
I had premature twins in 2014 (a boy and a girl), and they spent the first months of their lives in the NICU. My leave time was not traditional; I wasn't at home with my newborns, and I knew I needed more time to spend with them. I was already planning to take six months of leave before they arrived early, and my partners were extremely supportive when I needed to extend that time to account for the unforeseen NICU stay. They knew with twins, I was going to be jumping head first into the fire. Flexible work was not only on my mind, it was essential for me in order to stay at the firm.
When I returned from leave, my babies were eight months old. Morgan Lewis never hesitated to show their support for me and for flexible work. I came back at an 80% reduced hours schedule with five days in the office. I left at 5 pm and signed back on at night as necessary. It was such a relief to be able to leave at 5 pm without feeling guilty. I've been on this schedule for the past six years, and it's what's allowed me to stay in big law. Morgan Lewis also instituted a remote work program which gave me more flexibility to work one-two days a week at home. As a working mother with twins, or any working professional for that matter, this extra layer of flexibility is huge. My standard schedule now allows me to work one day a week at home in addition to my reduced hours. It's been perfect and also prepared me for our current complete remote-work situation due to COVID-19.
A lot of firms say they support flexibility and that choosing this type of schedule won't affect your career advancement. But I think there aren't as many firms that actually support that mentality. Fortunately for me, Morgan Lewis isn't that type of firm; I was working 80% reduced hours and one day a week at home when I made partner. The firm really stands behind what it says. If I had to be full time, I would not have been able to stay in big law. Nothing takes precedence over my family, and I will always choose them over my job. But at the same time, I love what I do, and flexible work lets me not have to choose between the two.
I'm doing what I want to do as a working mother, and I can still be present for my family when I'm home. It's not about being in the office from 9-5; it's about being there for your family when I want and need to be there. Deals are finished, clients are ecstatic, and they never know that I'm working outside of the traditional 9-5 work day.
DFA: How have the firm and/or clients contributed to your Flex Success®?
HW: When I started at the firm in 2007, I was a member of the American College of Investment Counsel (ACIC). Twice a year, all the outside and in house counsel came together for their annual meetings. The demographic was quite different at the time; I was one of the few, younger female attorney members in a room full of partners and in house counsel who were mostly men. Now the demographics in finance have changed. I see more women in the room and more working moms. All this to say that the demographics of my clientele have changed over the years too. My clients are dealing with the same work-life control issues that I am. The depth of understanding and shared experiences have evolved and made my client relationships stronger.
With more clients experiencing the same issues I am, it alleviates some of the pressure I feel as a partner to be "on" 24/7. I can still provide excellent client service but in an environment and methodology that's outside of the normal 9-5 work day.
When I first started at the firm, I worked for five male partners, and I established certain boundaries when it came to being present for my family. They realized my work was getting done, clients trusted me, and I was always responsive. I proved myself so it was easier for them to be flexible with me too. I won't claim that it was always easy, but I give a huge amount of recognition to my team and partners for progressing with me over the years.
DFA: How has working flexibly made your career more sustainable and contributed to business/professional development opportunities?
HW: I've always said I'm 80% in hours, but 100% in firm citizenship. The days are gone where you can sit in your office and bank on the phone ringing from your client of 30 years. Ever since I was a mid-level associate, I made marketing a huge part of my professional development. It's extremely important, and you have to constantly remind your clients that you're there for them. There are so many other law firms and attorneys out there – we're easily replaced. Working 80% reduced hours has allowed me to be with my family but also do the client meet and greets, lunches, and presentations.
I personally feel that flexibility is a benefit for the firm on so many levels too; clients want to know that the firms they engage with are diverse, inclusive, and good to working parents. It's a win for the firm, and it's a win for me. Morgan Lewis can walk the walk and talk the talk. This in turn benefits the profession as a whole because people hear my success story, and it shows them they can do it too.
DFA: Looking back, would you do anything differently, or what would you tell your younger self?
HW: I would tell myself not to stress so much about it. That's the biggest thing. I try to tell others that you have to decide what your personal boundaries are going to be. Are you going to be on call 24/7 and that's your working style? Fine. Or are you going to be someone where Fridays are sacred but you'll work on Saturdays? Fine too. Set those boundaries. I should have thought about and set my boundaries earlier. Things work out, but I wish I had spent less time worrying about the future.
DFA: How do you recharge, and how do you pay it forward?
I try to recharge through vacation or working out. When I'm active, even if it's for 30 minutes, I feel more energized for the rest of the day. It's so hard to be a working parent with young kids; I look back and don't even know how I did it. I'm trying to be more conscious on paying it forward and understanding that everyone has something going on in their lives. We're in a high pressure profession, and I know how much flexible work has helped me. We get lost in the mindset that the world will stop moving if we're not constantly working. But we all know that's clearly not the case. I've never had a deal fall through because I took an hour for myself or put my family first.
https://dfalliance.com/wp-content/uploads/2020/05/Wenzel_Heather_18945_Desktop200-1.jpg
200
200
dfalliance
https://dfalliance.com/wp-content/uploads/2019/03/Diversity-and-Flexibility-Alliance-Logo-260.png
dfalliance
2020-05-27 16:17:44
2020-05-27 16:24:28
Spotlight on Flex – Heather Wenzel