Our Spotlight on Flex showcases professionals from member organizations who exemplify personal and professional success while working a flexible schedule. Their stories illustrate the long-term benefits that flexible schedules offer to both individuals and organizations.
January 2021 Spotlight on Flex
For our January Spotlight on Flex, we're pleased to highlight Gracie Mills, Associate at Finnegan.
Diversity & Flexibility Alliance: How have you made flexibility a priority and a success with your schedule? How has the firm and/or clients contributed to this?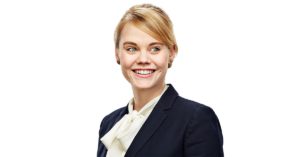 Gracie Mills: I officially began working an 80% reduced hours schedule after the birth of my second son in December of 2019. When he was born I tried to maintain 100% billable hours but I found that I kept coming up short. Something was always cropping up and I felt like I was slipping further behind from my billable goal and getting stressed about it. It's been wonderful since I officially went to 80% because now I am able to bill slightly fewer hours each day and it gives me a little more breathing room.
Finnegan has an excellent free-market system that allows me to select projects where I feel I can be successful on an 80% schedule. Each time a new project comes before me I can realistically look at it through a new lens and decide if it's a good match for me. The firm has a very supportive culture and provides two types of reduced hour opportunities – 60% and 80% – to meet everyone's needs. By not requiring fixed hours, Finnegan allows me to be more flexible and work when it fits my schedule. Flexibility is encouraged at Finnegan and there is no stigma associated with working a reduced hours schedule. There are also a great variety of projects to choose from which allows me to develop a diverse practice even within the confines of part time.
DFA: How has working flexibly made your career more sustainable and contributed to business development opportunities?
GM: When I was full-time, I felt like I was a B- attorney and a B- mom. I didn't have enough time to do everything I wanted to do at the office or at home. Now that I am at 80% I can meet my billable hours and be an A+ Attorney, while also being the mom I want to be. When I was 100% I didn't have an extra minute in my day beyond meeting my billable hours. Now I have the breathing room in my day and can devote much more time to new business development.
DFA: Looking back, would you do anything differently, or what would you tell your first year associate self?
GM: I would tell first year associates to focus on making a good first impression with everyone you meet while you have the bandwidth to do so. Build relationships during your first year and you will be known as someone who is responsive and reliable. Your reputation will continue to pay dividends throughout your career. Use your earlier years, when you may not yet have a family, to get all the opportunities and experiences you can under your belt, especially those that might require travel and longer hours.
I intend to spend my whole career at Finnegan and this is just a small chunk of my life, and I know I will go back to 100% at some point.
DFA: How do you recharge, and how do you pay it forward?
GM: I recharge by relaxing with my kids. I am now on maternity leave after recently having my third baby boy! I love to spend time with my family and enjoy just hanging out with my kids. A perfect Saturday for me is walking to the park and getting a sandwich as a family.
I feel very blessed to be working at a firm that allows me so much flexibility. I am also grateful to have the world's most wonderful nanny. Our nanny makes it possible for me to have the career I love without feeling like I'm short-changing my children. My nanny also recently went on maternity leave and now she brings her daughter to work with her. Sometimes I am able to watch her daughter now that I'm home on maternity leave. We have a wonderful symbiotic relationship where we're all working together to make it work. We call it "tandem families" – but we get a lot more back from her!
DFA: Has the pandemic impacted your flexible working schedule? 
GM: The pandemic has actually been really good for my flexible working schedule and family life. With everyone working remotely, there is now no stigma associated with being at home. Not having to commute has also been incredible for me as now I'm able to have breakfast with my kids and drop them off at pre-school. The pandemic has also made many more opportunities more feasible for me. Whereas a deposition would have required three days away from my family, now there is no travel and I can take a deposition from home.
— — —
If you are a professional working a flexible schedule and would like to share your story in an upcoming Spotlight on Flex, contact Jane Caldeira.
https://dfalliance.com/wp-content/uploads/2021/01/Mills_Andrea_Gracie_OpenGraph.jpg
628
1200
dfalliance
https://dfalliance.com/wp-content/uploads/2019/03/Diversity-and-Flexibility-Alliance-Logo-260.png
dfalliance
2021-01-27 17:30:40
2021-01-27 17:30:40
Spotlight on Flex – Gracie Mills