The Spotlight on Flex showcases professionals from member organizations who exemplify personal and professional success while working a flexible schedule. Their stories illustrate the long-term benefits that flexible schedules offer to both individuals and organizations.
For July 2018, we are pleased to share insights from Kelsey Morris, Associate, Akin Gump Strauss Hauer & Feld (Irvine, CA)
Diversity & Flexibility Alliance: How have you made flexibility a priority and a success through your schedule?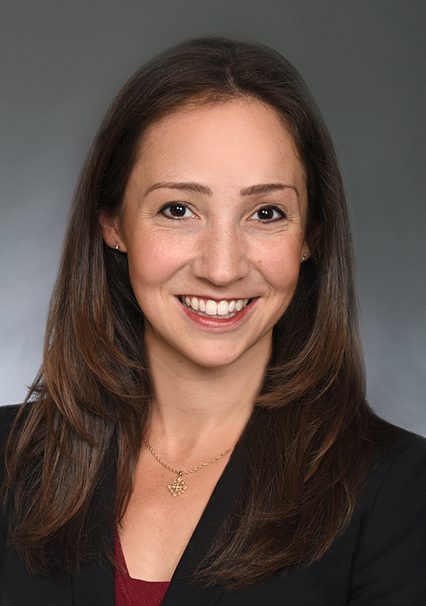 Kelsey Morris: Right after law school, I started at Akin Gump's LA office, and I was there from 2011-2015. I left to complete a one year, federal clerkship with the US District Court for the Central District of California. My daughter was born right at the end of my clerkship in 2016. At this point, I was at a crossroads in my career – I knew I wanted to continue practicing and spend the most time I could with my daughter while she was young. I just didn't see a path forward at big law that would meet those needs at the time. I decided to start teaching legal writing at USC law school and took on projects as an independent contractor to keep up my legal practice. I was doing this for about five months when a former colleague from Akin Gump called and asked if I would join the litigation practice in the firm's Irvine, CA office. My daughter was almost a year old, and I had a clearer vision of how I wanted to practice law and how much time I wanted to be available for my family versus work. I knew I wanted to come back and how I wanted to come back.
Akin Gump, and particularly the partners in Irvine, graciously worked with me to find the right arrangement. This year, I am working at a 60% reduced hours schedule and come into the office at least three days a week. It may not be a traditional schedule, but I make sure I'm fully present when I'm here, and I'm logged in and available remotely the rest of the week.
My flex success doesn't just originate with me – without the practical support and understanding of my colleagues in Irvine, this wouldn't work. For my part, though, I think success comes from mentally committing to my schedule. I was fortunate to have worked for senior women who were on flex schedules when I first started at the firm, and they were open with me about what flex looked like for them. I learned that for the sake of yourself and your work, you have to commit to your flex schedule – whatever that may look like. Someone on a 60% reduced hours schedule can't take on the same case load as someone working at 100% and then still only work 60%. It doesn't work that way. You have to communicate your schedule from the beginning and mentally note that you took a pay cut for the reduced hours. When you take on too much, you're doing a disservice to yourself, the firm, and your clients. You also confuse your colleagues because they won't know how much work they can and should be giving you. When you make a commitment to flex, you make it fairer for everybody.
https://dfalliance.com/wp-content/uploads/2018/07/Kelsey-Morris-1.jpg
606
426
integritive
https://dfalliance.com/wp-content/uploads/2019/03/Diversity-and-Flexibility-Alliance-Logo-260.png
integritive
2018-07-30 00:00:00
2019-06-18 16:35:36
Spotlight on Flex – Kelsey Morris