Spotlight on Flex – Victoria Lee
The Spotlight on Flex showcases professionals from member organizations who exemplify personal and professional success while working a flexible schedule. Their stories illustrate the long-term benefits that flexible schedules offer to both individuals and organizations.
This month, we are pleased to share insights from Victoria Lee, Partner in the Silicon Valley office of DLA Piper. Ms. Lee is a 2014 Flex Success™ Award Honoree.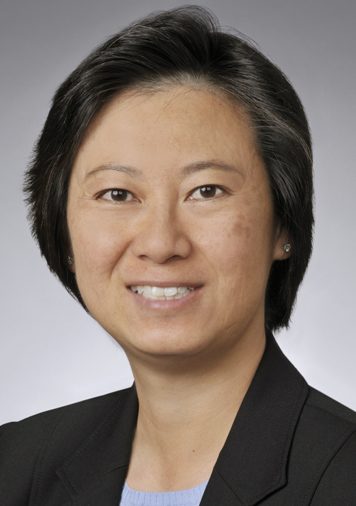 Diversity & Flexibility Alliance: How have you made work-life control a priority and a success with your schedule? How has your client contributed to this?
Victoria Lee: I've been on a reduced schedule for the last eight years; after the birth of my son, I came back from maternity leave at an 80% schedule.  At the time, the firm was going through the three-way merger, and there was no formal alternative work schedule (AWS) policy in place.  In some ways I was lucky – I just talked with my practice group leader, said this was what I wanted to do, and it was done.  The firm was "flexible."  Since then we've developed an infrastructure, with the support of partners and senior level management, to implement a formal AWS. The firm has been extremely supportive of flexibility. In the last three years, there have been at least two associates elevated to partner while working a flexible/reduced hours schedule.  The more associates see that it's possible to make partner while on an AWS, the less daunting it is to ask.
My client, Karen McGee (General Counsel & Privacy Officer of ID Analytics, Inc.), and I have known each other for a very long time.  She also has two young children, and our relationship is a two-way street.  We respect each other's time and know when each other's availability is more limited during the day.  Karen knows I'm responsive, and I'll get the work done – it doesn't matter where or what time that happens.  Not many of my clients realize I'm on an AWS because at the end of the day, it only matters that the work gets done, and I meet their expectations.
DFA: How has working flexibly made your career more sustainable?
VL: Being on a reduced hours schedule gives me a sense of balance.  There are times when I'm working over 100% capacity, and I think I'm going to burn out.  But then it evens out where I have the flexibility to do quality work at the office and still have a quality life outside of it.  I've learned to be more efficient with my time so I can see my kids and be involved at home.  I realize there may still be some people that perceive a stigma associated with working AWS, but I've made it a point to look for other projects because billable hours are not the only way to contribute to the firm.  I've been able to take on more leadership and business development roles, which in turn, has enabled me to market myself internally.  A successful and sustainable career comes from both internal and external self-promotion!
DFA: Why and how did you decide to work a flexible or reduced hours schedule? What would you do differently or tell your first year associate self?
VL: I'm not sure if I would do anything differently because I'm a very different person now than I was as a first year associate. What I would do, however, is tell first year associates now to not think the law firm is as inflexible as they may think.  Many young associates, especially women, think it's impossible to have children and be successful in a large law firm. I encourage them not to give up before giving it a chance.  Lean in!  I know my situation was different since I was already a partner when I got married and had kids.  But, in many ways, once you make partner there's more pressure because you are now an owner of the business with a responsibility to generate clients, revenue, and develop the firm. I want young associates to see me and know it's possible to have a successful career while working on an AWS.
DFA: How do you recharge, and how do you pay it forward?
VL: We love to get away to Lake Tahoe whether it's summer or winter.  We especially like to ski as a family now that our kids are old enough (and we're having to keep up with them!).  It's the perfect time and way to just focus on the family.  It's great to be up in the mountains and almost completely unplug!
I pay it forward by promoting strategic initiatives in the firm and by sharing my insights on a regular basis with both associates and young partners.  I'm the co-chair of our office's Diversity & Inclusion Committee, the office delegate for DLA's Women's Initiative (the Leadership Alliance for Women), a member of the national steering committee for the Leadership Alliance for Women, and on the planning committee for the firm's Global Women's Leadership Summit.  I want to make sure other women feel that DLA is a place where they can have a long-term, sustainable, and fulfilling career.
— — —
If you are an attorney working a flexible schedule and would like to share your story in an upcoming Spotlight on Flex, contact Eliza Musallam.
https://dfalliance.com/wp-content/uploads/2019/03/Diversity-and-Flexibility-Alliance-Logo-260.png
0
0
integritive
https://dfalliance.com/wp-content/uploads/2019/03/Diversity-and-Flexibility-Alliance-Logo-260.png
integritive
2014-05-25 00:00:00
2014-05-25 00:00:00
Spotlight on Flex – Victoria Lee