Spotlight on Flex – Evynn Overton
The Spotlight on Flex showcases professionals from member organizations who exemplify personal and professional success while working a flexible schedule. Their stories illustrate the long-term benefits that flexible schedules offer to both individuals and organizations.
This month, we are pleased to share insights from Evynn Overton, Principal in the Baltimore office of Beveridge & Diamond PC.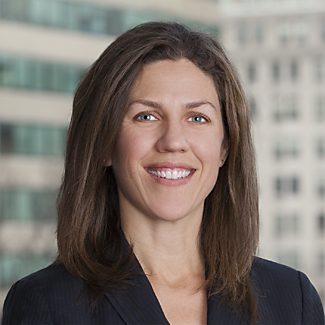 Diversity & Flexibility Alliance: How have you made flexibility a priority and a success through your schedule?
Evynn Overton: I had my first child during my third year of law school, and I knew heading into the work world I needed and wanted a job with flexibility. I learned I was pregnant while I was a summer associate at Beveridge & Diamond (B&D). When I received my offer, I spoke with the firm and asked if flex options were available as an incoming first year associate. The firm said absolutely; they encouraged and supported my schedule from the very beginning. I started as a reduced hours, first year associate in the fall of 2004 at a 60 percent schedule and was in the office three days a week.
After I had my second child and was simultaneously taking on more responsibility with my case matters, I increased to a 70 percent schedule and came into the office four days a week. At times my work on matters exceeded 70 percent of full time, but I was comfortable with the arrangement because I had chosen to take on (and was excited about) the additional work. I also had flexible support at home, and B&D was fair to me with my compensation. As I became more senior, I gradually shifted to an 80 percent reduced hours schedule, and when I returned to work after the birth of my third child, I stayed on an 80 percent schedule with four days in the office.
In order for flexibility to work well, it has to work both ways. I prioritized client needs, and I made it clear to my colleagues that I had availability on my days "off" if something came up. I volunteered to switch my schedule when needed, and I never felt like I was losing out on major opportunities because I was willing to be flexible too. I worked hard to plan and stay ahead on projects to try to avoid unexpected issues. I was fortunate to work with colleagues who helped make this possible. My schedule definitely hasn't always been easy over the years, but it has allowed me to play a very active role both at work and at home.
Now that my children are in school, I'm back to a full time schedule but telecommute on Fridays. I wanted to preserve this day at home to be able to have lunch with my kids or go to any of their activities. I switched to a full time schedule before I made partner, but the firm made it clear this was not a requirement in order to promote me. My switch in hours happened because at the time, I was billing full time hours on a reduced hours schedule (and compensation). A junior partner advocated on my behalf to switch to full time because my hours warranted it, and she felt strongly that I be compensated as much as my full time peers. Some people at my firm actually wanted me to stay on a reduced hours schedule to show younger associates that making partner was achievable while working flex hours.
DFA: How have clients contributed to your flex success?
EO: I love the clients I work with – many of them are also trying to balance their schedules for work, life, and family. I don't necessarily focus on flex with my clients, but they know I have a family. I make sure they know if they need to reach me, I'll respond. I plan and focus on being proactive versus reactive. Surprises still happen but hopefully not as often. I think clients understand we're all trying to manage various areas of our lives – they get it, and the firm gets it.
DFA: How has flexibility contributed to your business development and sustainability of working at a large firm?
EO: I wouldn't be in private practice without flexibility. I don't think this type of schedule (and this career in general) is for the faint of heart. The career and the juggling require a lot of energy in order to thrive. Even with flexibility, my schedule is challenging, but it's definitely more sustainable. When you're on flex, you have to make time for professional and business development just like everyone else, even if it cuts into your personal and billable time.
DFA: Looking back, what would you tell your first year associate self?
EO: I would tell myself not to worry as much. It's a leap of faith, and you keep going. You have to continuously tweak your schedule and make it work for you. The worry, anticipation, and fear of failing will just hold you back.
There were two women in my office working flexibly when I first started, so I knew it was possible to sustain a career at the firm and succeed. Just being present is a way to showcase that flexibility works.
DFA: How do you pay it forward, and how do you recharge your batteries?
EO: I pay it forward by discussing flex with others and making it clear that reduced hours does not equal under-performance. Reduced hours attorneys are being compensated differently for fewer hours, but they still make important contributions to the firm. I try to help others in my firm, whether they're working flexibly or working with flex attorneys, to understand this as well. It's critical to be working with a team of people who support and understand what you do without resentment. Communication is also integral to your personal success. When I work with people, they know my schedule and availability. When I work with younger flex associates, I try to be very conscious and respectful of their schedules too.
I run to recharge; I don't think I would be able to do any of this without running. It's my outlet. It's essential to keeping your energy high, and it's just as equally why I'm still here. I also recharge by being with family and finding little ways to take care of myself. I want my kids to know their mom has a successful career, and I want to be an active role model for them while staying engaged in their activities too.
 — — —
If you are an attorney working a flexible schedule and would like to share your story in an upcoming Spotlight on Flex, contact Eliza Musallam.
https://dfalliance.com/wp-content/uploads/2019/03/Diversity-and-Flexibility-Alliance-Logo-260.png
0
0
integritive
https://dfalliance.com/wp-content/uploads/2019/03/Diversity-and-Flexibility-Alliance-Logo-260.png
integritive
2016-07-06 00:00:00
2016-07-06 00:00:00
Spotlight on Flex – Evynn Overton