Spotlight on Flex – Danielle Frappier
The Spotlight on Flex showcases professionals from member organizations who exemplify personal and professional success while working a flexible schedule. Their stories illustrate the long-term benefits that flexible schedules offer to both individuals and organizations.
This month, we are pleased to share insights from Danielle Frappier, Partner in the Washington, DC office of Davis Wright Tremaine LLP.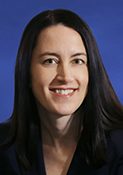 Diversity & Flexibility Alliance: How have you made work-life control a priority and a success with your schedule?
Danielle Frappier: The key to making it work for me has been to remain responsive to clients, have a great team behind me, and keep things very organized.  Although I try to keep certain core office hours, if there is an urgent matter, I make sure that I am available or someone on my team can cover it.  Most of my clients don't know (or forgot) that I have a part-time schedule because I work very hard to make sure that their needs are taken care of.  That wouldn't be possible without my fantastic team.
I actually think my part time schedule has helped me to achieve my business development goals, although I didn't realize it when I first made the change.  I was struggling to create my own business development path, particularly after having children, because all of my waking hours were consumed with attending either to client work or children.  After I had my second child, my mentor suggested that I switch to an 80% part time schedule.  That's when a light went off for me: I could use that 20% "cushion" in multiple ways.  Of course, it helped when I needed to take a sick child to the pediatrician or attend a school function.  But I could also use it for business and career development activities.
I soon began to develop my own business, and have been very successful at generating work for my team and the firm.  Last year I had the second highest book of business firm-wide and kept a lot of people busy.  It was not an easy feat, especially in this tough, competitive market.
DFA: Would you do anything different or what would you tell your first year associate self?
DF: I thought I had to know every little detail about everything when I first started so I didn't put myself out there.  What I came to realize is that many times, my colleagues didn't know any more than I did, and I shouldn't have been afraid to speak up.  I also should have asked for a part time schedule earlier.  I would also tell myself that a culture shift was coming.  Men are more frequently taking on more familial responsibilities.  Male associates in particular are advancing with completely new perspectives on inclusiveness and dual family roles. There's a male associate on my team who is planning to take close to four months for paternity leave, and we fully support him!
DFA: How do you recharge your batteries?
DF: My husband is phenomenal and does much more than his fair share for our family.  That gives me the time I need to succeed at my job and have a little time left over for my children and sometimes, even myself.  Of course, it always feels like I should be attending to some "to do" list.  But my kids often force me to step away from the computer and be more "present." When I do get time for myself, I find that Pilates and yoga help me to stay physically and mentally fit.  Yoga presents so many parallel lessons that I've been able to apply to everyday life.  For example, in yoga, I need to make constant micro adjustments to stay in the pose, and at any one moment in time, I am never in perfect balance in all ways.  It reminds me that life is not perfect, and I need to constantly make adjustments to keep all things in balance.
DFA: How do you pay it forward?
DF: I am a champion for two associates, one of whom was just promoted to Of Counsel, and I'm always looking for new business development opportunities they can participate in.  This month I was named the new Co-Chair of our Communications Group.  Just one of my many goals for that role is to foster support structures and bridge the gap between generational views on work-life balance.
— — —
If you are an attorney working a flexible schedule and would like to share your story in an upcoming Spotlight on Flex, contact Eliza Musallam.
https://dfalliance.com/wp-content/uploads/2019/03/Diversity-and-Flexibility-Alliance-Logo-260.png
0
0
integritive
https://dfalliance.com/wp-content/uploads/2019/03/Diversity-and-Flexibility-Alliance-Logo-260.png
integritive
2014-12-20 00:00:00
2014-12-20 00:00:00
Spotlight on Flex – Danielle Frappier