Spotlight on Flex – Abby Hemani
The Spotlight on Flex showcases professionals from member organizations who exemplify personal and professional success while working a flexible schedule. Their stories illustrate the long-term benefits that flexible schedules offer to both individuals and organizations.
This month, we are pleased to share insights from Abby Hemani, Partner in the Boston office of Goodwin Procter LLP.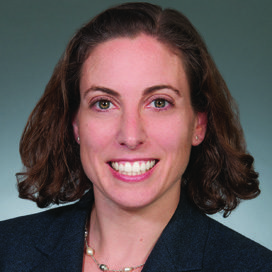 Diversity & Flexibility Alliance: How have you made work-life control a priority and a success with your schedule? How have clients contributed to this?
Abby Hemani: I'm fortunate that the nature of my practice facilitates a flexible schedule and allows me to maintain relatively reasonable work-life control. I focus primarily on appellate work and dispositive motion practice in large cases; deadlines are typically far off, and I can see what's coming down the road. My schedule is not always perfect, but it's definitely more feasible because I can often work at different times and from different places.
My client, Jody Forchheimer, Senior Vice President and Deputy General Counsel at Fidelity, is very supportive.  As a working mother herself, she has personal experience juggling a career and parenting. Jody has hired me to draft and argue several dispositive motions in large cases while one of my partners handles other aspects of the litigation.  With support from Jody, this somewhat unusual division of responsibilities has fostered an incredibly collaborative relationship between Fidelity, the firm, and me.  Jody took a risk on me, and I am so fortunate to have earned her trust and support, on both a personal and professional level.
DFA: How has working flexibly made your career more sustainable?
AH: Although I'm officially on an 80% schedule, over the course of the year I typically end up working somewhere between 85% and 100% of the expected billable hours for a full time partner.  Goodwin Procter has a "true-up" policy so that at the end of the year, I am fully compensated for every hour I bill.  The true-up policy is a win-win for everyone. If I bill 80% of my expected hours, then I'm happy because I had more time to spend with my family.  I'm happy if I bill more than 80% too because I'm compensated for it, and the firm is happy because it's generated more money as a result of my additional hours.  I really don't understand why more firms don't have a similar policy.
I think this type of flex arrangement is imperative for the next generation of lawyers.  We're seeing more families like mine where both spouses are pursuing professional careers.  My experience has been that once children come along, dual career families are impossible to maintain unless at least one spouse has some flexibility in his/her schedule. We're lucky to have a phenomenal nanny, but there are certain parenting duties I just can't pass along to someone outside of the family.  Working flexibly allows me to go to doctor's appointments and parent/teacher conferences without obsessing over missing work or coming up short on billable hours.
DFA: Looking back, what would you do differently?  Any advice for young attorneys?
AH: I would spend more time and effort developing my network within the legal community and with potential clients.  When I first started at Goodwin, I was very focused on learning how to be a great lawyer and advancing within the firm.  I thought the business development part of the job didn't really need to start until I made partner.  But, as in my case, attorneys often make partner at the same time they start having kids and are trying to figure out how to make time for both career and family.  So right when I was supposed to begin focusing on business development, I found myself with significantly less time to do so.  If I had done a better job all along of building and maintaining my network, then business development could have been substantially less daunting.  I urge all young associates to keep in touch with college and law school classmates and be active in the bar/legal associations.  There's really no downside to making that effort.
Young associates should do whatever they can to make themselves uniquely valuable to their firm and clients – be a better lawyer than your peers or develop an area of expertise that's in demand.  Differentiating yourself is critical if you're hoping to take advantage of a flexible schedule.  If you prove to be invaluable, then your schedule won't matter to anyone – partners and clients will want you on their team, and they will accommodate your need for flexibility.
DFA: How do you recharge, and how do you pay it forward?
AH: I find that moving back and forth between the two core components of my life – work and family – prevents me from getting too worn down.  Playing with my kids on the weekends provides a needed mental break from work; sitting down in a chair at the office and talking to adults come Monday morning provides a necessary change of pace from my time at home with the kids.
I know there are other jobs that would give me more personal time, but I don't feel like I need it.  I love my job, and I love what I do!   When I was in law school, I never would have expected to feel this way about working at a large law firm, but I like the people I work with, my cases are challenging, and I have enough flexibility that I don't feel like I'm missing out on any of the important aspects of my family life.
I believe in paying it forward, both inside and outside of the firm. I do pro bono appellate work on civil rights issues that are important to me, and I spend a lot of time mentoring younger attorneys at the firm – both informally and through our formal advising programs. Outside of the firm, I serve as Vice President of the Dravet Syndrome Foundation, a not-for-profit organization that seeks to advance research and improve treatments for those (like my daughter) who suffer from this rare and debilitating epilepsy.
— — —
If you are an attorney working a flexible schedule and would like to share your story in an upcoming Spotlight on Flex, contact Eliza Musallam.
https://dfalliance.com/wp-content/uploads/2019/03/Diversity-and-Flexibility-Alliance-Logo-260.png
0
0
integritive
https://dfalliance.com/wp-content/uploads/2019/03/Diversity-and-Flexibility-Alliance-Logo-260.png
integritive
2014-08-05 00:00:00
2014-08-05 00:00:00
Spotlight on Flex – Abby Hemani