Spotlight on Flex – Erik Lemmon
The Spotlight on Flex showcases professionals from member organizations who exemplify personal and professional success while working a flexible schedule. Their stories illustrate the long-term benefits that flexible schedules offer to both individuals and organizations.
This month, we are pleased to share insights from Erik Lemmon, Associate in the Denver office of Holland & Hart LLP.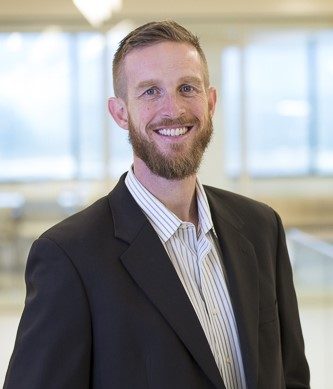 Diversity & Flexibility Alliance: How have you made flexibility a priority and a success through your schedule?
Erik Lemmon: After college I attended the US Navy's Officer Candidate School to train to be a pilot. Although I really loved being in the Navy and serving my country, I wasn't passionate about the flying, especially given the months away from home the job entailed. I transferred to the Reserves on active duty to complete my commitment and started law school in 2005. I summered at Holland & Hart in 2007, and I started as a first year associate in the fall of 2008 in the Denver office.
My wife, a child clinical psychologist with a busy practice, and I moved to Arizona for her clinical internship in early 2010 after we had our first child. I switched firms when we moved, but we returned to Colorado and Holland & Hart in 2011. In 2013, we had our second child, and I knew something had to give. With a four year old daughter and newborn at home, I wanted to be involved at work, but I wanted to be a fully involved parent as well. If I wasn't going to miss being an integral part of my family to be a pilot for the Navy, then I certainly wasn't going to miss it to be a full time lawyer.
At first I didn't think about the firm's flex time program; I was looking at smaller firms and exploring in-house opportunities. I talked to a friend at the firm, and she suggested staying at Holland and working reduced hours. After speaking with the firm's flex coordinator, I went to an 80 percent schedule. Looking back, I can't believe I didn't think about this option right away, and when I talk to male and female associates, I highly encourage them to explore flex as an option for their own careers. The firm is incredibly supportive and has a true-up policy; I'm compensated for any work above my agreed upon hours plus receive a bonus for exceeding them.
I needed flexibility to take a more balanced approach to my life. I sometimes leave work at 5:30pm or earlier to attend my kids' recitals or coach their sports. We eat dinner together as a family. I made it clear to my partners I would still be on and responsive to clients' needs – my commitment to my job wouldn't change, only how I managed that commitment was changing. Moving to a flex schedule has made all the difference for my overall well-being.
Partner and firm leadership buy-in to flex also makes a big difference. I haven't experienced flex stigma, but it's because of the support from people like Liz Sharrer (the firm's Chair who also worked a flex schedule) and the other partners with whom I work. Holland & Hart also has a great telecommuting policy which gives me even more flexibility if I need to work from home, leave work early, or take care of something on the weekends.
DFA: How has flexibility contributed to your business development and sustainability while working at a large firm?
EL: It's made all the difference. I was having trouble balancing work and my personal/family life, and that lack of balance was not sustainable for me. If the firm didn't have a flex policy, I wouldn't be here, or I would be on a very different trajectory. My flex schedule works for me.
The firm requires 100 business development hours per year, and my business development requirement also shifted to 80 hours per year when I switched to a reduced hours schedule. This actually leaves me more time to focus on it; I do the business development that I want to do and feel actually helps to grow my practice.
Life is too short not to give your all in everything you do. Once I was able to slow things down at work just a little, I was able to take a breath and see I could really excel at being an exceptional lawyer, father, husband, and coach. I've learned that balance, flexibility, and having the time to be good at all facets of my life is what makes me happy.
DFA: Looking back, what would you tell your first year associate self?
EL: I would tell me, or any first year associate, to establish themselves and build the trust with their partners and co-workers before they go to a flex schedule. Flex is always an option in the future. Once you feel like you've established yourself and fully understand what flex means (it doesn't mean you're shutting down completely at 4pm everyday), then it's always something to consider. Take the time to learn as much as you can. Prove to others that you want to be there and take ownership of your work no matter what your schedule is.
DFA: How do you pay it forward, and how do you recharge your batteries?
EL: I exercise to recharge; I run, lift weights, and cycle. I pay it forward by not hiding my schedule. I wish more men would be open about working flex because I know they're out there. I hope that my transparency can help combat any stigma male or female attorneys think they may experience by working flex.
 — — —
If you are an attorney working a flexible schedule and would like to share your story in an upcoming Spotlight on Flex, contact Eliza Musallam.
https://dfalliance.com/wp-content/uploads/2019/03/Diversity-and-Flexibility-Alliance-Logo-260.png
0
0
integritive
https://dfalliance.com/wp-content/uploads/2019/03/Diversity-and-Flexibility-Alliance-Logo-260.png
integritive
2016-09-01 00:00:00
2016-09-01 00:00:00
Spotlight on Flex – Erik Lemmon