Spotlight on Flex – Margaux Trammell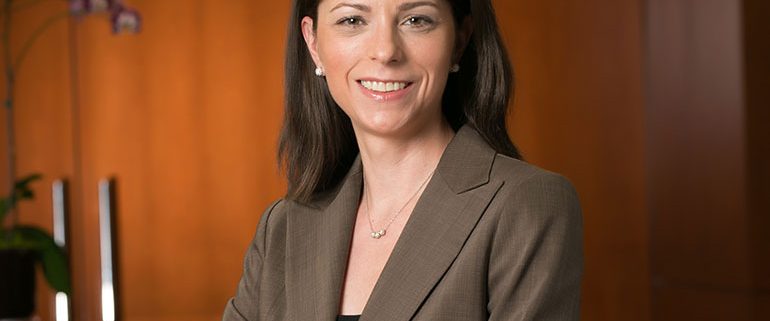 Our Spotlight on Flex showcases professionals from member organizations who exemplify personal and professional success while working a flexible schedule. Their stories illustrate the long-term benefits that flexible schedules offer to both individuals and organizations.
April 2021 Spotlight on Flex
For our April Spotlight on Flex, we're pleased to highlight Margaux Trammell, Director of Professional Development, Brownstein Hyatt Farber Schreck.
Diversity & Flexibility Alliance: Please tell us a little about your background. When did you begin working a reduced hours schedule?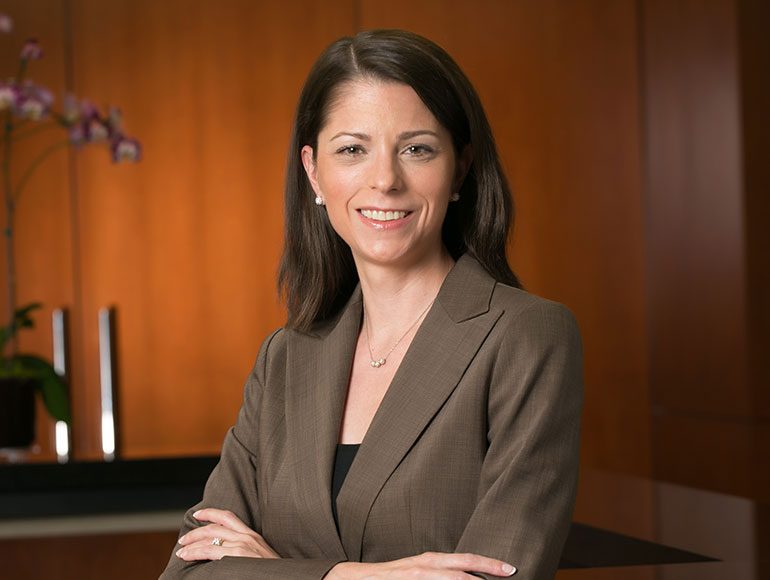 Margaux Trammell: I began my legal career in Switzerland before earning my LLM in American and comparative law and J.D. from the University of Denver Sturm College of Law in the U.S. I joined Brownstein Hyatt Farber Schreck over 15 years ago as a second-year corporate associate, where my practice focused on outside general counsel representation, mergers and acquisitions, joint ventures, corporate reorganizations and finance matters. I became a shareholder at the firm in due course shortly after welcoming my first child.
Prior to my maternity leave with my second son, I approached our co-managing partners and CEO at the time about potentially enrolling in our reduced-work schedule that nobody was taking advantage of at the time. During those discussions, I wanted to make sure they knew that even though I was going to be working reduced hours, I still wanted to be fully committed to the deals I was working on and to be involved in the success of the firm. I still wanted to take an active role, and wanted to make sure that my part-time status wouldn't sideline my involvement in firm initiatives and client work.
During the eight years that I've worked a reduced-hour schedule, I've stayed dedicated to my clients, extremely involved with the firm and close with my colleagues. I served as chair of the firm's Professional Development Committee coordinating professional development initiatives for Brownstein employees across all 12 offices, lead the Audit Letter Committee, where I supervise the audit letter response process and helped manage many associate matters for the Corporate & Business Department with our department chair. I've recently transitioned into the role of director of professional development, which would not have been possible without my experience at the firm for the past eight years.
Diversity & Flexibility Alliance: How have you made flexibility a priority and a success with your schedule? How has the firm and/or clients contributed to this?
Margaux Trammell: The type of flexibility I prioritized related to the quantity of deals, but not to the detriment of the quality of deals I was working on.
When I was working on a deal, I was all in and gave it 110%. Working on fewer deals allowed me to provide high-quality legal services while giving me flexibility to address my other obligations as a parent. The support of the firm in allowing me to reduce the number of deals I was working on was crucial to allowing me to succeed on this path. In addition, over the past eight years, the firm was willing to keep that flexibility fluid to meet its needs and my needs, which I believe has been key to our relationship success.
The quality of the deals I was working on did not diminish either. I notably worked on a broad range of issues connected to the development of a liquefied natural gas receiving and regasification facility, including a $2.4 billion holding company, as well as the largest real estate transaction in Mexico's history. While none of my clients were aware that I was working a reduced schedule, the firm trusted me to provide top-notch legal services.
DFA: How has working flexibly made your career more sustainable and contributed to business development opportunities?
MT: I would have most likely left Brownstein had I not been able to participate in our firm's reduced schedule and willingness to be fluid with that flexibility as I would have had to choose between my career and my obligations as a parent. As mentioned above, I never mentioned my reduced-work status to my clients. My goal has always been to provide clients with top-notch legal services. Having less pressure on my shoulders though allowed me to be totally on when I was working on a matter, keeping current clients happy and allowing me to seek opportunities to expand business for the firm.
The flexibility that Brownstein offered allowed me to get involved in professional development, including meeting some needs that the firm had this past year, which culminated in my new career at the firm.
DFA: Looking back, would you do anything differently, or what would you tell your first-year associate self?
MT: Looking back I would tell myself that things always work out if you work hard and have mentors and advocates around you. If you are a valuable member of the team, people will work with you to make it work. If you have any concerns about your career, talk to your mentors and advocates. Your concerns may seem unsurmountable to you at the time you face them, but in reality, there are likely solutions right in front of you that you may not have thought of, including taking advantage of firm policies or opportunities available to you.
DFA: How do you recharge, and how do you pay it forward?
MT: I recharge by riding my Peloton, doing Pilates, traveling to Europe, cooking, enjoying European wine and spending time with my husband, my two boys and my two English Springer Spaniels.
For the past 15 years, Brownstein has been an incredible place for me both professionally and personally. As a result, I always try to think of ways to make it a special place by embodying our core values, including our core value of giving back.
Over three years ago, I created our Peloton group, which consisted initially of 10 attorneys and is now comprised of 45 attorneys and staff members doing two weekly assigned rides together to keep each other motivated. To the extent a member does not complete his or her rides, that member is fined and all proceeds go to charity. It's a great way to connect with colleagues (whether the firm's managing partner, executive committee members, associates or staff) on something that isn't work related or billable and giving back to the firm and the community.
My mentors and advocates have been key in my career progression and success at the firm and I would not be here without them. As a result, I am passionate about and dedicated to mentoring and advocating for our legal and government relations talent. I have found it very rewarding in my capacity as a shareholder at the firm and I look forward to continuing this in my role as director of professional development.
— — —
If you are a professional working a flexible schedule and would like to share your story in an upcoming Spotlight on Flex, contact Jane Caldeira.
https://dfalliance.com/wp-content/uploads/2021/04/TrammellMargaux.jpg
580
770
dfalliance
https://dfalliance.com/wp-content/uploads/2019/03/Diversity-and-Flexibility-Alliance-Logo-260.png
dfalliance
2021-04-26 16:05:33
2021-04-26 16:07:22
Spotlight on Flex – Margaux Trammell