Spotlight on Flex – Jay Kugler DeYoung

Our Spotlight on Flex showcases professionals from member organizations who exemplify personal and professional success while working a flexible schedule. Their stories illustrate the long-term benefits that flexible schedules offer to both individuals and organizations.
For March 2019, we are pleased to share insights from Jay Kugler DeYoung, Principal, Fish & Richardson (Boston, MA).
Diversity & Flexibility Alliance: How have you made flexibility a priority and a success with your career? How has the firm supported this?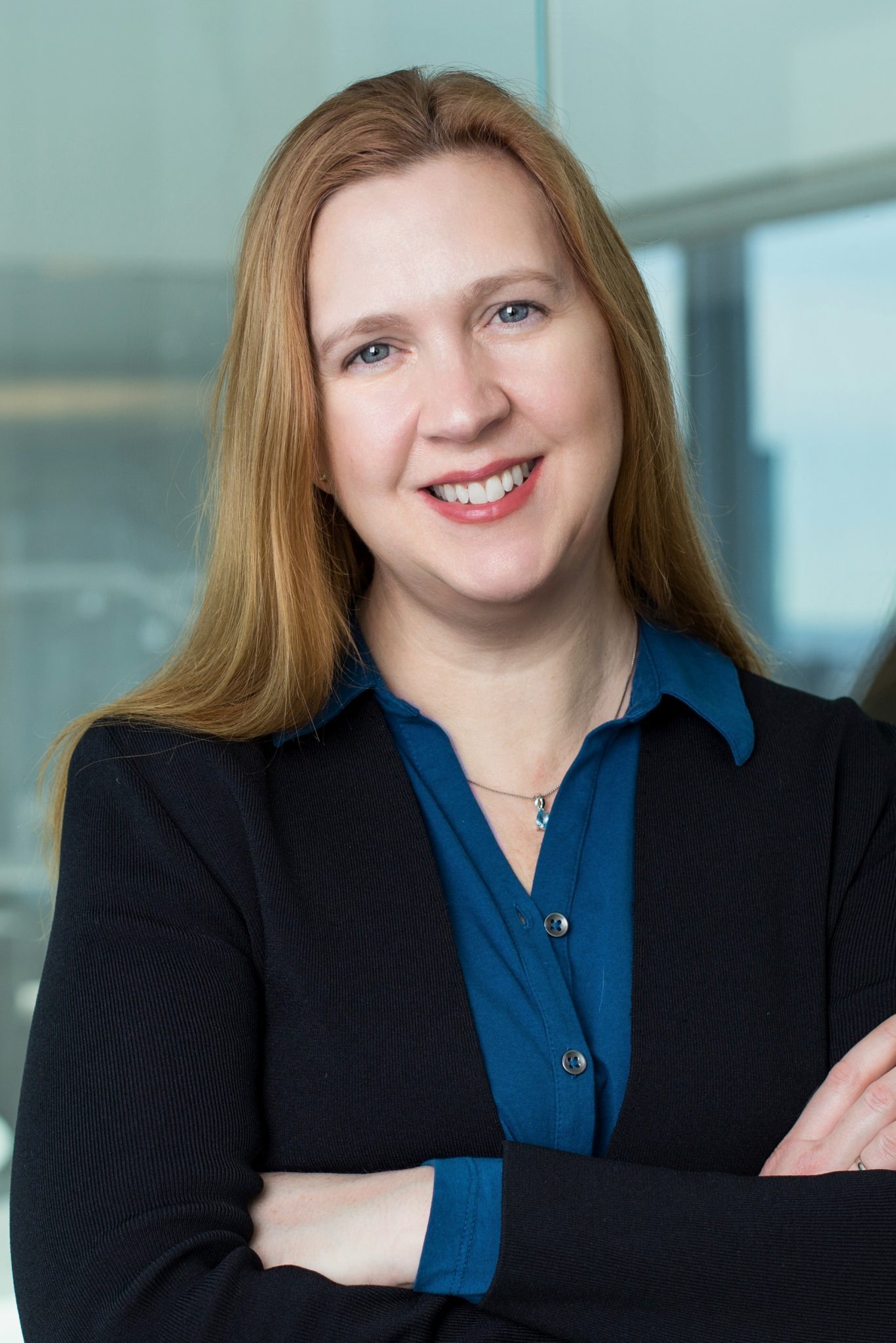 Jay Kugler DeYoung: Before I came to Fish & Richardson in 2002, I worked for two years at a general practice firm. I wanted to focus on biotechnology prosecution, and I was happy to move to Fish & Richardson when the opportunity presented itself. I joined Fish as a full time associate, and in 2008 I came up for partner – just as I had my first child. I made partner that year and came back on a reduced hours schedule after my daughter was born. I have an hour long commute each way, and I wanted to be home to see my child and eat dinner together as a family. I moved to an 80% reduced hours schedule that consisted of coming into the office each day from 9:30 am – 5:30 pm. I telecommuted as necessary too, and I've never looked back.
The firm has never pressured me to go back to full time, in fact, I believe the firm sees flexibility as a win/win for everyone. I chose to reduce my hours because I wanted be involved with firm activities around associate mentoring, training, evaluation, and advancement. Over the years, I've expanded my internal involvement to include partner evaluation and advancement too. Internal community building and professional development are both really important to me, and if I were working full time, I wouldn't be able to give 100% to my substantive work, professional development activities, or being a mom. Flex has been a decision that's really worked because I'm happier, have less pressure to bill hours, can devote the time I want to client development, and am able to spend quality time with my family.
DFA: How have clients supported your flexibility?
JKD: I honestly don't think many of my clients know I'm working flex because my hours overlap with their hours. They know I'm available when they need me, and that's what matters. All of my clients have my personal cell phone number, and they're incredibly respectful; no one has misused it. My desk phone rings straight to my cell phone when I'm out of the office, and everything remains seamless that way. If a client asks, I tell them I'm working from home, and it really doesn't matter to them. They typically don't expect me to work late in the evening or on the weekends – like me, my clients have lives outside of the office, and we respect each other's schedules. And because of that, when there's an emergency or issue that requires late nights or weekend work, I'm there for them and will do everything I can to assist them.
DFA: How has working flexibly made your career more sustainable and contributed to your overall internal and external development?
JKD: It's been good for me in a number of ways. Personally, if I'd been billing full time for the past eight years, and being a mom, and committing to growing my practice and business development – something would not have survived. I'm only one person, and something would have had to give. Working flexibly allows me to come into the office every day without the pressure of billing full time and still focus on all the things that are important to me. Personally, I think the firm values the time I'm able to devote to external development as much (or more) than the billable hours they're "losing" by me working flexibly. Fish & Richardson has always supported me; I made partner the same year I came back from maternity leave, they didn't question my request to work reduced hours, and they've never pressured me to ramp up to full time.
DFA: Looking back, what would you tell your first year associate self?
JKD: It's all worked out very well, so in the end, I don't think I would change anything. Finding work, colleagues, and clients you love and the opportunity to set your own schedule – I feel incredibly lucky. It's important to do things on your own terms and show the firm, your colleagues, and yourself that you can do incredibly well and not give your entire life to your job. I may work reduced hours, but I still make a good living.
I would tell myself to identify and then ask for what you need. What will make things better for you? Ask for it! I was nervous to request reduced hours and my first two years as a reduced hours partner, but it's all worked out in the end. I've seen people leave law firms to work in house because they think they'll find more flexibility there. But it seems to me flex can be illusory in house since you might be the only lawyer! When you're at a firm like Fish & Richardson, you're part of team. If you need help, you have people to rely on. If you ask the firm for what you need, most of the time you'll get a "yes." A good firm will recognize that you're a better, more productive person if you're allowed to work a flexible schedule and do what you need to do. The firm has made it more of a priority to highlight internal success so people can see that flexibility and success go hand-in-hand.
DFA: What do you do to relax? How do you pay it forward?
JKD: I love gardening, going to the beach, and hanging out with my kids. In our down time together we like to bake and play video games.
I'm a group leader for the Patent Group, and we oversee associate reviews and evaluations as well as mentoring. Now I'm part of the committee that evaluates partners for advancement, and I help with D & I recruiting efforts. Externally, I'm on the board of the Massachusetts Science & Engineering Fair, which focuses on STEM education for kids all over Massachusetts, especially in underprivileged communities.
I think part of the reason why I've been at the firm so long and have been so successful is because I've had this opportunity to work flexibly, focus on growing my practice, and on my family. Because of flex, I have the time to meet my clients wherever they are and address their needs with better service and better work product.
 — — —
If you are a professional working a flexible schedule and would like to share your story in an upcoming Spotlight on Flex, contact Eliza Musallam.
https://dfalliance.com/wp-content/uploads/2019/03/Jay-DeYoung.jpg
2048
1367
integritive
https://dfalliance.com/wp-content/uploads/2019/03/Diversity-and-Flexibility-Alliance-Logo-260.png
integritive
2019-03-28 00:00:00
2019-06-17 12:41:34
Spotlight on Flex – Jay Kugler DeYoung