October 2021 Spotlight on Flex
Our Spotlight on Flex showcases professionals from member organizations who exemplify personal and professional success while working a flexible schedule. Their stories illustrate the long-term benefits that flexible schedules offer to both individuals and organizations.
For our October 2021 Spotlight on Flex we are pleased to share insights from Elise Attridge, Associate, Morgan, Lewis & Bockius LLP.
Diversity & Flexibility Alliance: How have you made flexibility a priority and a success with your schedule? How has the firm and/or your clients contributed to this?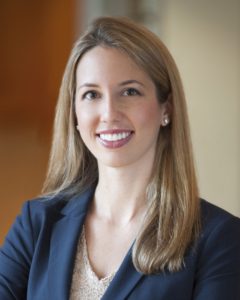 Elise Attridge: After my first child was born in 2016, I started working at an 80% reduced hour schedule. At that time, I had been a Litigation Associate at Morgan Lewis for five years.
When I first shared the news that I was pregnant to members of firm management, multiple people offered me the opportunity to work on a reduced schedule when I returned from maternity leave, which I was thrilled about because I'd heard of other working mothers taking this approach. And because the firm had raised it first, I felt extremely supported in the decision to work a reduced hours schedule.
I've been on that 80% arrangement ever since. It's been about five years now and I've gone on to have two more children.
Right from the beginning, I received excellent advice from one of our litigation partners. Even though I planned to be in the office four days a week, she recommended that I have childcare available for all five days. I took that advice to heart and it really helped me ensure that I am able to be successful with my flexible schedule. My arrangement is that our nanny comes four days a week, and I target Monday as my day off to be with my children. But my nanny is available all five days if I need her to work, which sometimes I do.
While working four days a week is my goal, that is not always feasible, particularly as a litigation attorney because I have deadlines that are out of my control and unavoidable periods of heavy workloads.
So, I don't measure the success of my reduced schedule on a weekly or even monthly basis. There are certainly some months where I work full-time hours.  Instead, I measure my reduced schedule on a yearly basis. I can then balance those periods of heavy workloads — for example, when I have depositions or a trial — with more time off at slower points in the year. It is a constant, and sometimes tricky, balancing act.
So far, however, because of my approach, I think I've been successful at having that work-life balance that works for me, my family, my firm and my clients.
The firm definitely has been giving me ongoing support during my flexible schedule. And in terms of my clients, I would guess that most, if not all, of my clients probably don't even know that I work on a reduced schedule. It's certainly not a secret. Even though I'm on a reduced schedule, once I'm on a case, I'm still 100% committed to delivering great legal work and exceptional client service. So that's why calibrating my schedule on a yearly basis is so important, because there are times when I need to meet client needs, even if it's on a Monday.
https://dfalliance.com/wp-content/uploads/2021/10/Attridge_Elise_72308_4x5.jpg
1500
1200
dfalliance
https://dfalliance.com/wp-content/uploads/2019/03/Diversity-and-Flexibility-Alliance-Logo-260.png
dfalliance
2021-10-25 12:45:40
2021-10-25 12:45:40
Spotlight – Elise Attridge, Morgan, Lewis & Bockius