Our Spotlight on Flex showcases professionals from member organizations who exemplify personal and professional success while working a flexible schedule. Their stories illustrate the long-term benefits that flexible schedules offer to both individuals and organizations.
For May 2019, we are pleased to share insights from Teresa Reuter, Associate, Sidley Austin LLP (Chicago, IL)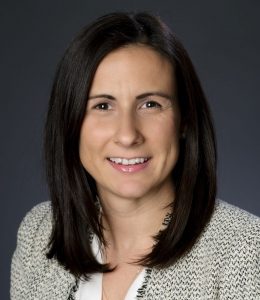 Diversity & Flexibility Alliance: How have you made flexibility a priority and a success with your career? How has the firm supported this?
TR: After graduating from law school in 2009, I clerked for a year in the U.S. Bankruptcy Court for the Eastern District of Virginia and then joined a large law firm in Atlanta. In 2013 my husband's job took us to the Midwest at which point I joined Sidley as a lateral in its Chicago office. I worked full time until I came back from maternity leave in April 2017. Since then, I've been working a 90% reduced hours schedule.
With the addition to our family, I knew I needed to make adjustments to my schedule. I wanted to be fully engaged with work and also have some "give" with my hours to adjust to life with our newborn and a husband who travels for work. My reduced hours gives me that balance. Sidley guaranteed me the option to work a reduced hours schedule upon returning from leave, but I still was nervous to ask for it. Without any hesitation, my practice group leader and Sidley fully supported my request, and I've been working reduced hours ever since. I come into the office every day, and I have the flexibility to take care of work and personal matters as they're scheduled or occur. With my reduced hours, I adjust my schedule to the changing demands of life. For instance, ever since transitioning my son to a daycare, I leave at 5 pm a few days a week to pick him up.
The 10% reduction in billable hours may not seem like a lot, but it has been tremendously helpful in allowing me to meet work and life demands as they arise. I have less pressure to bill and more time to spend with my family and on business development matters. Flex will continue to be a priority for my career, especially starting this summer as we are relocated to Munich, Germany for one year. I'll be working out of the firm's Munich office and will further reduce my schedule to 60% – 70% of billable hours.
Sidley has been incredibly supportive of my career and personal development, and that support has manifested in different ways over the years. I transitioned from having more flexibility at home with an in-home caretaker to a more regulated schedule once my son started day care – it was a harder transition than I thought it would be. When discussing some of these issues with a senior partner in my group, she encouraged me to take the time I needed and to let people know I had to leave the office by a certain time to make the transition work. We all have different commitments outside of work, and I have come to learn that it's important to communicate openly about these matters. The idea is: you're a professional, we trust your judgment to stand by your clients, the firm, and your family, and you can make your own decisions. That's not to say that when there's an emergency you're not available; you adjust accordingly, and the firm trusts that you are capable of managing this effectively.
DFA: How has working flexibly made your career more sustainable and contributed to your overall internal and external development? How have clients supported your flex journey?
TR: Becoming a parent changes your life in so many ways. I wouldn't be a good parent and a good attorney without flex, especially with a partner who travels often for work. Flex is a necessity, and it's helped to make my career sustainable. The 10% fewer billable hours not only gives me the breathing room I need to take care of my family life, it also gives me the room to attend work events and be more present in the legal community. It's easy to tell people they have to "be out there and get to know people" for development purposes, but it's a lot harder to do when you're thinking about it on top of meeting your billable hours.
I see more clients and attorneys talking openly about flexibility and alternative schedules. I work with several women lawyers, and our use of flex is a bonding point. It's a great feeling to know you can meet your work and personal demands by being open and effective communicators. Clients and opposing counsel will say, "I'm not in the office this day," or "I have to leave by 3:00 p.m. to pick up my kids," – the more we talk about flexibility, the more it will become part of the norm.
DFA: Looking back, what would you tell your first year associate self?
TR: Before I started working reduced hours, I was too hesitant in communicating openly about deadlines and expectations; instead, I assumed everything was urgent. I also would let everyone know I was still available and reachable when I was out of the office, even if that wasn't feasible. If I could talk to my former self, I would say that it's OK to be on vacation; my co-workers could cover for me, and it is OK to take time to recoup and recover. It's better for me and for the firm. Now I try to take my own advice and untether on vacation and be respectful of others who are out of the office. I want more junior associates to know it's OK to set boundaries and to stick to them!
I would do less assuming and more communicating – not everything needs a response right away. Be more forthright with asking, "When do you need this by?" I see more junior associates doing this (and doing it well), and I wish I had done that too.
DFA: What do you do to recharge? How do you pay it forward?
TR: To recharge I try to meditate every day for at least 10 minutes; it helps me reset and keep focus. My husband and I also are avid travelers; in the past year we've gone scuba diving in the Galapagos Islands, on safari to see lowland gorillas, and forest elephants in Gabon. These trips require us to unplug and enjoy the world's natural wonders.
Paying it forward, I try to be more cognizant that not everyone is working when I work. When I log in at night and send emails, I try to put them on auto-delay so people don't feel the pressure to respond if it's not a true emergency. It's small things like this that encourage and train us to be better communicators and relieve some of the pressure we feel from our jobs.
https://dfalliance.com/wp-content/uploads/2019/06/Teresa-Reuter-1.jpg
1519
1315
integritive
https://dfalliance.com/wp-content/uploads/2019/03/Diversity-and-Flexibility-Alliance-Logo-260.png
integritive
2019-06-04 09:37:15
2019-06-17 12:09:22
Spotlight on Flex – Teresa Reuter