The Spotlight on Flex showcases professionals from member organizations who exemplify personal and professional success while working a flexible schedule. Their stories illustrate the long-term benefits that flexible schedules offer to both individuals and organizations.
For April 2018, we are pleased to share insights from Anita Agajanian, Partner, DLA Piper (Boston, MA).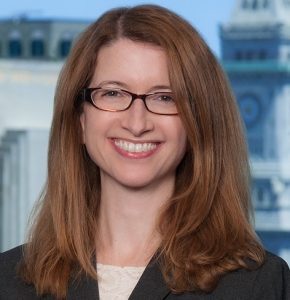 Diversity & Flexibility Alliance: How have you made flexibility a priority and a success through your schedule?
Anita Agajanian: I came to the Boston office of DLA Piper as a new lateral partner. I had been at the main office of another Boston firm for years prior to my move. It was a leap of faith to come to DLA Piper because it was such a different type of law firm than what I was used to. The Boston office had only been established two years at that point and was, at the time, one of the firm's smaller locations. I decided to make that leap though, because I believed in DLA Piper's commitment to its real estate practice and the firm's national and global reach. As a young partner, I knew I could have a broader practice at a firm like DLA Piper.
When I first started here, I was working full time. But after I had my first child 11 years ago, I knew I wanted to switch to a reduced hours schedule. The firm is, and always has been, very supportive of attorneys to work flexibly – they are quite transparent about it. DLA Piper has policies in place and encourages attorneys to utilize them. I had a lot of confidence when I approached the idea to work a reduced hours schedule because I knew the firm was committed to it. It was really more of a personal question about what would work for me, rather than what would work for the firm. I wasn't concerned about the reaction to my change in schedule because I knew everyone would be supportive.
https://dfalliance.com/wp-content/uploads/2019/03/Diversity-and-Flexibility-Alliance-Logo-260.png
0
0
integritive
https://dfalliance.com/wp-content/uploads/2019/03/Diversity-and-Flexibility-Alliance-Logo-260.png
integritive
2018-04-27 00:00:00
2018-04-27 00:00:00
Spotlight on Flex – Anita Agajanian