We were joined by a wonderful artist, Lisa Rothstein, who drew amazing sketches of all of the speakers and presentations. Check out
this compilation
of Lisa's visual summaries – it will give you an idea of the inspirational messages and helpful guidance provided throughout the conference.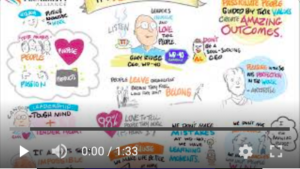 Please stay in touch and let us know how we can help you transform your organizational culture. Attendees can access conference handouts and related materials
HERE
using the password provided. Please contact
Angela Whitehead Quigley
if you have questions.
12:00 – 12:20 – State of the Union & Presentation of the Flex Leader Award feat. Manar Morales and Barri Rafferty

12:20 – 1:00 – Panel #1: Transforming Workplace Culture & Presentation of the Flex Impact Awards feat. Noah Heller, Kim Koopersmith & Barri Rafferty: What is your organization doing to change its culture for the better? The impact of the pandemic and a social justice call to action have forced many companies to reevaluate their commitment to employees, D&I, and their bottom line. This year's Flex Impact and Flex Leader Honorees demonstrate how they have led their industries with cutting-edge flexible working initiatives and how they are readjusting during this pivotal year to spark continuous moments of impact for an engaged and productive workplace culture. 
1:00 – 1:20 – Meet the Influencer #1: How to Make This Time Different featuring Vernā Myers: As we have started to face the reality of social injustice in our society, companies and communities, how do we keep our companies and ourselves awake, engaged and committed? What I &D professionals can do. What companies and leaders can do. What all of us as human beings must do.
1:20 – 1:25 – BREAK
1:25 – 1:55 – Keynote: It's All About the People featuring Garry Ridge: This session will be a look "under the hood" of one of the world's most recognized brands, where employee engagement is above 93%, 98% say they "love to work at WD-40 Company", and 99% say that their "opinions and values are a good fit" for WD-40 Company.  Garry will share his company's "learning moments" over the course of his efforts to transform the company's culture, beginning in 1997. He'll share principles of the personal journey of every servant leader, and why that philosophy is critical; the emotional connection of a greater purpose that creates high engagement  as well as the difference between a "team" and a "tribe."
1:55 – 2:25 – Presentation of the Flex Success Awards featuring Sharon Newlon, Sara von Bernthal, Andrea Coloff, Emma Mata & Suzanne Davies: Three law firm partners and their clients will share how they have worked reduced hours schedules and achieved greater work life control while maintaining extraordinarily successful careers through strong and supportive attorney client relationships.
2:25 – 2:30 – BREAK
2: 30 – 2:55 Presentation of the Luminary Award and Fireside Chat featuring Susan Neely: In a conversation with Manar Morales, Susan Neely, President & CEO of the American Council of Life Insurers, our 2020 Luminary Award honoree, will share how she is innovating within her organization as well as looking outward to increase the advancement of women and diversity in her industry and beyond.
3:05 – 3:25 – "Tipping the Scales" Recognition & DFA New Partner Report Findings: Gender equity, especially at the partner level in law firms, is a testament of an organization's dedication to diversity, inclusion, and equity. We believe in sharing successes to start a ripple effect of positive, lasting effects and proudly recognize this year's Tipping the Scales firms. Manar Morales will also highlight the results from our 2020 New Partner Report, which examines data from over 100 of the nation's largest and top-grossing law firms about attorneys promoted to partnership in U.S. offices. More importantly, she will discuss how to utilize these findings to help transform your organization from a sideline watcher to a game time change maker.
3:25 – 3:30 – BREAK
3:30 – 4:05 – Panel #2: Shaping the Workforce of Tomorrow Today featuring Michelle Wimes, Nancy Laben & Jay Selanders: Now more than ever we need to create and transform organizational cultures that promote flexible work, diversity, inclusion, and equity across the board. Join us as we launch Work Life Recalibrated, a first of its kind movement dedicated to supporting workplace flexibility as a way to create more collaborative and successful organizations. Our panelists are leaders of today's future-thinking organizations. They share our vision of redefining what the workplace of tomorrow will look like by evolving with the needs of their team members and pivoting to meet challenges and opportunities. The result advances flexibility for all and a diverse workforce that drives innovation, transformation, and impacts the bottom line.
4:15 – 4:35 – Meet the Influencer #2: How to Secure a Seat at the Table featuring Minda Harts: From microaggressions to the wage gap, Minda Harts, author of The Memo: What Women of Color Need to Do to Secure a Seat at the Table, empowers women of color with actionable advice on challenges and offers a clear path to success.
4:35 – 4:45 – Closing Remarks with Manar Morales

CLE Credit
The Conference has been approved for  3.0 MCLE general credit hours in Illinois. Please contact Angela Whitehead Quigley if you have questions about CLE credit.
Thank You to Our Sponsors!
2020 Platinum Sponsors
Thank You to Our 2020 Community Sponsors!
We'd love to share more about our conference and our latest research. Contact us today to schedule a complimentary introductory call. Let us know if you'd like to learn more and explore how we can help you transform your organization.