The Diversity & Flexibility Alliance's bi-monthly Signature Seminar Series explores a mix of organizational solutions and individual strategies related to inclusion, retention, and workplace flexibility. Presented by a variety of industry experts, these virtual seminars are open to all professionals at Alliance member organizations. Members can access seminar recordings and handouts in the Member Resource Center.
Recent Seminars
June Signature Seminar Series Webinar
Ladder Down:
Success Strategies For Lawyers From Women Who Will Be Hiring, Reviewing, and Promoting You
Featuring — Lauren Stiller Rikleen, President, Rikleen Institute for Strategic Leadership and Visiting Scholar, Boston College Center for Work & Family
Held June 8, 2017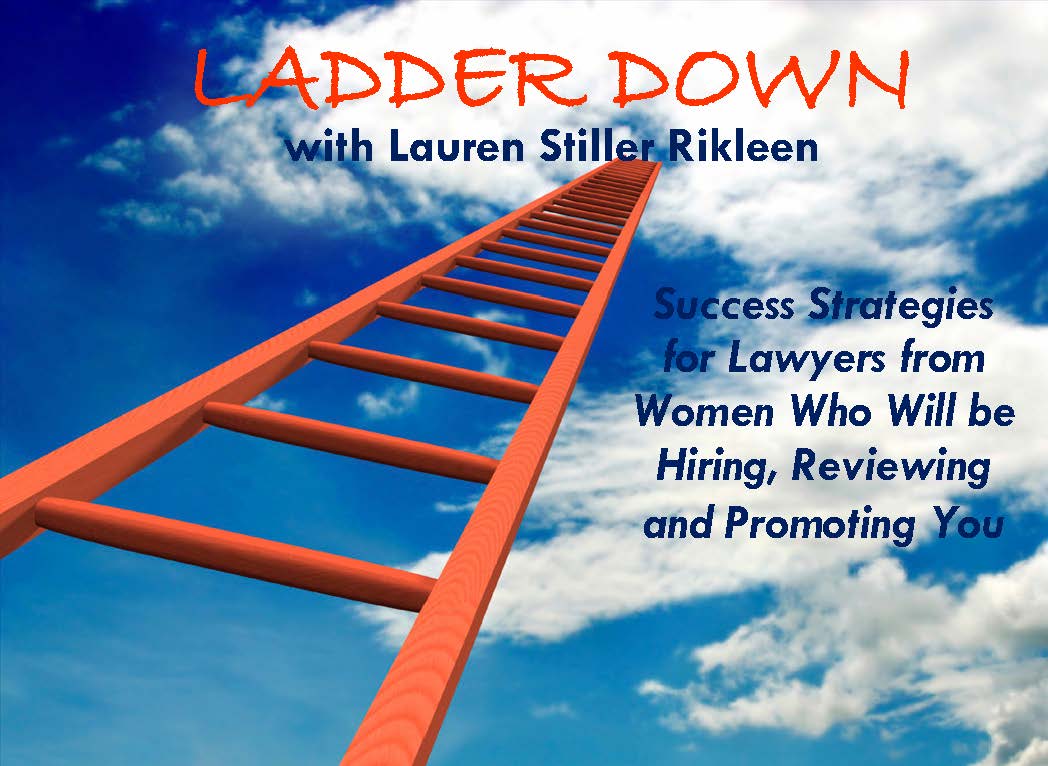 Today, the path to success is harder than ever. Excellence at one's craft is simply a baseline. Lawyers also face the challenges of maintaining and bringing in new clients, undertaking organizational leadership roles, participating in professional associations, and engaging in one's community. Each of these challenges can represent either tremendous opportunity or overwhelming stress. The goal is to meet these challenges with a sense of excitement at what the future holds.
Members can access the recording of this seminar in the Member Resource Center.
2017 Seminars
Wait! Why You Procrastinate & What You Can Do About It
April 2017
Featuring – Paul H. Burton, Founder & Principal, QuietSpacing LLC
Do you procrastinate? Ninety-five percent of us do. That's right – 95%. Procrastination is one of the most common self-destructive behaviors we exhibit.  Procrastination is the result of favoring short-term relief over long-term gain. It reduces our productivity, causes us stress, and contributes to interpersonal and professional conflict. The good news is that procrastination is relatively easy to overcome.
Paul Burton will engage and entertain attendees, teach us why we procrastinate, and what we can do to reduce those behaviors. This Signature Seminar will use a quiz-based format focused on three categories – Fun Facts, Education, and Techniques – to help participants understand the roots of procrastination and how to overcome it through:
– Fun facts of procrastination – entertaining and interesting things that keep our perspective regarding how hard it is to be productive all the time.
– Educational aspects of why we procrastinate – the neurological, biological, and psychological reasons we procrastinate.
– Techniques to overcome procrastination – a host of ways to procrastinate less, get more done, and enjoy greater personal and professional satisfaction.
Creating A Road Map For A Holistic Flex Policy
February 2017
A successful flexible work program requires strong buy-in, thoughtful implementation, and regular monitoring. It also needs to be adaptable – evolving with the organization as the employees' needs and clients change. While many professional service organizations have flexibility policies on the books, providing flexible work options without stigma remains a challenge. There has to be a clear understanding of why flexibility is a business imperative and how to make it work for all parties.  Whether your organization needs to create a flexibility program from scratch, expand its existing program, or pinpoint issues within the current program, Manar Morales, the Alliance's President & CEO, will discuss and guide members through a road map for developing and supporting a successful flexible work program to achieve your organization's flex objectives.
2016 Seminars
Creating A Game Plan For Business Development
Making It Work: Attorneys Putting Flex Success™ in Action!
Orchestrate: Four Productivity Skills Every Manager Needs
Using Flexibility to Recruit Your Next Generation of Superstars
Investing In Your Success: Preparing Yourself For Sponsorship
More Women Need Seats at the Table
2015 Seminars
Saying No to Others and Saying Yes to Yourself
Pitching Success: Six Ways to Guarantee Your Pitch Cuts Through the Clutter
Creating Women's Initiatives with Impact
Done! Time Management Strategies For Regaining Command Of Your Day
Covering Continued: Updates on Data from Within US Law Firms
Onwards & Upwards: Building a Successful On-Ramping Program
2014 Seminars
How to Write a Business Plan for Partners: Four Questions to Address
Top 10 Rainmaker Best Practices for Associates
Self-Advocacy & Your Negotiation Plan: Praising Yourself to Inspire Others
Mindset, Grit & Resilience: Positive Change for Positive Results
Working Well: Connecting Wellness to Work-Life Control
Leveraging Social Capital
2013 Seminars
Looking Ahead: Your Business Development Plan for 2014
How Women Can Be Sponsor Ready
What If I Say the Wrong Thing? An Open Conversation with Verna Myers
Demystifying Generational Differences
Effective Management for Flex Success™: Supervising Flexible Work Lawyers
2012 Seminars
The Next Level of Intelligence and Strategies for the Advancement of Women in Law
December 2012
Featuring — Dr. Arin Reeves, President, Nexticons
Although the commitment to advancing women in the legal professional has increased considerably over the last decade, the progress we have actually achieved has not kept up with the commitment. Research shows that the efforts undertaken to advance as far as we have are not the same efforts that will allow us to advance to the next level. This seminar will explore how we can use the new intelligence available to us to get to the next level of women's advancement.
Organizational Solutions for Successful On-Ramping
September 2012
Law firms and legal departments have been putting together targeted "on-ramping" or "phase back" programs to help their attorneys transition smoothly on and off of leave. The programs have been well-received by lawyers and are proving to stem unwanted attrition, especially of new parents. During this seminar, three Alliance member firms who have launched, managed, and measured on-ramping programs will share best practices for starting or building upon your organization's own program.
Asking for What You Need to Succeed in Business Development
June 2012
Featuring — Sara Holtz, Founder & CEO, ClientFocus
Sara will lead participants through an in-depth discussion of the eight step process necessary for creating a successful business development plan.
———
For more information about the Signature Seminar Series, contact Eliza Musallam.