Introducing Flex Launch! – a comprehensive, in-depth, hands-on Bootcamp for Flex Advisors.
In addition to our Flex Advisor Workshop webinar to be held in the Fall, this year we are holding a half-day, in-depth bootcamp – FLEX LAUNCH! – specifically designed for professionals who are responsible for the management of your organization's flex policies. In just four hours, we  will provide everything you need to know to implement a successful flexible work policy within your organization.  Want to hear expert advice and learn about proven strategies that will guarantee the success of your initiative?
Request an invitation HERE
 Wednesday, June 26
10:00 am – 2:00 pm
DC Offices of Akin Gump,
2001 K Street, NW, Washington, DC.
This event is open to administrators in member and non-member law firms and professional service organizations only.
By participating in Flex Launch! you will:
Learn how to develop your organization's unique business case for flexibility, overcome challenges, secure buy-in from leadership, and breakthrough resistance;
Brainstorm and create a sample holistic flex policy with other attendees – including sharing and discussing examples of effective policies;
Cover all your bases on how to implement your policy – including the launch, communication, training, management, and tracking.
Attendance is capped at 30 registrants in order to maintain an intimate, hands-on training environment. For any questions, please contact Eliza Musallam (eliza@dfalliance.com), Director of Member Relations & Outreach.
Flex Advisor Workshop
The 2019 Flex Advisor Workshop webinar will be scheduled in the Fall of 2019.
The Diversity & Flexibility Alliance's Flex Advisor Workshop is a webinar and training session on the fundamentals of successfully managing and implementing flexible work programs. The workshop is designed for talent management, human resource executives, or any professionals who have an administrative role or oversee the day-to-day aspects of their organization's flex program. This workshop draws on the Alliance's Flex Success® Framework, a five-step proprietary process for implementing and evolving effective flexible work programs by:
– Communicating the business case for flexibility
– Promoting a culture of flexibility
– Developing a holistic flex program
– Engaging stakeholders and leaning into resistance
– Interrupting flex stigma
– Creating a community for flex professionals
– Celebrating Flex Successes
2018 Flex Advisor Workshop
The 2018 Flex Advisor Workshop was held on Tuesday, October 16, 2018 at 1:30 EST. This training webinar was open to members and non-members as well.  Members can access the recording through our Member Resource Center.  Non-members interested in accessing the recording should email Eliza Musallam.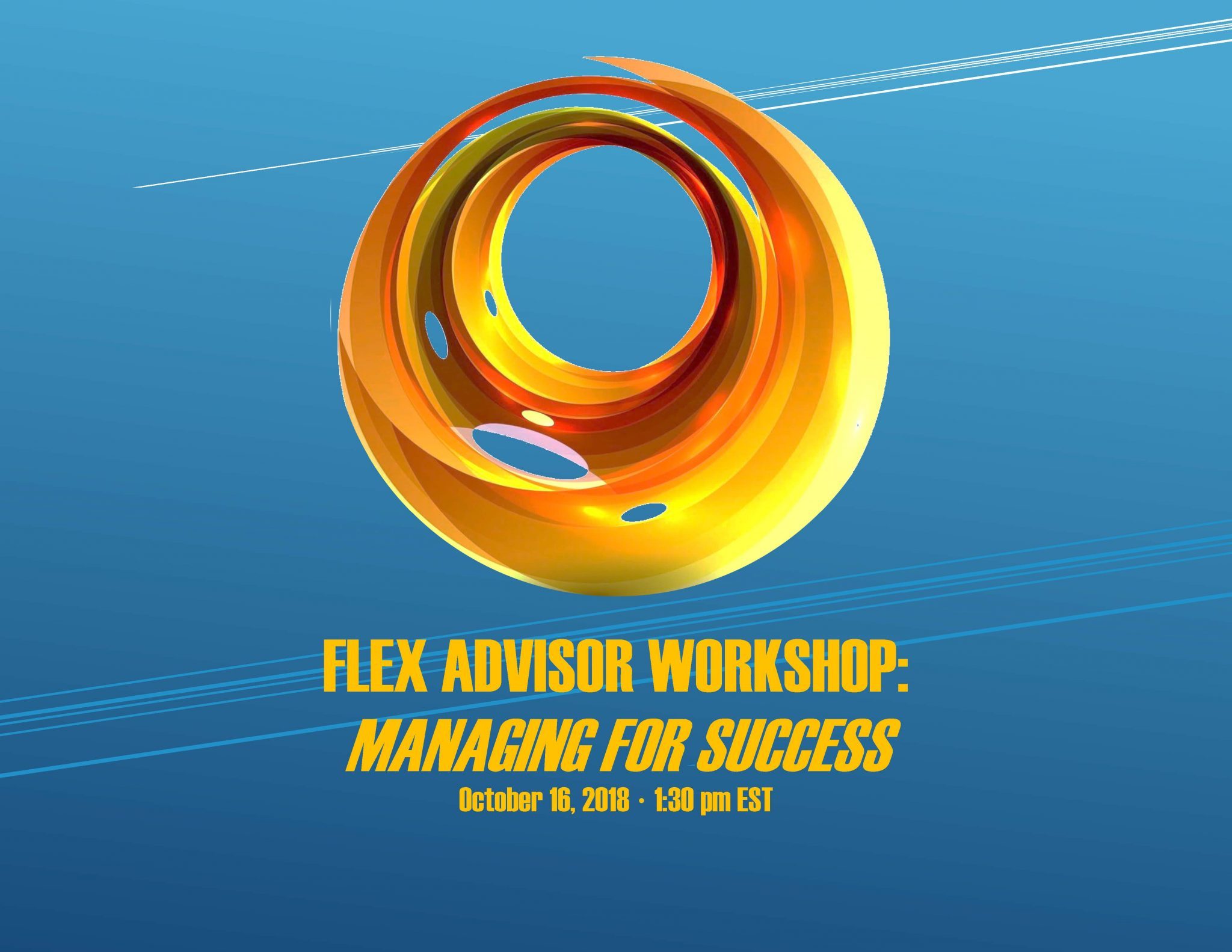 ———
For more information about the Flex Advisor Workshop, contact Eliza Musallam.