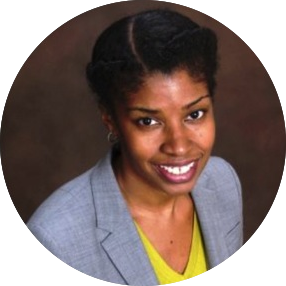 Denise A. Robinson
Director of Research
Denise A. Robinson is the Director of Research for the Diversity & Flexibility Alliance, where she studies industry trends, leads research initiatives such as the Flexibility Benchmarking Survey, and develops content for members to advance diversity and flexibility in their organizations.
Prior to joining the Alliance, she held global diversity roles as the Diversity Officer for the International Monetary Fund, and the Director of Diversity & Inclusion for O'Melveny & Myers LLP. Denise's career as a diversity professional evolved from her experiences as an admissions professional at Georgetown University, where she focused on International LL.M. admissions for the Law Center, and subsequently, multicultural recruitment at the undergraduate level. She started her professional journey as an attorney with Dinsmore & Shohl LLP, representing a wide range of organizations in labor and employment matters.
Denise has presented on a variety of talent development issues for organizations such as NALP, the National Legal Aid and Defender Association, and the Association of Law Firm Diversity Professionals. She currently serves her undergraduate alma mater as the co-chair of the Committee on Diversity Issues for the Honors Tutorial College. Also a registered yoga instructor, Denise uses contemplative practice principles in the workplace to help professionals develop positive responses to stressors and bring their best to their work. Denise earned a Juris Doctor degree from the University of Chicago Law School, and graduated cum laude from Ohio University with a Bachelor of Arts degree in Philosophy.
Contact Denise — denise@dfalliance.com